Putting a face to the name goes a long way in sales. People are more likely to respond to you if they've seen your face. This is why using video in your sales outreach helps start conversations and increase your response rate.
Video isn't just for prospecting (though it's very effective there). You can use it throughout your sales cycle to capture attention, keep deals moving forward, and even delight your existing customers.
Let's take a look at how you can improve your communication at every stage of the buyer's journey with Vidyard's video tools.

*This post was originally written by Tayla Fagan and published on 9 February 2021
Grab your prospects' attention
1. Stand out in their inbox
Video outreach excels at breaking through the inbox because it's unusual and exciting. According to Vidyard, a subject line that contains the word "video" is 8x more likely to be opened. That paired with the ability to set an interesting thumbnail lets you highlight your personality and get creative about earning responses.
If you don't get through the first time and are thinking of leaving a voicemail, leave a video voicemail instead. It's more intriguing and the chances of it getting opened are higher.
Video outreach isn't limited to email - it can be an effective tool if you're sending a note to someone on LinkedIn messages for example.
2. Bring your value proposition to life with video
Rather than waiting for a prospect's response, make use of a screen capture video and show them how your product or service is a good fit the first time you reach out. You can use screen capture videos to walk prospects through issues you see with their organization's website, or your own sales deck.
This also helps you not come across as "pushy" and gives a much more enjoyable first encounter with your brand and you. This approach, unlike cold calling, which is a disruptive to a prospect's day, gives them the opportunity to consume your value proposition in their own time.
3. Video tracking lets you know when to follow-up
Vidyard is a video tool designed for sales. It will notify you when a prospect has actually taken action and watched your video. This is helpful because email tracking only lets you know when your prospect has opened your email, with video tracking you'll be able to see how much of the content the viewer watched and what parts they skipped.
Sales and business development representatives have a dramatically higher chance of connecting if a prospect has watched a video and already seen their face. When you know which parts of the video interested your viewers, it will help you know what value proposition to lead with.
We offer Vidyard training for you and your team. Get in touch with us to chat more about our video selling training program.
4. Stand out after live events
Conferences and events can be overwhelming for prospects, who receive a stack of emails from different vendors after attending. Stand out from the crowd with a video of you wearing what you had on at the webinar or conference and end with a link to your calendar.
If you want to take it one step further - send a video to your prospect while you're at the event in real-time. You'll grab their attention with a video taken from your company's booth or greenroom backstage of a panel and help them remember who you were.
5. Send better follow-ups
Rather than send a boring text-based email with a bulleted list of your meeting takeaways, send a personal sales video email to follow-up after your meeting or call. Your prospects will retain the information far better because it's expressed with emotion, and it adds a personal touch.
Pro tip: If the meeting was in-person, record your follow-up video from somewhere they'll recognize, like in the lobby on your way out or use a feature wall in your office as the backdrop.

6. Keep your prospects moving forward with screen-recorded demos
Sales professionals often push prospects into scheduling a meeting when all they needed was to answer a simple question. Sending a 10-minute video is far easier than trying to book 30-minutes in a busy prospect's calendar. Not to mention it can be a disruption to their day.
Video demos are a great way to show respect for your prospect's time. Give them the option to watch (and replay) your demo at their leisure. This is a great use of video to show your face, provide value to a prospect, move the conversation forward and perhaps convince them that maybe they do in fact need to sit down for a full demo after all.
Impress and delight your existing customers with video
7. Improve the way you do handovers
Impress your customers and ensure a smooth transition with the use of video introductions. If you are a new point of contact for an existing customer, send them a to introduce yourself. This will help them put a face to the name in the email address.

Pro tip: Shoot the video while you're sitting with the sales rep or account manager they already know. This will provide social proof and positive collaboration from one team on to the next which works towards reassuring your customers.
8. Resolve your customer's concerns quicker
You can explain and work through customer support issues in less time using video. Screen shares are a particularly useful type of video because they allow customer support managers to take a step-by-step approach and walk the viewer through the product or process.
Pro tip: Your team can create a library of videos that answer customer's frequently asked questions to provide solutions and delight your customers even quicker. Your Support Team and Account Managers can send the particular video that answers your customer's specific question within minutes of receiving it.

9. Remind customers that you're human
Video helps sales professionals build rapport and form a bond with prospects, in the same way, video can help Customer Success Managers bond with their existing customers. Using video helps you share your voice and personality, makes the support process more enjoyable, and will even help remind your customers that they're dealing with another person, not a robot.
10. Find opportunities to up-sell
As we said above, it's a great idea to create a video library where your customers can go to learn more about how to use your product or services. Think of it as your company's private YouTube. You can recommend other relevant videos, and lead your customers to learn about new features and products they maybe weren't aware of before. If they see something they like in the related section - it may generate more sales opportunities for you.
How we use Vidyard at iGoMoon
We believe that the more you're able to introduce your team of skyrocketers to the world through your outreach, the more connected people will feel with your brand and company.
Our sales professionals send personalized introductions, follow-ups and demos to our prospects and customers. When we use Vidyard for our video marketing, we also include a custom playback experience by adding calls-to-action, calendar invites and forms to our videos. To see how our Account Manager Henrik Stålhand uses Vidyard in his day-to-day role at the Moon - watch him in action on our vlog.
We love that Vidyard allows us to see our viewers by their real names and how they're engaging with our video content. This helps us to have a more meaningful sales outreach and a tailored marketing approach that's relevant to them.
If you're an entrepreneur, sales professional or marketer video can be a powerful way to make an impact quickly. We'd like to invite you to create your first video that commands attention. You know, like, right now.
All it takes is your phone or laptop camera and the Vidyard plugin. Don't let gear — or a lack thereof — hold you back you from getting started.
Happy creating!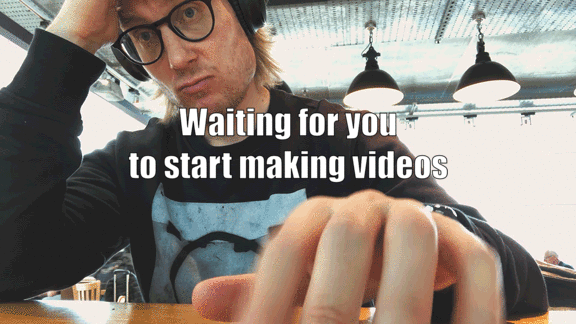 If you're looking for inspiration to help you get started with video, we hosted a Webinar Masterclass with Vidyard expert Yaniv Siegal on 10 February 2021.
Download our free "Complete guide to using HubSpot", to learn more about how you can work with HubSpot and Vidyard as well as more about the platfrom in general.