Do you know who buys your products and why? In fact, how deeply do you know your customers and their needs? To be successful with data-driven strategies you should know the power of creating a Buyer Persona. It can help in gaining a better understanding of your consumers' traits and behavior, allowing you to provide them with the right value at the right time.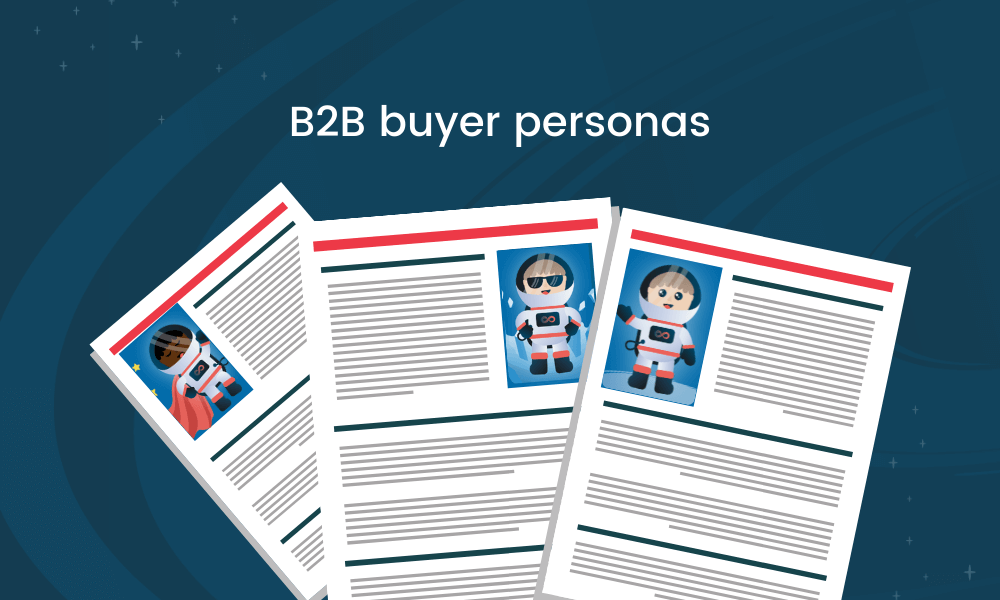 *This post was originally written by Marina Karlsson and published on 3 March 2022
We've already discussed some important milestones in developing buyer personas, but we've chosen to go even further - and put together a guide with numerous checklists to assist you in creating the most detailed personas in just a few simple steps.
But first, let's discuss, why do we single out B2B personas?
B2B buying process
To begin with, B2B companies are focused on organizations, and the target audience should include everyone who influences purchasing decisions. You should adjust to their traits, which might be rather different at times. The B2B buying process can take months, and the buying team consists of a diverse group of individuals at various phases. As a result, it makes sense to interact with them according to their roles and requirements. So we recommend you construct complete profiles for each member of the prospect company using data and advanced analytics.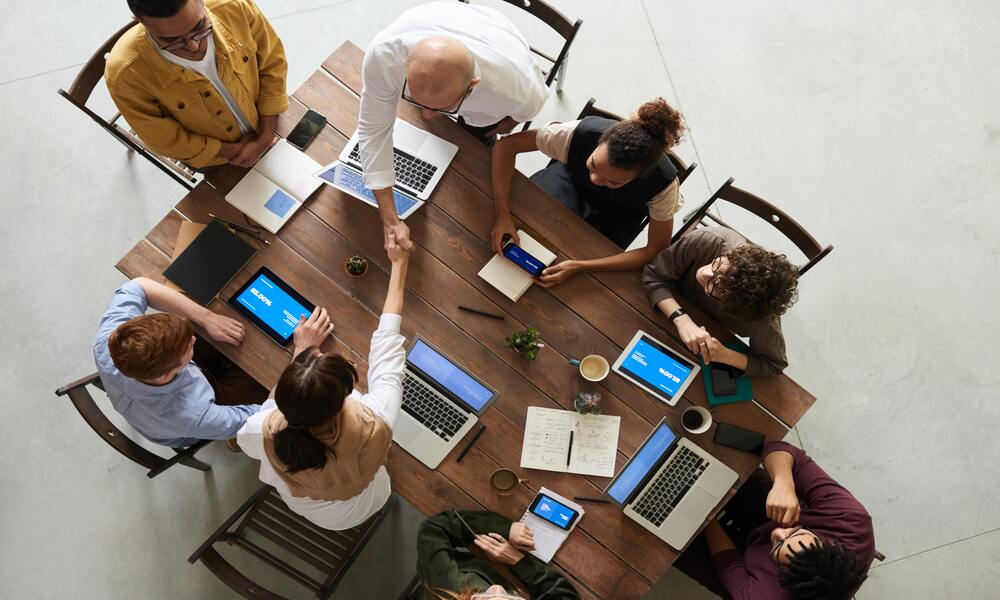 (Image: Pexels)
Then look at your content in greater depth than usual. The fact is that more than 80% of all B2B buyers evaluate at least 5-7 pieces of content during their decision-making process. B2B buyers strive for consistent and full interaction. If they do not get it, they can permanently remove a provider from their evaluation list, even before the sales team reaches out to them. Thus, valuable content for each member of the buying process is a thread that leads to a purchase.
We're here to help you discover areas of untapped potential. Book a discovery workshop with our crew today and we'll help you determine your ideal customer profile and buyer personas.
Persona and ideal customer profile: What's the difference?
A buyer persona is a comprehensive study of the individuals who buy from you, whereas an ideal customer profile is a description of the organization type that is your perfect client. Knowing the company your team is targeting is one of the key success factors. An ideal customer profile indicates an account's issues, objectives, and other features. But you're selling to the humans who work in that account. These are people who will gain and solve their pains from adopting your products. Therefore you should have a full understanding of both. So we recommend starting with firmographics that reflect the demographic variables of an ideal company that you want to have as a client.
But how do you know who is your best prospect? Well, just have a look at your current clients.
First, rank your customers by certain attributes to determine the most and least successful. Examine the type of cooperation and profitability. Which one is the easiest to do business with, and which one is the hardest? Take a look at the current sales and profit figures. Finally, determine the commonalities between these two groups. This will be a foundation.
Now look at the list: the top 3-5 are likely to be accurate representations of your ideal customer profile. And the bottom of the list can be a good example of who you wouldn't rather work with. After all, collaboration should bring a positive effect, only in this way it's possible to achieve joint results and grow with clients.
Just like that, you can expand the profile of your favorites by considering annual revenue, business situation, growth phase, and enterprise features. Collect information about the levels and quality of communication. Don't forget demographic criteria and psychographic aspects such as corporate values, culture, philosophy, and leadership.
Pro Tip: use external sources such as LinkedIn or use data clouds and live business identity with the help of third-party data vendors like Dun & Bradstreet.
Here is a checklist for firmographics that can help you:
Industry
Company value
Size
Location
Business model
Growth
Territorial coverage
Annual Revenue
Brand values ​
Requirements
Risk forecast
Align your business goals with that type of customer you want to achieve using all collected information. At the end of the process, you will have a clear Ideal Customer Profile.
So, where do we go next?
3 key steps to create a buyer persona
When constructing personas, we recommend following a set of steps to ensure that this tool works sufficiently and that you obtain the greatest results. Here they are:
Define key products and a target audience.
Conduct internal and external polls.
Create, share, control, and modify.
Now let us explain each of them.
Related article: 5 questions to ask in order to develop reliable buyer personas
1. Define key products and target audience
Surprisingly, there's no exact answer to how many Personas should be composed. The number depends on the business area but is never limited to one. The best way is to define the target audience for each key product your company has and then create Personas based on them.
Then you need to characterize them, define their expectations and needs they have, and what pains a particular product can solve. Use all sources that you can to make a more detailed profile. Start with the large picture and consider your Persona in the context of the entire organization.
An important point here is financial analysis to better understand customer economics. Consider this: what is your average sale price? what is the acquisition cost of your personas, as well as their lifetime value? how long do you think they'll stay as a client, and how likely are they to leave?
Customer economic issues are very important in understanding where you should focus your efforts. For example, a certain Buyer Persona may have a higher lifetime value than others, prompting the team to concentrate on that Persona in order to boost revenue.
2. Conduct internal and external polls
To give your Persona a face, collect even more data. Put yourself in their shoes, interview the sales and service teams and draw on their expertise. The more information the better! Allow all teams to contribute to the creation of Buyer Personas - it will allow you to create a profile even if you haven't got clients yet.
Use BuzzSumo to find more consumer inquiries, and with Hootsuite or Keyhole.co tools you can keep track of which channels your customers use and how they really feel about your brand and product.
To make your Persona even better, don't hesitate to talk to the current customers and find out firsthand information. Confer with real people, probably your acquaintances who suit the criteria. Approximately 15 people can be a good sample to enrich your profiles. What should you focus on? Concentrate on their needs and solutions that the product may give, as well as their questions, pains, and motivation in the decision-making process. Think of search criteria, integration with the website, and purchase patterns, and ask them if there are any types of special offers that can capture their attention.
Think of a Persona that makes the main decision in the initial stage of the purchase. Is it an IT Operations Manager or CTO or maybe CEO? This person should be the first and your primary Persona.
You'll be able to develop better-targeted messages if you build Personas for everyone who can influence a purchase. You can describe the financial benefits of working with you for the CFO, technical features, and usability for IT executives and developers or create valuable content about how your product will help the company grow for the CEO and all this at every stage of the customer journey.
Related article: How to Create a Successful Buyer's Journey.
Use our inspiration checklist on whats and hows, that you should keep in mind while researching:
What are the job titles, role goals, and biggest challenges?
What do these people want to accomplish and what tasks do they want to avoid?
What are the aims and requirements which are connected to your product?
How can you make your product more appealing to them?
What questions and apprehensions do they have in the decision-making process?
What are they searching for on the internet?
How can you attract and inspire them?
How will they find their way to your website and how do they interact?
What can you potentially give them to get them to buy your product sooner?
What sort of one-of-a-kind offers can you provide?
That one who is responsible for the decision should land into a specific set of criteria for your Persona. Sure, personal demographic data is also significant since it complements those criteria linked with professional activity while also adding a personal touch.
Learn how to use personas when creating a top-performing website with a Growth-Driven Design methodology.
3. Create, share, control, and modify
Visualize all found data, use an avatar and name your persona. Make sure that your information is structured and clearly reflects everything that you have gathered.
We are right here with the last checklist to assist you in presenting your comprehensive Persona:
Role
Goal
Challenges
Main job tasks
Working time at the enterprise
Reports to ___________
Level of a budget control
Purchasing power
Success factors
Obstacles and risks
Communication preferences
Time of activity
Information that attracts
Interaction with the website
Inspiration and knowledge sources
Decision-making process
Demographic information (age, location, income range, education, status)
Story (personal characteristics and dreams)


B2B Buyer Persona Example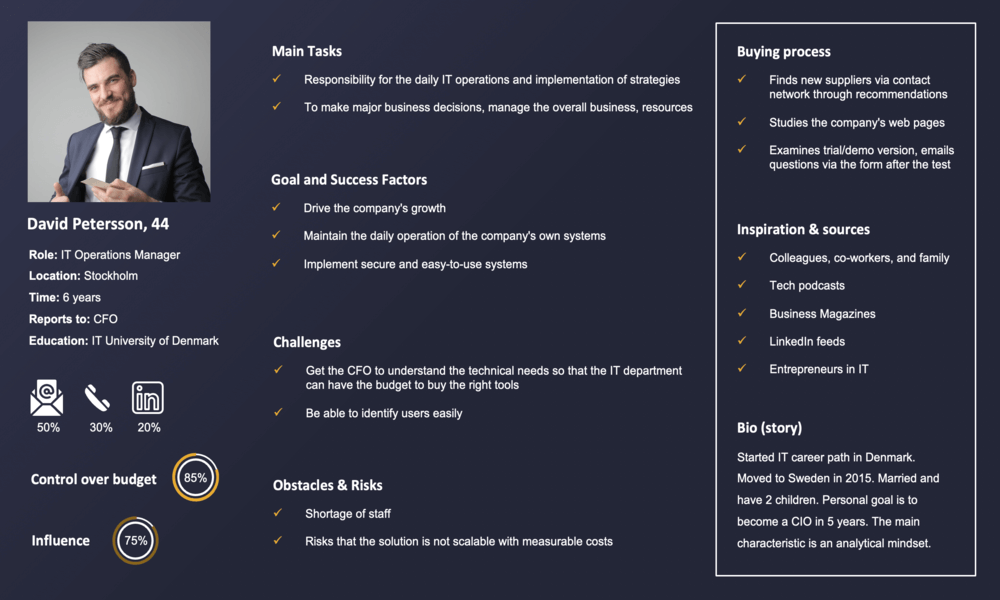 As soon as you're finished, share the work with your teams. Check it out with your colleagues and make any required adjustments.
Well done! Now your Persona is ready for implementation of the marketing strategies.
Pro Tip: keep in mind that developing Personas is an ongoing process and they can alter at any time.
How to make the most of Buyer Personas in HubSpot
With HubSpot, you can easily add your personas into the software using convenient fields for information you've collected earlier.
Develop Customer Journeys. Persona is the core of the buyer's journey so now is the exact right time to look at your customer journey maps or create new ones.
Use Personas as a segment. Set workflows based on shared characteristics of your Personas.
Create new contacts by Personas. Keep track of how many new contacts were added to your database based on them. This will help you to evaluate the accuracy of the Buyer Personas as well as the effectiveness of your marketing in identifying and reaching them.
Analyze new contacts by Persona. Did you focus on promoting the content through specific channels? Want to know which initiatives yielded particular outcomes? Working with this report in HubSpot can help you understand how your efforts affect new contacts by Persona, and it may even reveal a resource imbalance.
Connect your Persona with HubSpot features like the Social Media tool, which may assist in sharing the most relevant content.
Pro Tip: use a Hubspot persona template to visualize information for the whole team even better or simply generate Buyer Personas with the Make My Persona tool.
As a result, using Personas is the most effective way to organize and visualize knowledge about your customers and what they want to achieve. We hope our guide has helped you understand the difference between an Ideal Customer Profile and a Persona, which steps are involved in creating B2B Personas, and how to use this tool effectively in HubSpot. This way you can fast and effortlessly identify the universal lead that fits your product and qualifies as sales-ready.
Learn more about how you can work with buyer personas in HubSpot and how the platform can help you grow your business by downloading our free guide.