A website is the front door to your business and choosing the right content management system (CMS) is essential to your business growth. HubSpot and WordPress are the dominant website platforms for companies that use content to drive traffic, leads, and sales.
Deciding which one to use for your business website previously came down to your budget and your inbound marketing objectives, but not anymore. HubSpot has recently launched CMS Hub Starter, a new tier for its web content management system (CMS). This means HubSpot's CMS Starter makes getting started on HubSpot cheaper than WordPress.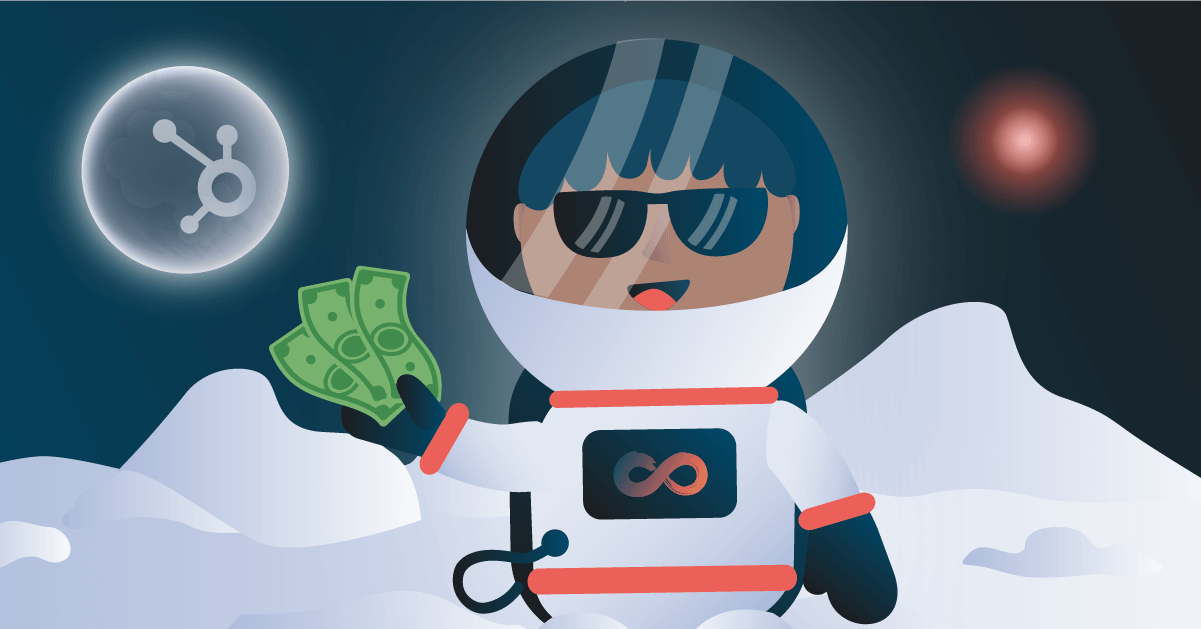 HubSpot vs WordPress for business websites
In your process to find the best CMS, you may wonder how WordPress compares to HubSpot's CMS Hub. WordPress is a popular open-source CMS that gives its users a platform to build on with custom solutions. HubSpot's CMS Hub takes the pain out of managing your website and allows its users to focus on building campaigns and content that truly result in growth.
Want to build a HubSpot website together? Contact our team of CMS specialists.
A snapshot look at HubSpot's CMS Hub
CMS Hub is a cloud-based CMS. With CMS Hub, both marketers and developers alike have the tools they need to create amazing websites focused on the customer experience. Users can easily create content, optimize their site for conversions, and gain insight into a performance all in one place.
A snapshot look at WordPress
WordPress is an open-source software package that must be installed, or configured on your servers, or using a third-party hosting provider. Its interface includes basics like content creation tools but requires plugins for additional functionality like sitemaps, SEO, analytics, and more.
An overview of SaaS vs Open Source CMSs
A SaaS CMS is software that exists in the cloud and allows you and your team to log in and operate from anywhere. HubSpot's CMS Hub has a monthly recurring cost that you can pay on a monthly, or annual basis. With this sticker price, you get access not only to HubSpot's content tools, but their premium hosting and security features, regular maintenance and updates, 24/7 support, and all the features like email marketing, SEO optimizations, and live chat that come as part of the HubSpot CRM platform.
With their easy export guide, leveraging GitHub in your developer workflow to manage version control, and using their many APIs to pull data out of HubSpot, you have full ownership over your content and data in HubSpot.

As an open-source platform, WordPress' sticker price is free, but there are necessary hidden costs to operating a website that adds up quickly when leveraging WordPress.
Features like hosting, security, plugins, and regular maintenance to ensure your site is not compromised add up quickly and should be considered when deciding what CMS platform is best for you.
HubSpot's CMS Hub starter makes CMS Hub more accessible than ever
HubSpot was built with business growth in mind and gives businesses the right tools to get started with inbound marketing. What we love most about working in HubSpot is your ability to scale your CMS and other tools as your business grows, without the need to switch platforms and export lengthy amounts of data each time you need to scale your tech stack.

HubSpot's newest tier, HubSpot's CMS Hub Starter is lowering the barrier to entry into HubSpot's CMS Suite, with a price of just $25 per month! Originally, the CMS Suite was only available starting at $400 a month (and higher) with HubSpot's CMS Professional and Enterprise tiers.
Related post: Understanding which HubSpot CMS Hub license is right for your business
At just $25 per month, the new Starter tier provides a lower barrier to entry for companies, especially those with small teams, and provides them with some of the best advantages HubSpot's CMS Hub offers. See below:
Key features of HubSpot's new CMS Starter
HubSpot's CMS Hub enhances security, bridges the gap between marketers and developers, and enables business owners like you to tap into data about customers visiting your site. Here are some specific features that will make your life easier on CMS Starter that you have to pay extra for either in budget or time using WordPress:
Giving you peace of mind with safeguards
Traditional CMSs leave the security, speed, and reliability of your website up to chance. This is a terrifying thought when you're a small or medium-sized operation, as you might not have a budget for an IT person to watch over your site 24/7. What's great is that CMS Hub Starter takes care of the maintenance associated with a traditional CMS so you can focus on creating an amazing customer experience through your website. Thank goodness, for that peace of mind.
If you choose to go with an Open-source CMS like WordPress a community of developers will maintain its interface. Usually, one party manages an open-source CMS but anyone can access it, which has the potential to expose you to security risks.
It helps developers and marketers speak the same language
Most CMS solutions force you to make a trade-off. You can have a simple web page builder that lets marketers create content quickly and easily but has no tools for your developers, or you can have a legacy enterprise CMS that blocks out your marketer. If you want to grow your business through your website, you need a CMS that both your marketers and developers love. CMS Hub Starter lets your developers use the tools, technologies, and workflows that they prefer to create flexible themes for your marketers to work within.
WordPress was a blogging tool but has now developed into a full CMS. WordPress includes basics like content creation tools but requires plugins for additional functionality like sitemaps, SEO, analytics, and more. This means that to edit or change the layout, you'll need help from a developer who creates bottlenecks and blocks out your marketer.
It's an all-in-one CRM platform
Are you limiting your website's potential with a detached CMS solution? If your organization is going to spend the time, resources, and money needed to make inbound work, you absolutely need to be collecting data on your organization's most important marketing asset - your website.
HubSpot's CMS Hub Starter is built as part of HubSpot's CRM platform to ensure that your website is part of your growth machine and delivers skyrocketing results.
Yes, WordPress still offers value depending on the type and complexity of the site you're looking to build. But the customization options make HubSpot's CMS Hub a superior choice for growing websites and especially for scaling SMEs or established large-scale enterprises.
Get started with HubSpot's new CMS Starter today
Work with a HubSpot Partner agency like iGoMoon to get started.

We love solving for the customer and as an Advanced CMS Implementation Certified Partner, we work with Starter, Professional, and Enterprise CMS licenses. If you're looking for a consultant to help guide your business, let's set up a call.
Do you have additional questions about finding the right HubSpot CMS Hub Tier for your business? Contact us to chat.