On 3 August 2021, HubSpot shared some exciting news that they were lowering the barrier to entry into their wildly popular HubSpot CMS Hub suite with their new, much more economical CMS Hub Starter tier. CMS Hub Starter allows small and growing businesses to leverage the all-in-one CRM solution alongside their website, and at a much more accessible price point.

We're thrilled by the news and are here to give you a full rundown on HubSpot's new CMS Starter tier. What features does CMS Starter offer and is this license the right fit for your business needs?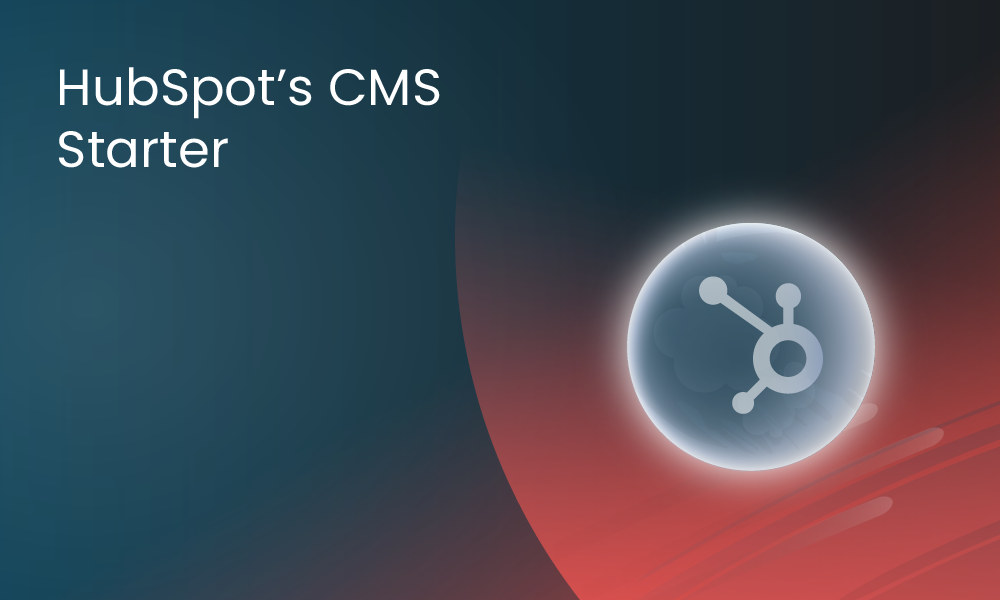 HubSpot's CMS Hub is now more accessible than ever
HubSpot was built with business growth in mind and gives businesses the right tools to get started with inbound marketing. You can always scale your CMS and other tools as your business grows, without the need to switch platforms and export lengthy amounts of data each time you need to scale your tech stack.

With its newest tier, HubSpot's CMS Hub Starter is lowering the barrier to entry into HubSpot's CMS Suite especially for companies with smaller teams. Let's explore HubSpot's new CMS Hub Starter in a bit more detail and learn how it can help you reach your ideal prospects, convert leads, and close more deals.
Want to build a HubSpot website together? Contact our team of CMS specialists.
Who is CMS Hub Starter for?
Businesses looking to migrate or rebuild their website on HubSpot
CMS Hub Starter is a web content management system for growth-minded businesses who want to leverage the CRM platform to grow but aren't ready to pay enterprise-level prices just yet.
Businesses already using a HubSpot Starter suit
CMS Hub Starter is valuable to teams already using a

HubSpot starter suit

like HubSpot's Marketing Hub Starter for example. With HubSpot's CRM Hub Starter you can now add CMS Hub to your portal for

no additional cost.

Businesses that want a platform able to grow alongside them
Having a CRM-powered CMS is the way forward in the fast-changing digital world. By getting started on CMS Starter at a low price point, you'll unlock platform-level features and a powerful CRM that'll help you scale. Over time, you can upgrade your CMS Hub tier to professional or enterprise tier and/or add-on additional hubs as your website becomes a growth engine and you require a more extensible CMS like HubSpot to scale.
Related post:
Why choose HubSpot's CMS Hub Professional?
Key features of HubSpot's new CMS Starter
HubSpot's CMS Hub enhances security, bridges the gap between marketers and developers, and enables business owners like you to tap into data about customers visiting your site. Here are some specific features that will make your life easier on HubSpot's new CMS Hub Starter:
Giving you peace of mind with safeguards
Traditional CMSs leave the security, speed, and reliability of your website up to chance. This is a terrifying thought when you're a small or medium-sized operation, as you might not have a budget for an IT person to watch over your site 24/7.

What's great is that CMS Hub Starter takes care of the maintenance associated with a traditional CMS so you can focus on creating an amazing customer experience through your website. Hooray, for that peace of mind.
It helps developers, and marketers speak the same language
Most CMS solutions force you to make a trade-off. You can have a simple web page builder that lets marketers create content quickly and easily but has no tools for your developers, or you can have a legacy enterprise CMS that blocks out your marketer.

If you want to grow your business through your website, you need a CMS that both your marketers and developers love. CMS Hub Starter lets your developers use the tools, technologies, and workflows that they prefer to create flexible themes for your marketers to work within.
Marketers can then take ownership of your business website and be able to update the look and feel of it without being restricted by the dev team's availability.
It's an all-in-one CRM platform
Are you limiting your website's potential with a detached CMS solution? If your organization is going to spend the time, resources, and money needed to make inbound work, you absolutely need to be collecting data on your organization's most important marketing asset - your website.

HubSpot's CMS Hub Starter is built as part of HubSpot's CRM platform to ensure that your website is part of your growth machine and delivers skyrocketing results.

For more information on the different CMS licenses, check out HubSpot's CMS product page.

What does HubSpot's new CMS Starter tier cost?
Originally, the CMS Suite was only available starting at $400 a month (and higher) with professional and enterprise tiers, the new Starter tier provides a lower barrier to entry for companies to some of the best perks of HubSpot's CMS Hub, as it's only $25 per month!
It is also available as part of HubSpot's Starter CRM Suite bundle, which gives customers access to all five of HubSpot's Starter-tier products for a discounted rate of $50 per month, or $45 per month if you pay upfront.
Get started with HubSpot's new CMS Starter today
Work with a HubSpot Partner agency like iGoMoon to get started.

We love solving for the customer and as an Advanced CMS Implementation Certified Partner we work with Starter, Professional and Enterprise CMS licences. If you're looking for a consultant to help guide your business, let's set up a call.
Do you have additional questions about finding the right HubSpot CMS Hub Tier for your business? Contact us to chat.