To get a better view of the video and marketing landscape, I recently sat down with Vidyard's Katie Bentz and she shared what she feels makes video the most effective tool in every business' content marketing strategy.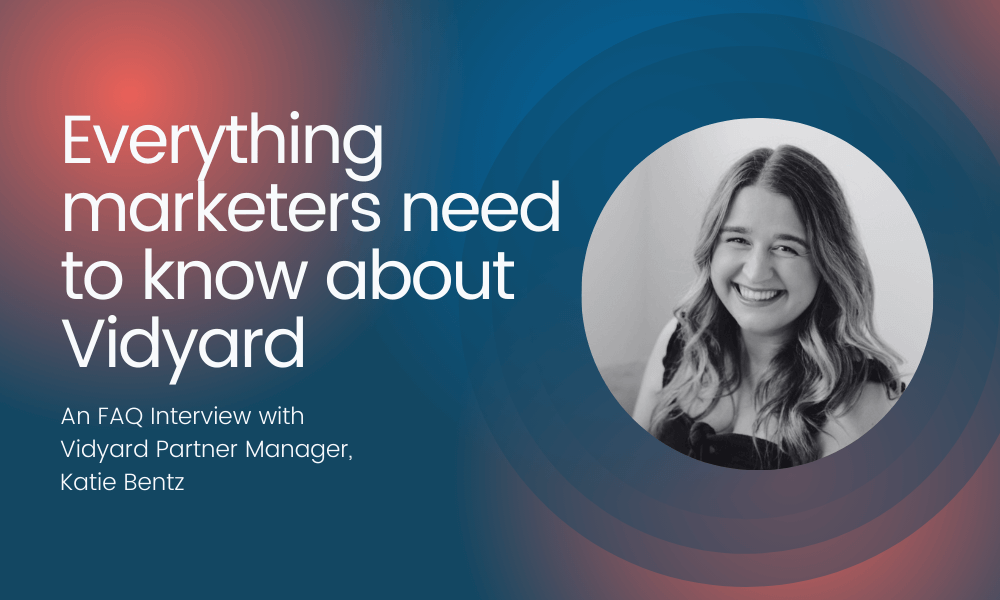 Meeting Katie Bentz
I recently had the pleasure of sitting down with Partner Manager at Vidyard and all-around wonderful human, Katie Bentz. Katie is passionate about helping businesses grow through the strategic use of video. I'm so grateful that she took the time to help answer some FAQs about Vidyard and give us the marketing perspective on using video strategically throughout the funnel. Here's a bit more about Katie.
Why video is so important today
Creating video content can seem daunting but your company can reap so many benefits by implementing a video marketing strategy. Video can help you rank higher on search engines, increase your user engagement, get higher conversion rates and create those real human connections you've been struggling to build.
If you're still wondering if video is worth the hassle, I hope we'll be able to convince you not only that it is, but to get started today.
Katie talks about the shift in perspective they've seen at Vidyard and explains that video is now a requirement, not just a recommendation.
"Gone are the days where you have to have polished videos. Being on the other side of a global pandemic, we're seeing that it's no longer about convincing people why they should use video but rather how they can use it to succeed."

- Katie Bentz, Partner Manager at Vidyard
Watch our on-demand webinar with Vidyard expert Yaniv Siegel and learn how to ignite your content marketing strategy with Vidyard video.
Where you can (and should) use Vidyard videos
Whether you work in a large organization, a small business, or an educational institution, you can't avoid it. Video is now a must.

But it can be daunting to even know where to begin. Katie speaks about the multitude of places you can use your videos to get the most out of the content you're creating.
Vidyard vs. HubSpot Video: which is right for your business?
HubSpot video hosting is a great starting point for incorporating video into your marketing efforts. If your needs grow beyond the features provided directly in HubSpot, that's when Vidyard is here to help you out.

Vidyard offers several solutions for HubSpot users looking to do even more with their video content. Maybe you want to embed videos on pages hosted outside of HubSpot or you want to allow prospects to book a meeting directly from your video. Vidyard can help you do this.
With a paid Vidyard package and a HubSpot data integration, you are able to easily add videos to your inbound marketing programs and track individual viewer engagement—directly inside HubSpot.

With the viewer data that Vidyard shares with HubSpot, you can then:
Use video engagement to score leads and segment contacts into lists
Enroll contacts into automated workflows based on their interaction with your videos
Measure the impact of video in custom reports and revenue attribution
Katie breaks it down for us here:
With different teams creating videos, how do you access and stay organized using Vidyard?
You can strategically organize your videos according to the varied needs of your teams. These folders then make up your Vidyard account.
When you sign in to your account, you can interact with any of the folders that you or your team have access to.
I'll let Katie explain how they stay organized in her team at Vidyard:
What analytics can we track using Vidyard?
It's fantastic that your videos are getting views, but do you know who's watching them? Were people dropping off? Why were they dropping off? Are you placing your videos in the right spot?
We have to go beyond vanity metrics and deep dive into video analytics that help you track video engagement, learn more about your audience, and turn views into results.
According to Katie the key analytics you can track using Vidyard include:
Video views
Average watch time is for those videos
Identified viewers
Video loads
Average percentages
Call-to-action performance
These analytics can inform how you personalize your sales outreach and follow-up messaging. Track which of your team members are most active with video, and who drives the most views. Use video data to qualify, segment, score, nurture and engage leads with automated marketing activities.
Below, Katie shares some exceptional use cases and examples on how to use analytics to improve your content marketing performance:
Automatic SEO with Vidyard
Vidyard videos optimize themselves for SEO. As soon as you upload a video, a transcript is magically created. This is combined with other information like XML sitemaps and then added to your video automatically. Google is going to love you.
It's good to have both, because sometimes you just need a quick answer and you don't have time to watch a long video. I really think that is the way of the future. Like taking something like we're doing now and pulling each question and turning it into a blog article and having the three-minute clip of us talking about the question. I think that is definitely the way of the future in terms of a hybrid approach."

- Katie Bentz, Partner Manager at Vidyard
Katie's favorite Vidyard feature
As she is the expert, I wanted to know what Vidyard features or tools Katie uses day-to-day. And she brought up yet another incredible feature, Vidyard Video Hub.

A video Hub is similar to a YouTube channel, where you can showcases all your videos. It gets better. Unlike a YouTube channel, your video hub is organized, branded, and distraction-free to keep your audience engaged – and returning.
Katie says she uses this in her role as a partner manager as a form of enablement for her partners. She has different training videos that are broken up into different topics. For example, she has had account executives to record a training video, and marketing content etc. and she's organized it in a way that allows her partners to visit, search for what they're looking for, and explore the different training sessions on their own time. Katie then receives notifications when people are watching the content in her video hub.
Katie says they are "seeing a lot more companies start to use things like a video hub to really organize that video content and use it as an extension of their website". More details on this in the video below:

Like Katie mentioned above, I too am not the most technically advanced marketer, and I found it reassuring to hear how easy-to-use she found it.
I'm excited to explore the idea of an iGoMoon video hub in the not-too-distant future.
What's new at Vidyard?
The whole Vidyard company has heard from a ton of salespeople that they see better performance when sending out personalized videos as their sales e-mails rather than text based emails. So, the Vidyard team wanted to know what is it about video messages that really got people to respond and engage? And how does the human brain actually react to watching those video emails versus text based emails?
To explore these questions, Vidyard worked with B2B Decision Lab and commissioned a comprehensive neuroscience study to analyze how the human brain reacts and processes video emails versus text based emails.

View the report here.
Thank you Katie Bentz
If you'd like to connect with Katie we highly recommend finding her on LinkedIn. She posts helpful tips and tricks when using Vidyard you don't want to miss.
Thank you so much for taking the time to speak with me, I can't wait to chat with you again and learn even more about how we can leverage Vidyard to grow.
Are you ready to start making videos?
Vidyard is built for anyone who needs to make any kind of 1-to-1 or screen recorded videos that are engaging and trackable and has a ton of helpful how-to videos to get you started.
iGoMoon offers Vidyard training for you and your team. Get in touch with us to learn about our video selling training program and get started with video today.