A successful website redesign requires a thorough plan of action and relies heavily on an effective project manager to lead the way. Proper project management can keep things running smoothly, while an absence of due processes can be a recipe for missteps and unhappy customers.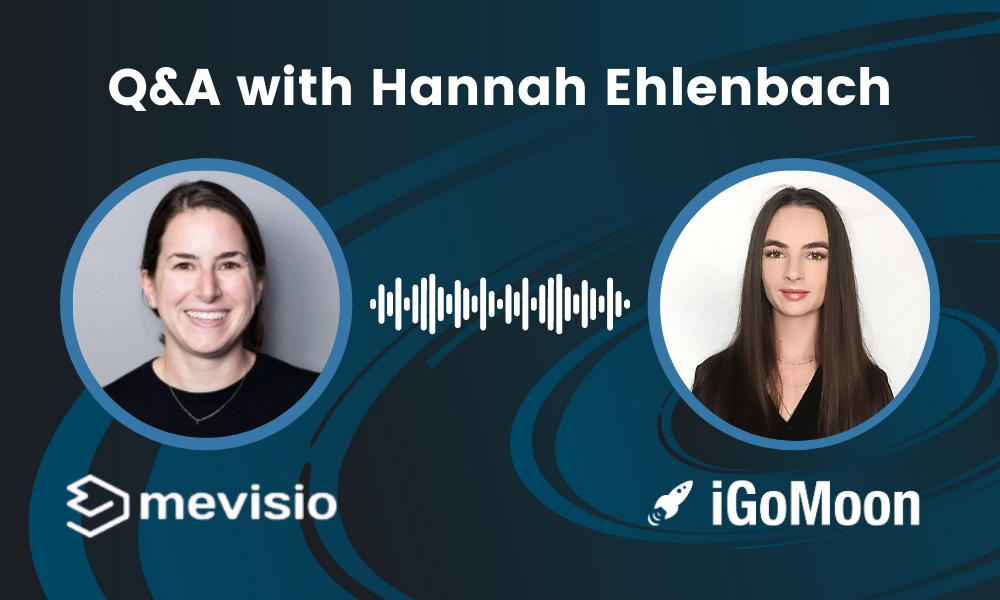 Getting to know custom digital solutions platform, Mevisio
Tayla Fagan: Hi Hannah, thanks for joining me today. Are you ready to help us get to the moon?
Hannah Ehlenbach: Absolutely.
Tayla Fagan: Great! Could you please start by telling us a bit about yourself and your role at Mevisio.
Hannah Ehlenbach: My name is Hannah Ehlenbach and I have been with my Mevisio just shy of a year, and I am a project manager on our customer success team. My background is in project management and customer service.
I found Mevisio and the product really compelling. The point of the business that we're at, we're young, but we're growing, and it's exciting."

- Hannah Ehlenbach, Project Manager at Mevisio
Tayla Fagan: Could you tell us a bit about Mevisio as a company and your experience there in the few months that you've been with them? Talk us through the business, how it works, and how you help your customers.
Hannah Ehlenbach: We have a really great solution to helping clients go from managing all of their lean needs in an analog format, so from whiteboards, pieces of paper, and moving them to a digital format. We create a custom digital solution to fit the needs of our clients.
We really specialize in data visualization and adapting popular lean tools that have been out there for years into that digital environment. So that's kind of our niche.
Read more about Inuit's product listing page redesign on our customer's page.
Tayla Fagan: I want to clarify, is this also a collaborative tool or is it more just a consolidation tool?
Hannah Ehlenbach: It's both. The website that iGoMoon built has some great pictures and content around the daily use cases and the most popular use cases.
Mevisio's journey to iGoMoon
Tayla Fagan: Awesome! Where did you hear about iGoMoon and how did you initially find us?
Hannah Ehlenbach: I found you on HubSpot's platform or HubSpot's partner page, I believe this is a while ago now, but I did quite a thorough search of agencies based in Stockholm. We knew we wanted to work with an agency that was based here, that we could potentially form a longer-lasting relationship with as our needs as a growing business are growing as well.
iGoMoon came up as an option that kind of ticked a lot of our boxes and the fact that you specialize in HubSpot made us feel really confident. We were already actually paying to have our website hosted on HubSpot, but we weren't using that service. So we really wanted to make sure that we're taking full advantage of the HubSpot platform.
We had a website that we felt was just a little dated, not as clean looking as it could be, a little more homegrown. So we really wanted to take the opportunity to present a more polished version of our business to prospective clients.
Tayla Fagan: That's really good to know. We're glad that you did find us on the HubSpot Partner page. As you grow, your needs are going to be growing alongside you and your website's obviously going to need to be updated.
Can you explain the challenges that Mevisio was facing and what support you needed from iGoMoon?
Hannah Ehlenbach: Exactly, so we came to you basically saying we're not happy with our current website, both how it looks and functions. Can you help us put together a new and fully redesigned business website?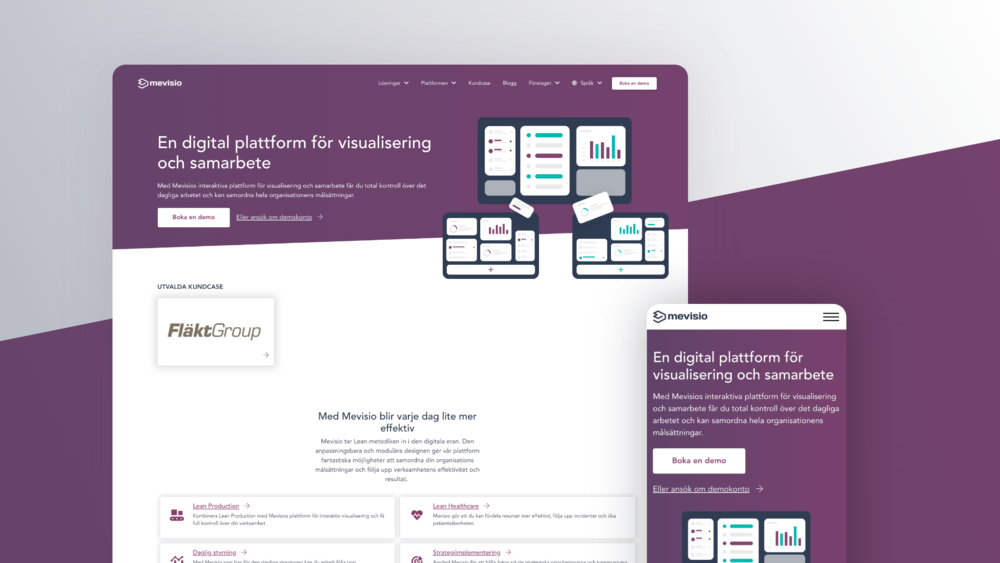 (Above image: Mevisio's redesigned website)
Tayla Fagan: Can you maybe explain the process between Mevisio and iGoMoon in order to complete the project we worked on together?
Hannah Ehlenbach: We started off by talking through our goals with the iGoMoon project team. We liked iGoMoon's consultative approach and enjoyed mapping out the type of information we wanted to present in the workshop meeting. We also launched with a total of three languages, so that was another fun kind of thing to be able to facilitate within that project as well.
Tayla Fagan: Great, thanks for walking us through that and the multilingual functionality is quite exceptional with HubSpot. So that's exciting. And when was the relaunch? How long ago was that process completed?
Hannah Ehlenbach: It was in December of 2020.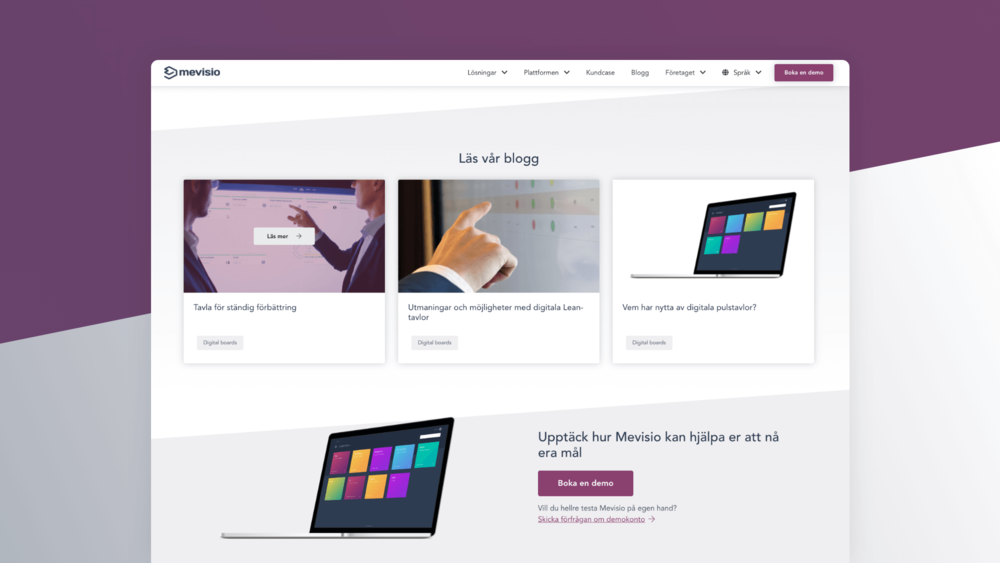 (Above image: Mevisio's redesigned website blog page)
Tayla Fagan: Please talk us through your experience working with the iGoMoon team.
Hannah Ehlenbach: We appreciated timely communication from the team, we ran into a little bit of a snag in the design process where we just weren't happy with the options that were presented to us. And we really appreciated that the team at iGoMoon went back to the drawing board and, gave us additional options. They worked with us to make sure that we were satisfied with the end result of the design. So that was really great. It's completely understandable if you don't nail it on the first try. It's hard to get a sense of a brand's aspirational look and feel. So we were really happy that we could kind of go from a place of misalignment and get to a place that we were really happy with.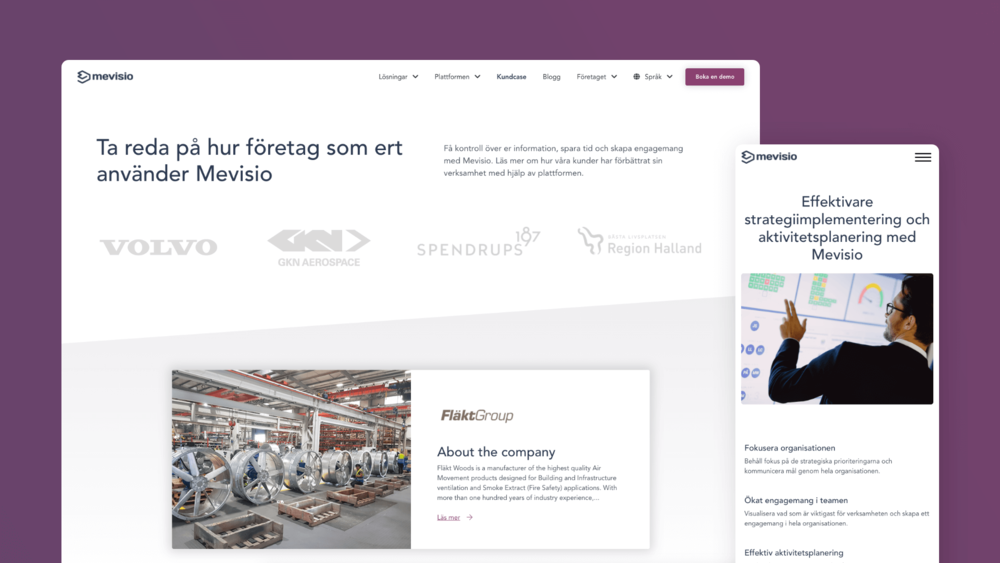 (Above image: Mevisio's redesigned website)
Tayla Fagan: That's great, and I'm glad you guys are happy with it now. I believe we took your platform and then translated that to your website, is that correct?
Hannah Ehlenbach: Yeah, so she took the design elements from our platform and took those as inspiration in some key aspects of her design.
Lightning round
Tayla Fagan: So Hannah, Those are all the questions I have surrounding the project and how it was to work wit our space agents. Let's finish with a question lightning round to inspire others.
What are some of your favorite software or apps that you can't live without in order to run daily operations at Mevisio?
Hannah Ehlenbach: Slack is definitely a go-to. I'm sure you get that a lot.
Tayla Fagan: Yes. Slack is a must for us at the Moon as well.
Hannah Ehlenbach: I really like this app for macs called Better Touch Tool, it allows you to customize your controls in a way that I find very intuitive, so that's one that I weirdly can't live without.
Tayla Fagan: That's new, and I haven't heard of that one before. So thank you.
What's your favorite way to consume content? Blogs, articles, podcasts, webinars?
Hannah Ehlenbach: I enjoy reading news articles on my phone and I enjoy listening to podcasts as well. To name two of my favorites:
Myths and Legends
Radiolab
Tayla Fagan: OK, I'm more in the true crime genre myself, but those sound interesting thanks for the recommendation.
Well, on that note, thank you so much Hannah for taking the time and sharing with us. I just want to conclude. Where can we learn more about you and Mevisio?
Hannah Ehlenbach: On our website, and you can find me on LinkedIn.
Tayla Fagan: Great. Well have a good afternoon Hannah and chat soon.
Hannah Ehlenbach: Sounds good. Take care.
If you're thinking of starting your next website redesign project, get in touch with our crew to set up an exploratory meeting.