Since starting with HubSpot over 6 years ago, Luke Summerfield has worn many hats and worked in positions throughout the HubSpot ecosystem.
In this piece, we unpack how big wave surfer, inspirational speaker, writer, and inventor Luke Summerfield found his mission and turned his attention towards shaping the future of website design to help solve all our web development headaches.

How Luke Summerfield skyrocketed from "HubSpotter" to "HubSpot celebrity"
Summerfield began his career in the web design agency world, working with clients and implementing HubSpot for them. It was a small tech shop and after realizing they needed more leads for web design services; they bought HubSpot to generate leads for their agency, not even to use with their clients. It went so well that they thought "we should offer inbound to our clients".

Luke and his team even started a second business line to offer HubSpot to their customers.
It's this agency experience that helped Summerfield craft Growth-Driven Design. Knowing what his customer's pain points have planted the seeds so that when he started at HubSpot working on the CMS he had the foundation to build on. Eventually created the system that HubSpot teaches to agencies across the world today.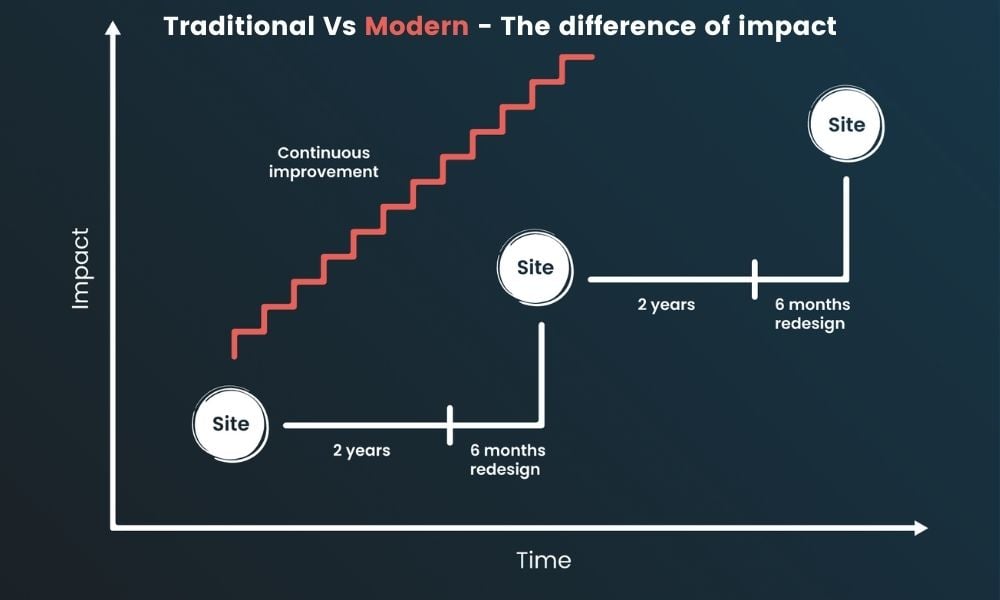 His smarter approach to web design
Growth-Driven Design (GDD) is the process of redesigning a website using agile development methods. To drive home the comparison, Summerfield uses the above illustration to outline the heightened cost and time often associated with a traditional website redesign.
To grow and optimize your business website using GDD watch our on-demand webinar hosted by Luke Summerfield.
GDD aims to build a website in increments and make continuous improvements to your website backed by data and analysis. GDD does away with traditional website design methods which focus on designing and building every single element of your website page to perfection before letting it sit and turn stale quickly. GDD allows you to launch a website more cost-effectively and efficiently than traditional practices while creating a product that provides a superior experience for your users.

Growth-Driven Design alleviates all those frustrations that come with traditional website redesigns, such as launching on time and going over budget
- Luke Summerfield, HubSpot Celebrity
The GDD process consists of three stages:
Strategy (10–14 Days): develop an empathetic understanding of your audience's world and how the website can solve problems along their journey.
Launch Pad (60–90 Days): Quickly build a website that looks and performs better than what you have today, but is the foundation on which to build and optimize from.
Continuous Improvement (14 Day Sprints): With a launch pad site live and collecting user data, you can start identifying the high-impact actions you can take to grow your business.
Growth-Driven Design had been a tremendous success from its inception, creating two HubSpot certifications—GDD Principles and GDD Agency.
Realizing there are always opportunities for growth and progress, Summerfield did not stop there. Once the Growth-Driven Design courses were in a good spot, he shifted gears and started really focusing on the developers that were building on HubSpot, and launched a ton of initiatives.
Why HubSpot's CMS is the ideal central hub for Growth-Driven Design
In September 2018, HubSpot announced it was entering the CMS market with its standalone CMS product.

In the past, HubSpot had made it difficult for anyone to just use the core functionality of the CMS. You had to have the marketing tools to then add on the CMS to do more of the website design.

At the time, Summerfield and the HubSpot team were coming across a lot of businesses that wanted a website redesign, but weren't interested in inbound marketing or maybe wanted to focus on that later down the line. So, they made the CMS a standalone product that you can use without having to purchase a HubSpot marketing license.

The standalone CMS also comes with the CRM as a free tool. HubSpot is a lot more than just a content management tool - it brings together all the tools you need for personalization and lead generation under one roof so you can easily build a website that performs. There are fewer barriers to get started with when you undertake your website project on HubSpot. Especially when you sign up with Growth-Driven Design in mind. Growth-Driven Design is all about finding alternative ways to build creative solutions on your site, and HubSpot CMS allows you to do just that.
On-demand webinar: Building a Peak Performing Website
Your business website should be your most profitable virtual employee. Yet, business leaders and digital marketers just like you are unwittingly undermining the money-making potential of your business website.

Watch our on-demand webinar hosted by Luke Summerfield will help you view your website differently and provide you with simple yet powerful tactics to increase the revenue potential of your business website, no matter what industry you're in.
(Content in this blog was sourced from HubSpot CMS Blog, Digital22 recording, Sparringspodden med Hallgeir Gustavsen recording)
Get in touch with our space agents if you want to discuss implementing the GDD method in your next website project.