Is it March already? Time just flies when you are having fun. It has been a eventful month. Not only did we launch our brand new HubSpot website and release our first inbound marketing campaign, we added four new members to our crew and as a cherry on top of the moon cake we beat our sales record. So how awesome was this month? Let's have a look.
The February results
It has been a hectic month but when I look at the result down below I'm really happy that we worked hard put down such a hard work to our website.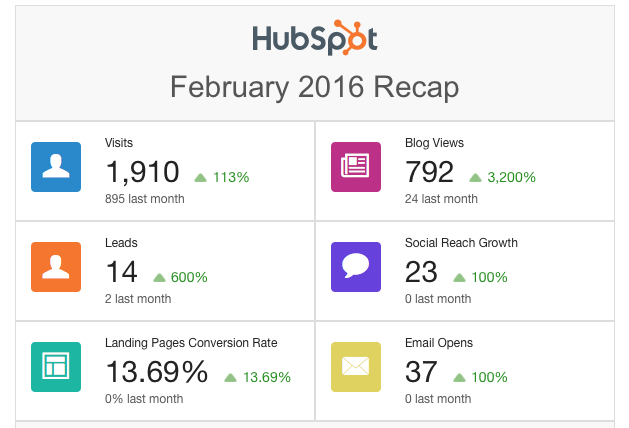 3500% more visits to our blog
The first step, and phase one, in the inbound marketing funnel is to is to attract more visitors to your website. And do you know what's a great way to do this? By setting up a blogging calender and make sure you write posts and update your blog frequently. In February we started to blog more frequently and we almost posted 4 blog posts every week, and shared them on our social channels such as Facebook and LinkedIn, which lead to a staggering 3500% more visits to our site.
We generated 113% more traffic
The blogging has not only made it's prescence felt in blogging statistics. It gave us tons of traffic to our website as well. We had 1 910 visits to our website during February, which is 113% more visits than the previous month.
We gained 600% more leads
Our guide on website redesign is a piece of premium content which allows us to divide our visitors into two different categories: visitors and leads. If a vistors downloads the guide, they are no longer a vistors, but a lead. In January we only generated 2 new leads with our website. But in February we switched those numbers around and generated 15 leads(!) thats means that our new website generated 600% more leads than in January.
A 13,68 % conversion rate
Our landing pages has a combined conversion rate of 14 %, it means that 14% of those who has reached our landing page have made an action, like downloading our guide or requested a demo.
What do you think about our first month?
Please leave a comment, or are you looking for more website redesign tips? Check out our guide!