We're getting to know our awesome new colleague and Inbound Marketing Consultant, Alexander Nieminen a bit better. He recently graduated his Master studies in International Business and Marketing in September and took the brave leap to move to Stockholm from Denmark. We're so happy and grateful that he has now landed on iGoMoon, let's get to know Alexander together.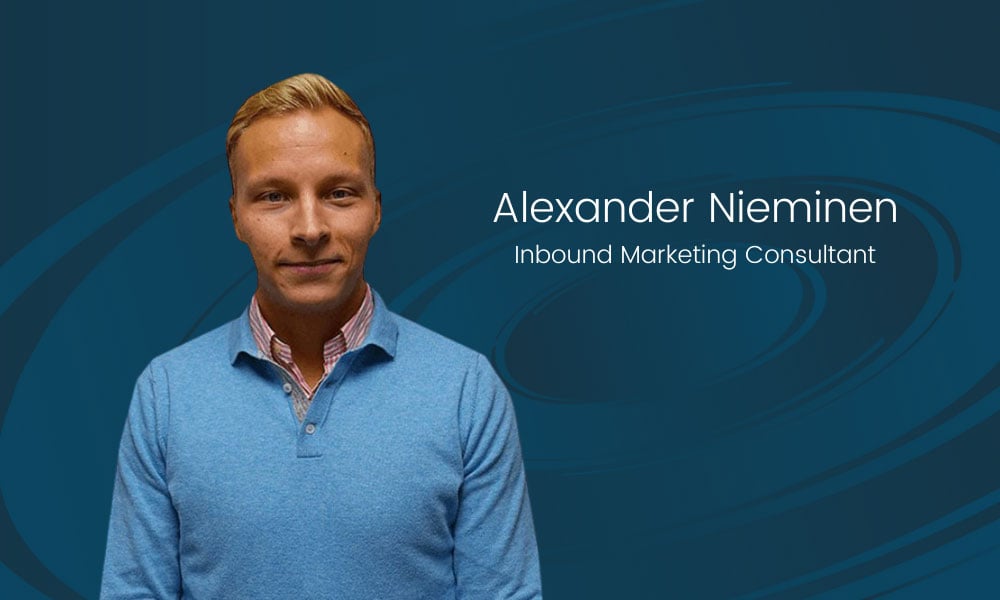 Stay crisp - where did your moonshot journey begin?
What did you do before you landed on the moon? How did you get started in marketing?
I graduated from my Master studies in International Business & Marketing in September which I conducted in Odense, Denmark. Already back in my bachelor studies my focus was marketing, but this is actually my first marketing focused job. I have been working with sales before within the logistics industry and with customer service in the hotel industry.
Tell us a little about your journey to the moon and what are you most looking forward to in your new role here?
My journey to the Moon was moving to Stockholm from Finland (where I come from), and joining iGoMoon. What I am most looking forward to in my new role as an inbound marketing consultant (IMC) is to learn/develop the services (and my own tasks) we provide for our customers continuously as well as to be able to perform according to the customer needs and to exceed their expectations whenever possible. 💪
How did you find out about iGoMoon and what encouraged you to apply for the position here?
I found the open position on the job portal which I found interesting. Then I read more about iGoMoon on their website. What encouraged me to apply was the job role itself and the fact that iGoMoon has an international and young work environment which was something I was looking for. Another bonus was of course the location of the office and the fact that the job is in Stockholm! 😀
Get to know iGoMoon and the fun team that makes the Moon so special by watching our vlog channel, Månresan.
What do you love most about being an inbound marketing consultant?
Everything is still fairly new but I would say the fact that there is a lot of variety regarding the tasks for different customers, that there is a lot of emphasis on teamwork and a lot of direct contact with customers.
What's the best piece of career advice you've ever been given?
Simple. Take risks, be prepared to fail and learn.
Be brave - Tell us a bit about Alexander
How would you describe yourself in 3 words?
Loyal, ambitious and social
What do you enjoy doing as soon as you have spare time?
During my free time I like to play golf and spend time with my friends, I also play guitar and love travelling.
Tell us something most people don't know about you.
I am a huge country music fan.
Tell us about your proudest accomplishment.
Hard question, but probably receiving my master's diploma 🎓.
Let's have some fun with a speed round
At the top of my bucket list is… To build an awesome career.

If I could choose one superpower, that would be… Reading minds.
You have your own late night talk show, who do you invite as your first guest?... Jeff Bezos
The top 3 apps used on your phone currently are... WhatsApp, facebook, Instagram

If you're interested in working at iGoMoon and want to know more about our selection process, take a look at our careers page.