As the COVID-19 pandemic challenges companies to reassess our work arrangements, we at iGoMoon found useful online alternatives to host our workshops this year. While we have always incorporated technology in the way we work, we turned to additional digital resources (like Vidyard, the almighty Zoom and Google Meets) as we continue to work remotely, and host our very first webinar ever! We want to share a few things we learned during the process.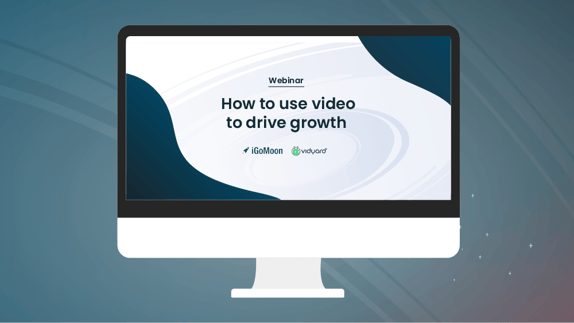 What is a webinar?
Webinars (web seminars) are video presentations, workshops, or lectures hosted online. These online events are usually interactive, business-related, and allow you to share your knowledge with virtually anyone in the world.

Web presentations and conferences are a highly interactive form of marketing and can help you build relationships or authority in your industry. But the possibilities are endless. You can even use webinars for internal team meetings if you're part of a remote team.

Planning a webinar is so much easier than organizing a seminar or lecture in person. Mainly because you don't need to have a big venue to host all of your attendees. You can invite people from all around the globe, to meet in real-time, and if they can't take part live, you can record your live webinar and send it to them to watch at their leisure.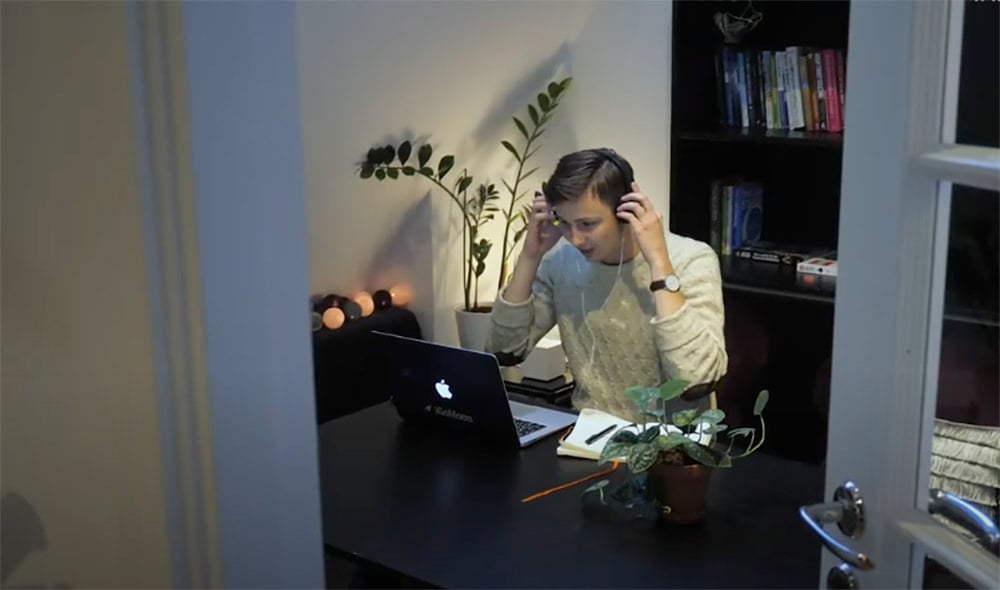 Benefits of hosting a webinar
Now you know what a webinar is, but why should you host your own? Here are the major reasons you should host a webinar:
They help you build an extend contact base. Every registered person is a new contact in your database.
Online seminars establish you as an expert, a trustworthy and reliable source of information in your industry, and share your expertise with your target market.
If you record your webinars, you can use it as valuable content you can share with your audience later.
By registering, people are showing an interest in what you are offering–they become qualified leads, making it easier to nurture and convert them.
iGoMoon's first webinar
Believe it or not, none of us had hosted an online webinar before, which is why for our first webinar, "Implementing video into your sales process" we joined forces with our good friend and Vidyard expert Yaniv Siegal. Yaniv gave a brilliant talk that covered:
Why personalized video is such an effective tool in sales
How to leverage video for prospecting
How to shorten the sales cycle through video
How to build stronger relationships with your existing customers through video
As rookies to the webinar hosting experience, we found this process rewarding and we want to share with you what we learned as hosts:

1. It's not as easy as it looks
We realized early on that while the idea of a webinar may seem like an easy feat (you just need a laptop and an internet connection, right?), but it involves a lot of hard work to prepare for one. There are lots of moving parts to keep track of, so starting with a solid plan is priority one. We recommend reading HubSpot Academy's Tactical Template: How to Run a Webinar which will walk you through how to run a webinar using HubSpot tools and the HubSpot ecosystem.
2. Promote, promote, promote
We're just going to say it, co-hosting a webinar for the first time was nerve-racking! What if nobody shows? No matter how interesting your content is, it doesn't mean much if nobody is there to hear it. Let's look at ways to get people aware of, excited for and attending your next webinar.
Have a goal
Having a goal will inspire you to hit it and help you measure success. In 2011, HubSpot attempted to break the Guinness World Record for webinar attendees, and would need to reach about 10,899 attendees to do this. World Records aside, there are many reasons to set a goal. After all, you're not putting on a webinar for the fun of it. You want it to contribute toward lead generation and brand awareness. Consider what your marketing goals are and then decide how you want this webinar to contribute toward them.

Note: Just because people register for your webinar does not mean they will attend your webinar. Which brings us to our next tip...

Set a registrant goal that will actually result in your desired number of attendees. Webinars typically get 44% of pre-registrants to attend the live event. To determine how many registrants you need, think ahead to how many actual attendees you want.

You should track performance on at least a weekly basis to see whether your marketing efforts are moving the needle towards that registrant goal. That way, if you need to dial up your promotion due to low initial registration numbers, you'll know what to do to fix it.
Don't let your registrants fall off
Another note: Getting people to attend your webinar requires lots and lots (and lots) of registrant reminders. People often sign up for webinars weeks in advance, so it's critical that you try to keep your webinar top-of-mind during that time.
3. Interact with your audience
One of the key things that stood out when we were doing our webinar research and planning was interactivity into the webinar. Instead of lining up a boring lecture, we wanted to make sure we were engaging our audience. This definitely required more thought! Finding a balance between interactivity, while not coming across as too forced, can be a challenge.

We attempted a blend of asking questions, while simultaneously Yaniv and Henrik interacted with each other as hosts. One important thing we realized was that having an open channel for communication (in this case the chat box function in the webinar software Zoom) is crucial when you are striving for an interactive experience.

4. Have fun!
Our final takeaway from our first webinar experience - HAVE FUN. Even though we were super anxious about gaining sign-ups and then keeping our participants interested and engaged, we realized it would be more meaningful and helpful for everyone if we poured our passion into it. So we put on our space suits and spoke on our own experiences as entrepreneurs and sales professionals.

We observed how our participants of varying backgrounds and video skill levels interacted or reacted to what we said, and it was encouraging to learn how much they found our webinar useful.

Overall, we found that there are innovative ways to connect with our community even during these novel times — and hosting a webinar is one of them. Not only that, it's a fun way to collaborate with our partners too- Thank you Yaniv Siegal! We look forward to future iGoMoon webinars, and we are excited to expand our series of online events.
Thank you to our participants
Hosting a webinar would be impossible without the commitment of participants who choose to take the time to attend such online events. We'd like to thank our participants for signing up and we hope you walked away from our webinar masterclass with some actionable tips.
Did you miss our webinar?
You can easily access our recorded webinar here.

We will keep you posted on when our next webinar will be, so keep watching our Facebook and Instagram pages!
Meanwhile, if you're working from home and are struggling to stand out in your prospects and customers' inbox, let us set your sales team up for success with our Vidyard training program.