We've had such a blast working with Tobias Sannefjordh who joined the Moon a few weeks ago in the UX/UI design position. Tobias is eager to tackle and quick to try. He wants to change the digital world and chases big goals. He lives his life out of his comfort zone and we think this is what will make him an excellent UX/UI designer. Watch this space!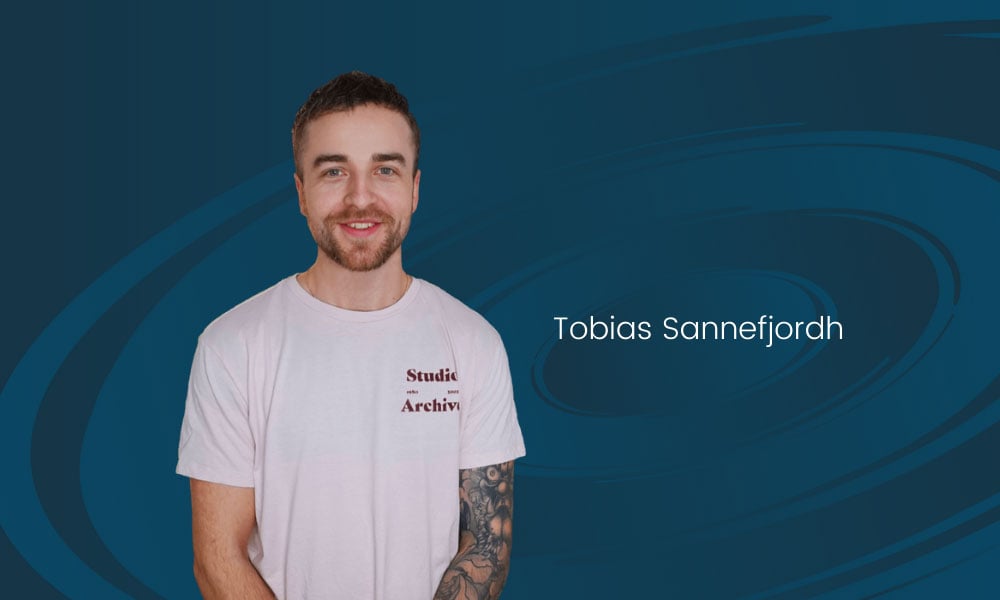 Tell us a little about your education
I took an introduction course in Graphic Design (10 weeks) at Berghs School of Communication and felt like that was my life's purpose. Although I steered off track and pursued IT instead. I took a course in Personal Trainer but didn't quite like that. After about 7 years of trying to figure out what I wanted to do with my life, I found UX design. I started studying UX design in 2020 and never looked back - it has become my great passion and I particularly enjoy the availability & accessibility side of UX - to design for a purpose and to provide a good foundation for a project's moving-forward process with the user always in the center.
What made you apply to iGoMoon for an internship?
I found iGoMoon while browsing Linkedin and saw that they were looking for a Lead UX/UI designer. I was looking at a few different UX companies at this time but it was something about iGoMoon that stood out from the rest. I guess it was the vlogs, where the "vibe" could be felt through the video player.
Without hesitation I applied for that role (although I didn't have 5+ years of experience) and kindly asked if they accepted internships. After a few interviews and talks the internship became a reality.
And what made you fall for iGoMoon?
It looked like iGoMoon had fun at work. And seemed like a go-getter-mentality kind of workplace.
I also fell for the space/moon-theme which I think is cool.
Mostly though, I fell for the "Be brave, Be Crisp & Have fun"-mentality. It resonated a lot! And I'm starting to see how this motto is applied in everyday work.
What inspires you about the design industry?
For me, the coolest part about the design industry is that it is so broad and complex - but yet super narrow and simple. Depending on where you work/what area you're working in, the tasks and roles look completely different but yet the same.
Also, landing a job and getting paid to work in UX design has become a dream for me. I've finally found my passion in life. Imagine getting paid for what you actually love doing?! Wow!??! 😱
What are your goals after graduation/this internship?
My goals after graduation is landing a UX job where I can explore and grow as a UX designer - and at the same time have a giving work environment and basically just have a lot of fun doing the work I love. With my knowledge in UX, I want to provide data-driven design to help and change the digital world for the better!


My goals after this internship is to have made an impact basically. I want to show iGoMoon that I am someone they can count on and that I am a go-getter who always wants more. I want to have learnt a lot more about how iGoMoon works - in a broad perspective and what parts are needed for growth. And how things work IRL in this industry - and what sort of customers iGoMoon attract and maintain.
Hopefully I will learn a lot more about the UX process and the design process in general.
What are you most passionate about and why?
I'm passionate about a lot of things! To name a few:
UX Design - data-driven design that actually improves the user's experience in some shape or form. I truly enjoy all the methods and processes in finding out the target audiences/the users REAL problem. When the problem is identified the design will be SO much more worth it and the whole project and organization will benefit from it. I don't like the idea of designing just for designing - I believe that a design isn't truly finished unless it serves its true purpose.

2. Music - Ever since I was a little kid I've always enjoyed actively listening to music. I studied music in high school and I consider myself to be a nerd in the subject. No other thing can express how I'm feeling other than music. So, if I'm feeling in a special way/mood, music is always there to put that feeling into "words"... or I guess "sound"??
Also; live shows are the best thing ever!

3. Self improvement - Growth starts from within, courage starts from within, careers starts from You. I believe: as long as I am myself 100% the rest will fall into place.
I listen to a lot of self improvement podcasts and do daily meditation. I change up my daily routine continuously to find a way that works. From meditation - my creative thinking has improved and also my overall happiness and view on life.
Tell us about your proudest accomplishment
I think changing career paths and continuously challenging my comfort zone. I'm proud to have realized at a young age that nothing comes for free but as long as you set your mind to it, have a clear goal - nothing can really stop you - but be ready to change and iterate on the goal.
I'm proud to have moved around a lot and I have grown exponentially from these situations. So basically, I'm proud to have grown for the better despite all the challenges in life.
What do you most look forward to learning during your time here?
I look forward to being included in the UX processes and the overall design process. How UX can be applied in the real world & how it's approached in a real workplace.
I look forward to getting to know everyone of my new colleagues.
I'm excited to learn as much about iGoMoon as I can - through meetings, workshops, dialogue, completing tasks, being brave and having fun.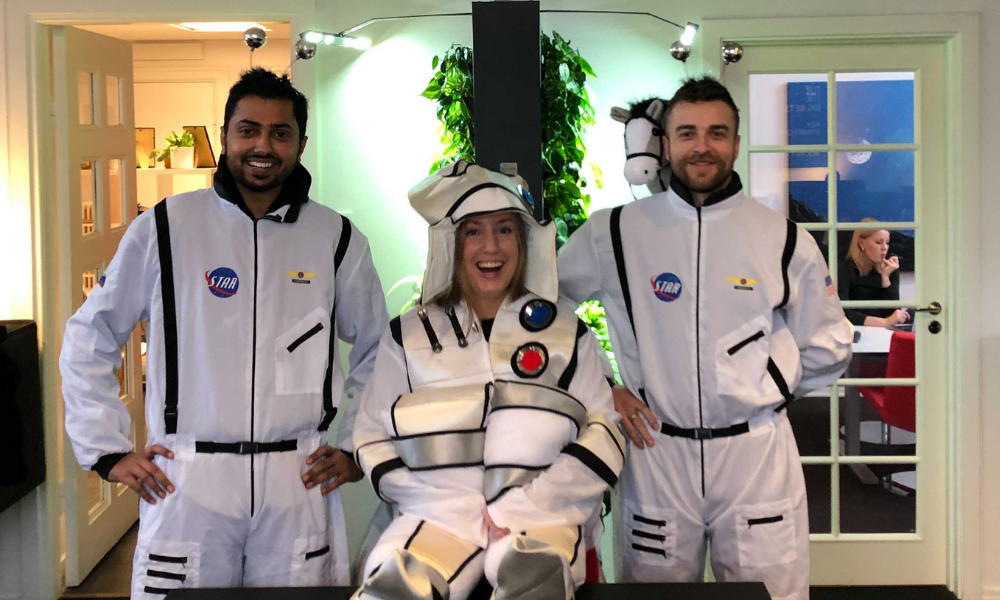 Let's hear a bit more about who Tobias is
How would you describe yourself?
I would describe myself as a go-getter, goal driven and dedicated person. I'm kind, very rarely angry and a team player. When everyone in the room feels good - I feel good. I enjoy social interactions but also love being alone. If you believe in zodiac signs (which I kind of do) I am 100% a Libra.
What do you like doing when you're not at work?

When i'm not working I like to:
Play guitar
Watch a lot of Netflix
Send memes to friends
Hang out with my family & friends
Play computer games
Go to the gym
Be out and about in the forest.
What is something most people don't know about you?
Most people don't know I've played guitar on- and off since 2008. I also listen to a WIDE variety of music. From classical to metal, from ambience to trance.
Most people don't think of me as a metal guy - but I can be 😎
Speed Round:
My dream vacation would be…Alaska/Northern Norway. Somewhere cold and naturally beautiful. 🌲
The App I can't live without…Bear. (Notes app)
My Favorite podcast is…Spöktimmen. A Swedish podcast that talks about true crime & spooky stuff!
You have your own late night talk show, who do you invite as your first guest?... Thom Yorke, frontman of Radiohead. Top #1 band of all time for me is Radiohead.
If you're interested in working at iGoMoon and want to know more about our selection process, take a look at our careers page.