As recruiting strategies have evolved, it is crucial to implement a reliable and efficient approach to manage the recruitment process from start to finish. We tailored this blog post to explain how implementing HubSpot CRM as your center of intelligence allows you to move away from disconnected and inefficient strategies, which frequently come with significant hidden costs.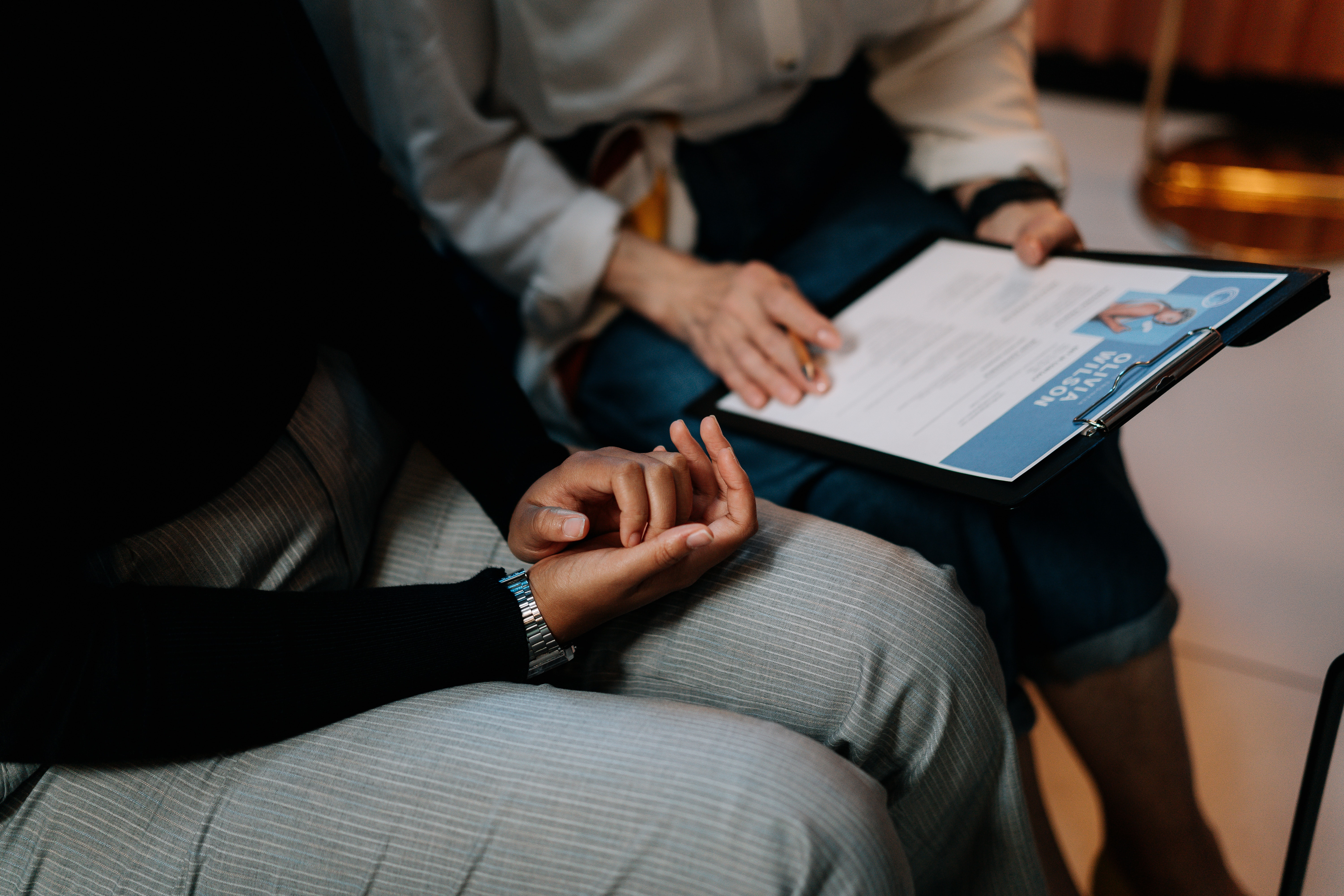 "Recruiting has changed", what does it mean?
The hiring process is crucial to the future of every business. To expand your company, whether you're a Fortune 500 recruitment firm or a startup, you need to select the right people for your customers. According to leaders in business, hiring top talents is challenging, and this matter has become one of their primary concerns.
The way people find, research, and apply for jobs has changed. Companies used to be in control of the recruiting process, but according to HubSpot, "over 75% of job seekers start their search on Google or recruiting platforms."

Therefore, it is more important than ever for recruitment and staffing agencies to know and understand their target audiences to target them with personalized content on what a workplace is like, which positions are available, and even find salary information. Recruiters need a mindset shift to think more like marketers. To do so, they need the right tools to be able to attract and engage candidates with a system that allows them to collect data and insights about potential candidates while also delivering a beneficial candidate experience.

What is Recruitment Marketing?



Recruitment marketing or as HubSpot calls "Inbound Recruiting", creates a strategy for recruiting to help companies to engage with networks, connect with passive and active job seekers, and delight candidates throughout the application process.
As mentioned earlier, nowadays the strategies for hiring and identifying the best talent have changed. How does it affect your agency? Candidates are better educated, know where to look for information, and can quickly learn about a company's working environment. This means that in order to stand out from the competition, having a strong system in place to improve your engagement, and employer brand with candidates is more crucial than ever.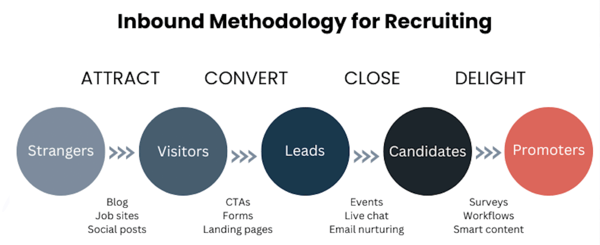 As a recruitment agency, you need and should apply the inbound methodology to recruiting. The majority of candidates you want to reach out to are not actively searching for jobs and might learn about your business on different channels; therefore, using a mix of employer branding and recruitment marketing would boost your chances of finding the top candidates and helping them find you.
Now that you are more knowledgeable about recruitment marketing, let's discuss how HubSpot CRM can be a suitable system for this subject.
Content creation
The most fundamental step in the hiring process begins on your website, specifically, on your careers page. Are you telling your employer brand story? Help job seekers answer questions and get an authentic look inside your organization by creating content that's valuable for your candidate persona.
Buyer persona: with a better understanding of your buyer persona and target audience, you will be able to strategically tailor your inbound marketing to attract qualified leads and close more deals.
Related article: Create your specific personas in HubSpot by simply using the "persona" property and customize your personas accordingly.
Lifecycle marketing
What are the chances a top saleswoman or engineer applies for a job on their first visit to your site? Pretty low. Think like a marketer to nurture relationships and stay in touch over time. Leverage your CRM data and the knowledge you have about your leads to send them nurturing emails and invite them to your events or webinars.
Email marketing: once you have successfully attracted the right visitors and converted them into leads, it's time to turn those leads into candidates. You can use emails to nurture your leads by sending them the right message, at the right time. Email marketing will then continue to support your inbound efforts after someone is already interested in your agency.
Marketing automation: take advantage of HubSpot marketing automation tools like lists and workflows. The advantage of workflows is the ability to provide a personalized approach to thousands of potential candidates at once. They learn more as they interact with the content, and so do you.
Related article: Read more about our top 8 HubSpot automation hacks for Marketers.
Multi-channel
Job seekers and passive candidates learn about your company from a variety of platforms and channels. Meet them where they are by taking your employer brand to them. Make sure you have clear and simple conversion paths where your visitors can convert to leads by subscribing to your blog or career updates.
Social media: staying active on social media channels helps you connect with your potential clients and candidates, increase awareness about your brand, and boost your lead conversions. With HubSpot, you manage your entire social media marketing strategy on one platform.
Ads and campaigns: connect your Meta, LinkedIn, and Google Ads accounts to your HubSpot platform to automatically pull all ad performance data into your CRM. This also allows you to create ads for job openings on a variety of platforms.
Integration
To understand how inbound recruiting impacts your company's bottom line, you need the full, integrated picture of where your candidates are coming from. HubSpot provides a variety of software integrations, which can be found in the HubSpot App Marketplace. If you can't find a pre-built integration for the software you wish to connect with HubSpot, there is always the option to build a custom integration.
Following are a few examples of software integrations available in the HubSpot App Marketplace that may be useful for your recruitment agency:
Related article: Check out the HubSpot app marketplace and connect your favorite tools to HubSpot.
Report
What gets measured gets improved. Measuring your marketing and recruitment efforts is critical to your business. You can do more of what works and less of what doesn't. It helps you understand what content or campaigns work best, identify key trends and patterns in the market, understand your candidates better, and ultimately grow your business.
We help you implement a digital and modern solution that enables you to gather and store all the information you need about your applicants! Read more.
What are the benefits of adopting recruitment marketing?
Inbound recruiting is also sales-based, but rather than a recruiter acting as the salesperson, the marketing department and public relations department play a more substantial role. They, generally, control the website and, in so doing, communicate about your employer brand and influence future candidates.

Generates quality leads - Your leads will be well-informed and interested in your products or services.
Develop long-term relationships - With inbound marketing, you create long-lasting relationships with your candidates and clients based on your continuous delivery of relevant, high-quality content.
Build trust and credibility - When you deliver relevant, high-quality content your audience will associate that same level of quality with your brand. Inbound marketing allows you to manage a thought leadership position in your area of expertise by building authority and credibility.
Measurable data - Inbound marketing provides you with a way to gather measurable and valuable data about prospects, leads, and current candidates and clients; analyzing this information helps you create new business relationships as well as strengthen existing ones.
Recruitment marketing can give you a new slate of candidates, attracting people who might ignore a recruiter's phone call. However, it requires a strong strategy and diligent work to get people interested in and focused on your company.
Download our free guide: Learn more about how to use HubSpot CRM if you work in a recruitment or staffing agency.
We know how to help you
Hubspot provides an all-in-one platform that allows you to align your business goals while also gaining meaningful insight into your recruitment process. More importantly, you will have a fully customized platform designed specifically for your needs and business.
With in-depth knowledge and proven experience in the recruitment field, iGoMoon helps you seize the right opportunities with clarity and confidence, and to stay ahead of the competition. Book a meeting with our specialist and take the opportunity to ask all your questions and find out how we can help you achieve your goals.