I had the privilege of speaking with Eskil Nord, Growth Marketing Manager at innovative SaaS company Timeplan. We spoke about how he uses inbound marketing to attract, engage and delight Timeplan's customers and how he found working with the iGoMoon crew on their latest website project.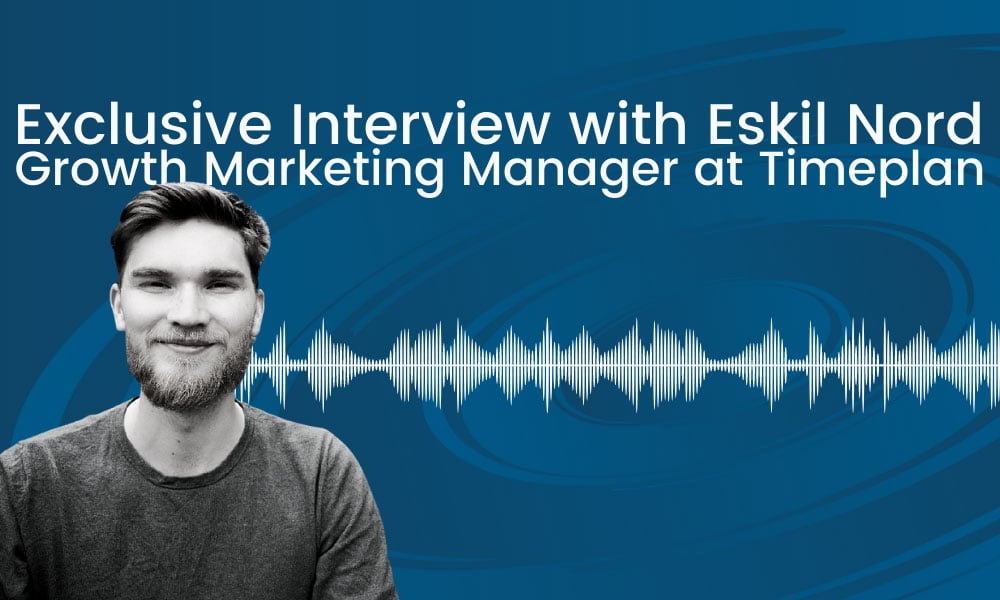 Getting to know Eskil Nord , the Growth Marketing Manager who is going to help get us to the Moon
I recently had the pleasure of sitting down with marketing manager at Timeplan, Eskil Nord. Eskil has years of inbound marketing experience and is putting these skills to good use as he works to help staff intensive companies with their scheduling, time-management and payment needs.
I'm so grateful that he shared his time with us to answer some marketing-related questions about Timeplan and his thought's on keeping your marketing simple to help ensure your customer understands your product well enough to promote it to their decision makers.
Understanding Timeplan
Timeplan is a web-based Workforce Management tool that helps their customers with scheduling, time management, payment administration and communication with employees in a more efficient way. Timeplan is a module based tool that provides their customers with an adapted solutions for many sectors such as hotels, conferences, restaurants, retail, healthcare, and many other staff intensive companies.

Today Timeplan have over 500 customers and more than 50 000 users across the Nordic countries that enjoy the benefit of a powerful and user-friendly system. Timeplan's vision is to be the market leader in their niche.
You can read the full case study and how we helped transform Timeplan's website on our customers page.
Timeplan's ideal target audience
Timeplan have been in business since 2006, and they've had a lot of focus on specific industries. For example, hotel and and retail or bigger companies with 100 employees or more. But the last three years, they've seen that small businesses have really begun to to realize they need something digital to help them to do their scheduling and time reporting more efficiently.

Timeplan have taken note that there weren't very many solutions for companies of this size and so Timeplan has pivoted towards companies of 10+ employees in very different industries.
"We have different personas that we've worked out because they are the people that converted on our website. So we could see that, for example, on a larger corporation, it would be that age or people or people that do payroll or general managers that not have personnel under them that they manage. Those are the three types of people that generally feel a very strong need for something like Timeplan and that we would target inside the corporation with content".

- Eskil Nord, Growth Marketing Manager at Timeplan
Marketing and Timeplan's most important acquisition channels
Eskil tells us that Timeplan have a bit of an unusual process, because he works in marketing and sales and so he really has all the touchpoints with customers. This allows him to learn a lot about the customers that he maybe wouldn't have known otherwise. Eskil say's he "can really use what what he learns in sales conversations, in his marketing. So Timeplan has a really good sales and marketing alignment."

Timeplan's marketing strategy is entirely inbound. They have a free trial that they set up on the website which allows visitors to sign up. Based on their interactions in the account, Timeplan either sends them personalized emails or call them directly to see where we can add value to their experience. From there they usually try to move them towards a demo that's personalized based on their needs and what Timeplan can do for them at that point in their buyer's journey.
How Timeplan keeps up with their customer's wants and needs
Timeplan started a project two years ago when they introduced this free trial solution for their inbound marketing experience. But there was a problem because this software was kind of difficult. It was hard to use and hard to get started. So the Timeplan team really had to think about how to make it more accessible to their visitors. Timeplan implemented an interactive guide with checklists that guides a visitor through different features and how to get started. Timeplan also implemented this inside their application for all of their customers so they can access it on-demand.

Timeplan's customer success team, does an amazing job in speaking with all of Timeplan's customers. They have a goal to speak with them twice a year and they really listen and tune in on what their customer's demands are. The team then always bring up the requests that their customers have, even though they might be very specific to that customer's needs. But it's important that they bring them up in their product group and discuss these ideas to see if they could be a fit for other customers. In this way, Timeplan have a really good relationship with their customers.
Eskil Nord's most valuable lesson as an experienced Growth Marketing Manager: Keep it simple
I would say that the biggest impact that I've found working with marketing and other aspects of the customer journey is to make things very simple. People love simple things. If it's easy to understand and easy to get going, even if it's a very complex product and has very complex features. But if you try to make it as easy as possible and try not make it sound too enterprise-e. You really win if you can help a prospect understand your product and then they can go vouch for your product to all the decision makers."

- Eskil Nord, Growth Marketing Manager at Timeplan
How Timeplan joined forces with the iGoMoon Team
Timeplan is busy growing in Europe and the team is working on a new product which is going to launch in the United Kingdom and Denmark, Norway, Finland and, of course, Sweden to start with.

When they grow, their customers and their needs change, and Timeplan needs a better working website than the one they have, which they've had for three years.
Thank you Eskil
I'd like to extend a big thank you to Eskil Nord for taking time out of your busy schedule to speak with me and share the key insights you've learned during your time working with inbound marketing as Timeplan's Growth marketing manager. If you'd like to connect with Eskil you can find him on LinkedIn.
If you're ready to start your next website project,
get in touch
with our crew to set up an exploratory meeting.