Our newest addition to the crew is Andrez - a talented Front-End intern who will do two internships at the Moon - one he did in autumn, and his second he is doing now as we move towards spring. Andrez is a fast learner and a Formula 1 enthusiast. We are so excited to have him here!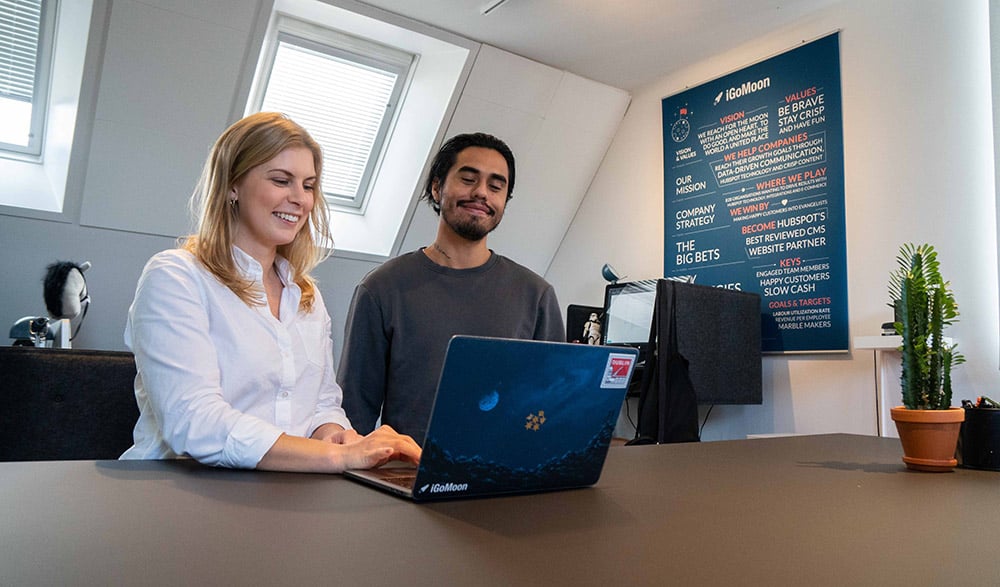 Tell us a little about your education!
I'm currently studying to become a Front-End Developer at Medieinstitutet in Stockholm. A Front-End Developer codes the "front view" of a website. I have learned how to code in languages such as HTML, CSS, Javascript, PHP, React.js, Node.js and so on. My program is two years long and I'm in my second year right now. I still have an examination and internship left, and that's why I'm at iGoMoon right now!
What made you apply to iGoMoon for an internship?
My friend Kevin had his internship at iGoMoon a couple of years ago. He told me great things about the company and I decided to look it up. I got a good impression from the website and the work they do, and wanted to try it out. I sent an application, and soon after that I got in contact with Mattias. He told me that they were looking for interns both for fall and spring, and I felt that the more time I could spend here - the better it would be.
And what made you fall for iGoMoon?
After the initial call with Mattias I met him for an in-person interview. We talked, and Mattias gave me a tour of iGoMoon's office, where I got to meet some of my future co-workers. He told me about iGoMoon, and described the spirit, vision, values and the goals they want to achieve. I got a pretty good impression of the company and it was a plus that I felt welcomed as well.
What do you most look forward to learning during your time here?
I'm looking forward to contributing to iGoMoons growth, and at the same time expanding my knowledge in coding. I'm also really looking forward to gaining experience while working on projects for real clients. I know it will be a great way to prepare myself for working life after my graduation.
Great to hear. Let's hear a bit more about who Andrez is!
How would you describe yourself?
I would say I'm very positive, creative and a perfectionist. I like to make music and travel videos, and I always want to do my best in every project. This is where the perfectionist part of me comes in. When I'm recording a song I can do 100 retakes before I feel satisfied. Then after that I can spend hours cutting and editing a video until I feel it's perfect.

This is why coding fits me well - it's a creative job where I can build something new every day and at the same time - I'm free to be my perfectionist self.
You mentioned you like to play music - what genre?
I like to make house music in my home studio. I also have a rock band I play with on the weekends.
Awesome! We hope to hear you play sometime! What else do you like doing when you're not at work?
I usually go to the gym or hang out with my friends, family and cats. I like traveling too - nothing beats sipping a cool drink while lounging on a tropical beach.
Tell us something most people don't know about you
I'm a great guitarist and a Formula 1 nerd.
Speed Round:
I prefer listening to… all kinds of music, I like house and classic rock the most. My heart lies with my favorite band Guns N' Roses :)
If I could time travel, I would go to… LA in the 80's and see all the classic rock bands in their prime.
My dream vacation would be… Maldives
My favorite movie is… The Beach
I can't live without… my guitar, Zion & Louie (my cats ;) ).
My most useless talent is… my Formula 1 trivia knowledge.