Marina Karlsson joins our team as a Growth Strategist after completing her internship at iGoMoon. Welcome to the Moon Marina!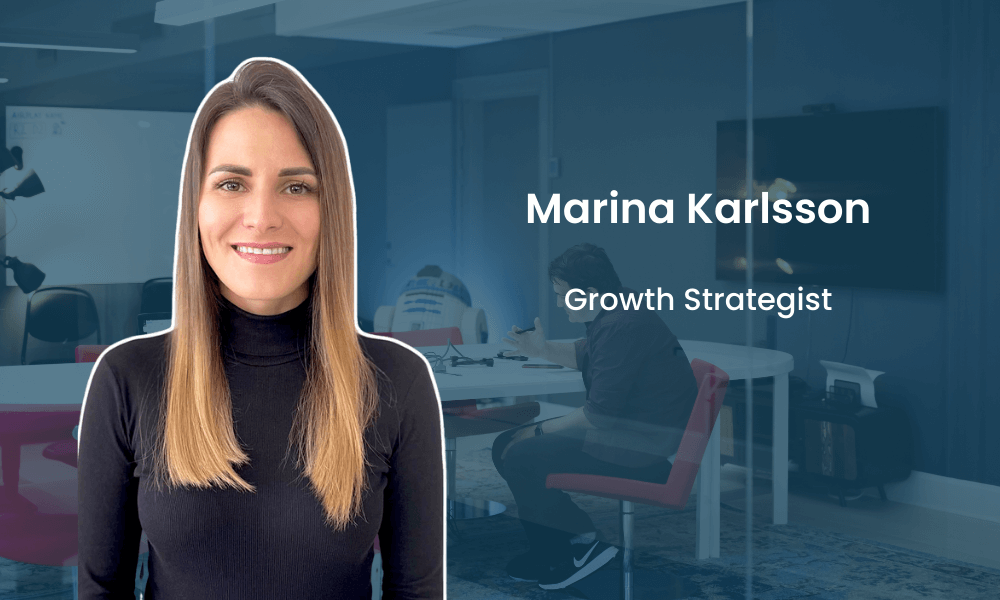 Stay crisp - where did your moonshot journey begin?
What did you do before you landed on the moon? How did you get started in marketing?
I got a master's in Public Relations in Saint Petersburg. I have been working in customer service in different industries. I also worked as a PR manager in retail and even ran a small, affiliated advertising agency. At the same company back in 2012, I first learned about franchising - this buzzword got me hooked - and unexpectedly I went deep into business development. Since then, I've been working in this area for eight years. But even then, I was always closely connected with marketing. So here in Sweden, I've slightly changed course again and have completed my second higher education in Marketing Automation at Medieinstitutet. So, I am fully back to marketing now.
Tell us a little about your journey to the moon and what are you most looking forward to in your new role here?
I started my journey at iGoMoon as an Inbound Marketing Consultant Intern. But after finishing my education I was promoted to the position of Growth Strategist. I discovered this career path only here at iGoMoon after I started the internship. I think that it suits me and perfectly aligns with my previous experience in business development.
I'm looking forward to accomplishing various tasks and I already planned my growth for the next several months. I want to develop myself and do my best so that my knowledge and experience will help the growth and development of our company and our customers.
How did you find out about iGoMoon and what encouraged you to apply for the position here?
I was just about to start looking for an internship when my school supervisor shared information that iGoMoon has an intern programme. I went through the website, and some Månresan videos and it felt like the approach and values of the company were very close to mine. I also read the IMC job description and thought: "Oh, that's me! I Just need a little more experience". I immediately sent my CV to Mattias, then I came for an interview and realized that my instinct did not deceive me: the fact is that in recent years I have worked in companies where I felt at home, like in a family, and this I immediately felt at iGoMoon.
What do you love most about being a Growth Strategist?
I love strategies, starting with the question of "where are we going?" and finishing with the development and implementation of specific actions. It's so interesting to see the whole picture and then influence the result. I love doing meaningful things, so seeing if I add value and help customers grow through the results of my actions, gives me a boost of energy. I guess that's why I'm so happy to be in this role. But I also like the diversity of the tasks and cases.
Get to know iGoMoon and the fun team that makes the Moon so special by watching our vlog channel, Månresan.
Have Fun - Tell us more about Marina
How would you describe yourself in 3 words?
No word as "impossible".
What's the best piece of career advice you've ever been given?
There are two actually and they are always in my mind. 1. Never, at any price, work for a company with products that mean nothing or are of mediocre quality and value. Only love for the product of your company and the desire to make it the best possible leads to success. 2. Always accept responsibility for (myself) the situation I'm in.
What do you enjoy doing as soon as you have spare time?
I love yoga and watching British crime series. But as soon I have a little more time, I try to spend it traveling even if this is just a trip to a neighboring town. My dream is to visit all countries of the world and I'm still far away, only getting to 20%.
Tell us something most people don't know about you.
I did a solo parachute jump from 800 meters after a half-day course.
Tell us about your proudest accomplishment.
At the moment it's graduating from Medieinstitutet because at the time of applying I had lived in Sweden for only one and half years and was just ending my Swedish courses. For me, it was a great achievement to study in a completely new language on an equal footing with the Swedes and even show very good results.
Speed round
A hidden talent of mine is the pixel eye.
At the top of my bucket list is piloting a helicopter.
If I could choose one superpower, that would be teleportation.
One thing I can't live without is traveling.
My favorite season is summer.
My favorite podcast is I don't have a favorite, but let it be…Ted talks.
You have your own late-night talk show, who do you invite as your first guest?
Leonardo DiCaprio.
Top 3 apps used on your phone currently are WhatsApp, LinkedIn, and Telegram (but this is only because the Instagram app is on the auto limit, haha).
If you're interested in working at iGoMoon and want to know more about our selection process, take a look at our careers page.