On-demand webinar
New ways to leverage HubSpot's CMS Hub
Here you can watch our 1-hour webinar and learn how to boost your business growth by creating eye-catching microsites on HubSpot's CMS Hub.
Take your digital experiences beyond the corporate website
Large-scale content and campaign creation is powerful, but it's hard to execute quickly. Whether you're a content creator, site builder, designer, or marketer, there is one thing we can all agree on: managing new content and digital experiences needs to be faster and more engaging than ever.
Enter Alex Girard, Senior Product Marketing Manager at HubSpot. Alex joins iGoMoon to share new ways you can use HubSpot CMS Hub to skyrocket your engagement and maximize conversions.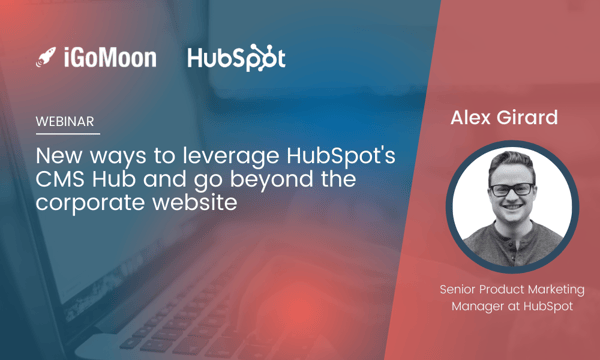 In this webinar you will learn:
Why microsites can be a great medium for you to get quality leads
How microsites give freedom in designing a brand-specific experience
Why microsites can be the perfect platform to promote your upcoming event
To watch the replay and view the slide deck, simply fill in the form and hit play.
Gain Access
Fill in the form to gain access to our recording and slide decks.