Are you finding it difficult to attract the right traffic to your content and spending a lot of time on unqualified prospects? By defining buyer personas based on data and research, it will be easier for you to reach the right audience and also to create valuable content.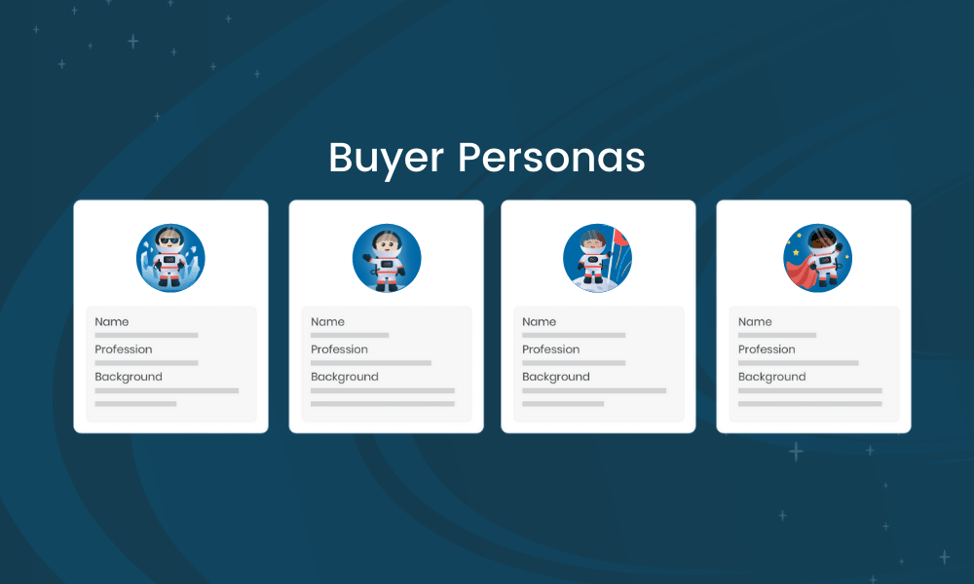 *This post was originally written by Fia Jonsson and published on 28 February 2019
What are buyer personas?
HubSpot defines buyer personas as semi-fictional representations of your ideal customers based on data and research. They help you focus your time on qualified prospects, guide product development to suit the needs of your target customers, and align all work across your organization (from marketing to sales and service).
How buyer personas can help you
By creating a persona, you get a better understanding of your potential customers and can make sure the content you create is relevant for the visitors on your website. It's also easier to tailor your services or products according to your customers needs when you understand their desires and pain points. With thorough research and data you will also be able to improve conversions, reach and loyalty.
It will also be easier for you to segment your customers, which also helps you with targeting the content correctly.
Creating a buyer persona
The idea is to create a persona which represents your customer base, not individual people. To create a buyer persona you can use surveys or forms on your website, or interview with existing customers and people outside your contacts database. You should also research the market as well as your existing database, and ask sales about the leads they meet since they can provide good insights about typical behavior.

For the interviews you can contact active customers, prospects, referrals and third-party networks. To get as much detailed information as possible you can categorize your questions in seven different categories which include smaller questions:
Role questions

Company questions
Goal questions
Challenge questions
Learning related questions
Personal background questions
Shopping preference questions

To clarify and to make sure you don't miss anything, you also might want to ask follow up questions and "why"?
Related article: Your guide for creating a powerful B2B buyer persona
Which characteristics should your buyer personas include?
When creating buyer personas using data, you should be as detailed as possible and utilize all information which is available. The characteristics can include behavior patterns, demographics such as age, income, gender, job role, etc. You can also include the goals and the challenges the customer might be facing.

When you have gathered this information you can give this persona a name e.g. Sales Sam. This could be a persona working in the sales department who fits in a certain demographic group and is trying to achieve some specific goals and facing some common challenges.
How many buyer personas should you have?
The amount of buyer personas you should create depends on the size of your business, it could be anything from a few up to 20 different personas. However, if you haven't created personas before you should start smaller and focus on getting a few personas as detailed as you can, and then create more. You should also constantly update your personas due to changing trends and behaviors.

You can also create "negative" buyer personas to clarify which type of personas you don't want as customers. These could be personas engaging with your content only for a research purpose such as students, or simply customers who are too advanced for the service or product you are selling.
Let us help you grow your business and wow your customers. Creating the right buyer personas is just one of the many inbound marketing services we can assist you with. We create content, automation, and create effective lead-generation funnels.


Download our free "Complete guide to using HubSpot" to learn more about how you can work with buyer personas in HubSpot and more about the platform in general.