Our crew of HubSpot CMS experts are here to walk you through the life-changing features of HubSpot's CMS Hub Professional tier and help you determine if this license best suits your growing business needs.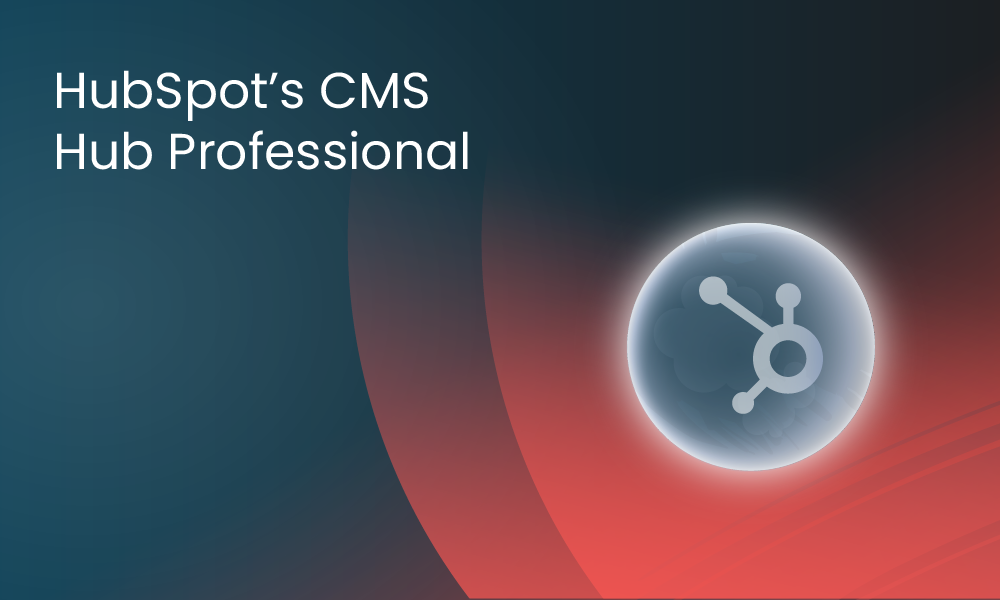 *This post was originally written by Tayla Fagan and published on 17 August 2021
What is HubSpot's CMS Hub Professional?
CMS Hub Professional is a content management system for medium-sized businesses that want to leverage their CRM platform to generate business and provide great customer experiences.
CMS Hub Professional comes with everything found in CMS Hub Starter and includes additional features that make it easier for both marketers and developers on your team to update and work on your business website.
Related post: Everything you need to know about HubSpot's CMS Hub Starter
This is for fast-growing companies who want to move away from content systems that require heavy maintenance, which makes it difficult for marketers to take ownership of real-time website changes and day-to-day updates.
It offers maintenance and management without the migraines
You don't have to worry about the speed, security, or reliability of your CMS. As a SaaS CMS with a globally hosted CDN, 24/7 threat monitoring, and a web application firewall baked right in, HubSpot takes care of system maintenance for you so you can focus on the experience you provide your customers.
You can easily build and optimize your website pages
You can leverage themes and modules to create a beautiful website that matches your brand's tone. Either way, you and your team of IT newbies can effortlessly edit your site with drag-and-drop page editing.
It's an all-in-one tool
HubSpot's CMS Hub comes with a professional CRM, so you can personalize content to the needs of your customers, and report on the success of your content with features like contact attribution reporting. You'll also have access to HubSpot's conversations platform, including chat and conversational bots.
You can explore HubSpot's growth suite to see the power of integrating your marketing, sales, and services efforts into the same platform as your website.
Who CMS Hub Professional is for
Growing companies that want to personalize their website for better results
CMS Hub Professional is perfect for growth-minded businesses with different audiences that want a personalized web experience.
Businesses with smaller teams and limited bandwidth With

HubSpot CMS Hub Pro

you don't have to worry about the speed, security, or reliability of your CMS. As a SaaS CMS with a globally hosted CDN, 24/7 threat monitoring, and a web application firewall baked right in, HubSpot takes care of system maintenance for you.
Businesses that want a platform able to grow alongside them
Having a CRM-powered CMS is the way forward in the fast-changing digital world. Over time, you can upgrade your CMS Hub tier to HubSpot's CMS Hub Enterprise tier and/or add on additional hubs as your website becomes a growth engine and you require a more extensible CMS like HubSpot to scale.
Related post: Understanding which HubSpot CMS Hub license is right for your business
Key features that will make you love CMS Hub Professional
You can start from scratch or use a template
Allow your developer to create a site-wide content editing experience that puts the marketer in control. Start from scratch or leverage one of HubSpot's pre-built themes as a starting point. Themes allow marketers to make large-scale changes to web-based content without needing a developer for maintenance and without knowing CSS.
Drag-and-drop page editing - it's that simple
Focus on creating amazing content, not managing your content creation process. With CMS Hub, your developer can create a flexible content creation experience that allows you to create pages through a drag and drop editing experience easily .
Build dynamic content with HubDB
With HubDB, you can build data tables displayed on your website or landing pages. With HubDB, you can update the content in the data table, and have that change reflected across your entire site wherever the table is referenced. This is especially useful for event calendars, product catalogs, employee listings, and resource libraries.
You can rely on SEO recommendations
While most SEO tools require users to conduct outside research and prioritize keywords throughout their website, HubSpot's all-in-one platform gives you SEO recommendations alongside their content tools, providing you tips and tricks for the right keywords, ways to improve your search ranking and updates on your competitors from one tool.
Appeal to a global audience with multi-language content
Easily create, manage, and optimize a multi-language site as your business grows. In-language variants of a specific page will automatically be associated together. This makes your content easy to manage as you scale. With HubSpot's CMS Hub Enterprise, you are also able to run tests on each multi-language variation to understand what is performing best.
Never lose hours of work again with content staging
With the content staging tool, you can redesign and relaunch website pages in a safe staging area. HubSpot hosts any content you create and publish in content staging on a sandbox domain, and won't replace your live content until you've reviewed and approved everything.
You can easily analyze what is and isn't working
HubSpot CMS comes with the HubSpot CRM baked in. With it, you can keep track of visitor engagement with your website, and use that information to create tailored messaging that speaks directly to each user. Keep track of how your visitors interact with your content from the first-page visit, all the way through to purchase, and beyond.
How much does HubSpot's CMS Hub Professional cost?
For $400 per month, HubSpot's CMS Professional has all the features of HubSpot's CMS Hub Starter but adds on even more tools that allow for personalization and powerful customer experiences.
You can read more about the cost of HubSpot's CMS tiers on HubSpot's pricing page.
Have questions about finding the right HubSpot CMS Hub Tier for your business? Contact us and let's discuss your growth goals.
Work with a certified HubSpot partner agency today
If you're ready to get started with HubSpot's CMS Hub Professional today we recommend working with a certified HubSpot Partner agency like iGoMoon.

We love solving for the customer and as an Advanced CMS Implementation Certified Partner we work with Starter, Professional and Enterprise CMS licenses. If you're looking for a consultant to help guide your business, set up a call with our sales team and discuss your individual website needs.
Download our free "Complete guide to using HubSpot" to learn how you can connect all parts of your business in one system and grow better.