HubSpot's CMS Hub Enterprise is for scaling companies that want to build powerful web app experiences and have more governance over a growing team. As these organizations extend their brand across multiple websites, regions, teams or microsites, HubSpot's CMS Hub Enterprise empowers teams to monitor and control their website at scale.
Our crew of CMS experts will walk you through the features of HubSpot's CMS Hub Enterprise tier and help you determine if this license best suits your growing business needs.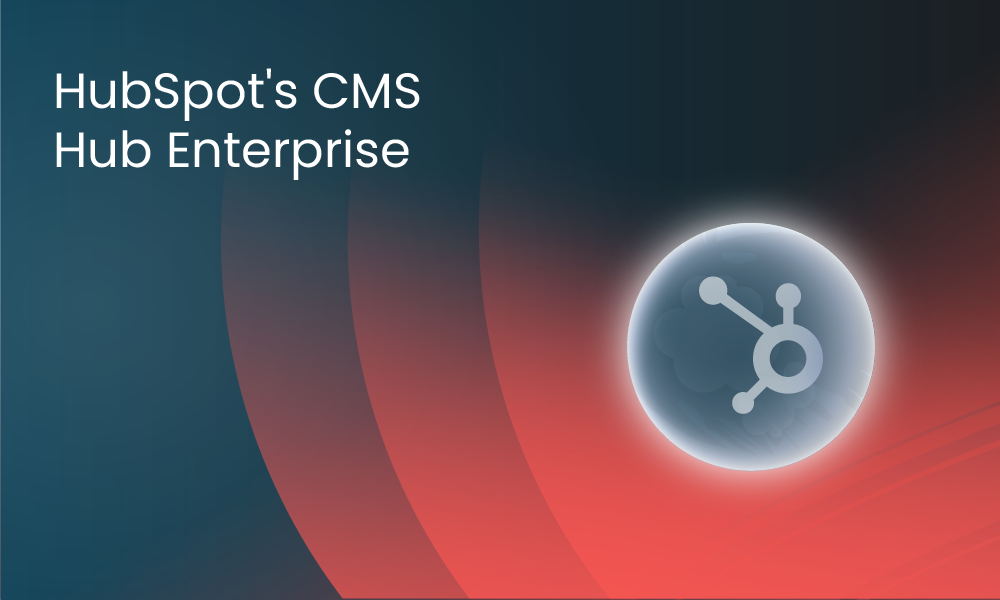 *This post was originally written by Tayla Fagan and published on 17 August 2021
Why choose HubSpot's CMS Hub Enterprise tier?
CMS Hub Enterprise comes with everything found in CMS Hub Professional and expands with features like serverless functions and memberships. Enterprise simplifies team management with content partitioning, giving individual team members access to only the content they need to see.
Related post: Why choose HubSpot's CMS Hub Professional?
You can build powerful web experiences
Build powerful web experiences like calculators, event registrations etc. by leveraging features like serverless functions and dynamic content through HubDB.
You can also create membership-driven websites as CMS Hub Enterprise works ever-so seamlessly with the Marketing, Sales and Service Hub, as well as the HubSpot CRM, allowing you to personalize every experience your customers have with you.
IT managers! This one's for you- gain governance and control at scale
With HubSpot's CMS Hub Enterprise, you'll never have to worry about a rogue change being made to your website again!
Content partitioning together with user permissions ensures that each user in CMS Hub only has access to the content and features that are necessary for them to perform their job. And if on the off chance you notice a change you don't remember making, activity logs will quickly tell you how that change occurred so you can take action.
Two root domains
CMS Hub Enterprise includes two domains automatically. This allows you to create a microsite for a specific campaign you are running, or host a separate business line's website all within the same, secure CMS platform.
Key features that will make you love CMS Hub Enterprise
Create membership-based content using HubSpot lists
You can allow specific customers to access a section of your website. Use this to create content for specific segments of your customer base, or manage premium content channels. Each contact gets a personalized password and login.
Serverless functions - your website's new BFF
Add interactive elements to your HubSpot hosted content, like event registrations, guest books, and dynamic calculators, without the need to configure an external server, SSL certificate, or data transfer process. Going serverless can also be cost-effective since most platforms have a pay-as-you-go model. That means you only pay for the server resources you use, rather than having to eat the cost of unused resources at the end of your billing cycle.
Work seamlessly with your team using content partitioning
Use team permissions to give your team access to only the content that is important to them. For example, allow your blog team to focus on the blogs that matter to them, without being distracted by blogs or landing pages owned by another internal team.
Manage your team permissions with ease through activity logging
Your team is growing fast, and many people across several teams have access to the content on your site. Ensure that you're able to pinpoint exactly who on your team made a specific update with shareable activity logs. Quickly run this export, and gain governance over your site.
The ability to have multiple domains
If you have multiple business lines, or simply require more than just one domain, HubSpot has you covered. Manage and measure all of your website content in one HubSpot account across multiple domains. CMS Hub Enterprise comes with two brand domains out of the box, and you can purchase additional domains as you need them.
A/B testing is dead-adaptive testing is what's next
Go beyond simple A/B tests to ensure you are continuously optimizing your website. You can choose up to five variations of a page to test against each other. HubSpot will continually test each version and serve up the highest performing option to your website visitors.
How much HubSpot CMS Enterprise costs
For $1200 per month, HubSpot's CMS Hub Enterprise tier is designed for an advanced team looking for more control and the power to build web applications.
You can read more about the cost of HubSpot CMS tiers on HubSpot's pricing page.

Website content management and ongoing website updates become easier when you have the right CMS system. Reduce your frustrations and the time your team spends designing and updating your site with HubSpot's CMS Hub Enterprise tier.
Do you have additional questions about finding the right HubSpot CMS Hub Tier for your business? Contact us to chat.
Get started with a certified HubSpot partner agency
If you're ready to get started with HubSpot's CMS Hub Enterprise today, we recommend working with a certified HubSpot Partner agency like iGoMoon.

We love solving for the customer and as an Advanced CMS Implementation Certified Partner we work with Starter, Professional and Enterprise CMS licenses. If you're looking for a consultant to help guide your business, set up a call with our sales team and discuss your individual website needs.
Download our free "Complete guide to using HubSpot" to learn more about the platform and how you can use it for business growth.