Shortly after their HubSpot CRM implementation, Humly can already collect better insights about their customers and candidates. Since all the data is now collected in one place it allows them to understand buying patterns, how customers are churning, how much MRR/ARR they make and helps them keep track of their customer retention.
About Humly
Humly is the leading digital marketplace in Sweden for nurseries, schools and educators. Their mission is to change the business of supply teaching and the way schools, educators and students all interact. The platform is designed for supply teachers to easily find suitable teaching jobs and assignments based on their profiles. Today, Humly is active in the Swedish and the UK market with a vision to expand their digital marketplace around the world.
Humly consists of several teams in different branches with a shared goal, to save education from the escalating teacher shortage. Their recent investment in HubSpot technology allows them to have a shared data-overview of their customers and supply teacher candidates, to understand customer behavior throughout the entire organization.

Use case: Aligning and empowering customer-facing teams with a shared reality.
Products: HubSpot CRM as the core, with Marketing Hub Enterprise, Sales Hub Professional, Service Hub Professional, and Operations Hub Professional.
Different systems for each team
The Marketing, Sales, and Customer Success teams at Humly have felt the frustration of working in several disjointed systems. Their goal was clear, to have a 360 degree overview of their users that would align their teams and provide an excellent experience for substitute teachers on their platform. Modernizing their tech stack also has the added benefit of enabling better reporting for all departments in real-time.
The insufficient functionality of their former systems made it necessary to use tools such as Excel to keep track of certain information. In today's business environment this was simply not secure or efficient enough to live up to Humly's standards of data-security and internal communication. Manual administrative work has been drastically reduced as a result of utilizing HubSpot's powerful ecosystem, freeing up time for their employees to engage in more valuable activities.
"Our main concern was that we don't have an overview of our clients and candidates."

Kristoffer Hedram, CCO at Humly
Understanding the challenge and making the shift
When researching a solution they wanted to overcome the following challenges:
Enabling cross-department transparency between Marketing, Sales, and Customer Service.
Auto-generated and accurate real-time reporting to enable data-drive decisions.
A secure system that facilitates GDPR compliance.
Capacity for high data volumes.
A future proof platform built with a "all-on-one" mindset that enables a broad range of integrations with other systems.
Humly needed a solution where all their departments gets access to relevant data exactly when they need it. Flexibility was identified as a critical factor, to ensure that their chosen solution can meet needs that arise in the future as well. GDPR and high-volume data capabilities were deal breakers that were non-negotiable and had to be met if the solution didn't live up to Humly requirements.
After thorough evaluation of the available options, it became apparent that an experienced partner would be critical to a successful implementation of the HubSpot suite. This would minimise the strain on their internal team, ensuring that they could focus on revenue generating activities. In addition, they would benefit from iGoMoon's experience and advice to make the most out of their HubSpot investment.
"The important part of this was to find someone who has broad experience of implementing HubSpot's CRM and various tools into our business and operations. iGoMoon has that experience."
Kristoffer Hedram, CCO at Humly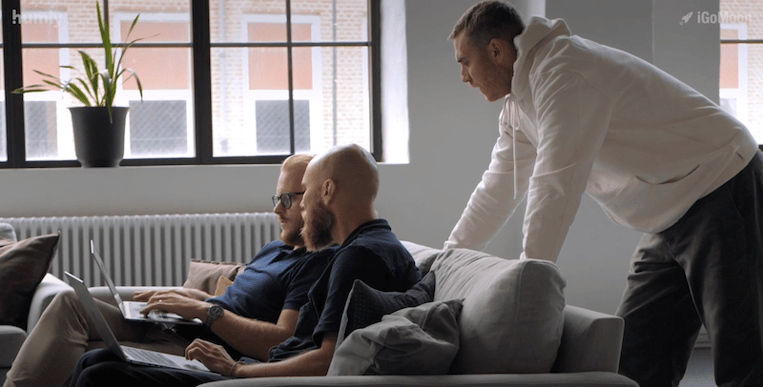 The implementation process
In this project, Humly decided to implement the HubSpot CRM as their center of intelligence. The intuitive HubSpot user interface, in combination with training and onboarding, is expected to accelerate the rate of adoption internally. As time progresses, the powerful and intuitive marketing, sales, and customer service tools will enable automation of manual and repetitive tasks - freeing up time for value-adding activities for all teams.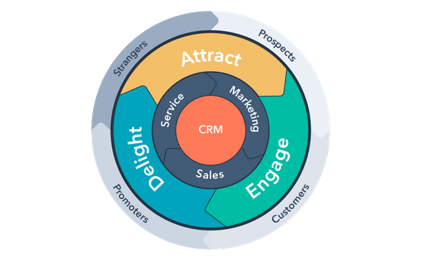 The implementations of the CRM and associated hubs were divided into separate projects that tied into each other. Working with the combined perspectives of short-, mid-, and long-term planning enabled a successful and efficient implementation - while ensuring alignment between Marketing, Sales and Customer Success teams.
Do you want to explore potential use cases for your organization? Book a meeting with one of our HubSpot experts!
A sample from the menu
Below are some of the use cases involved in this project, presented with bullet points for your reading pleasure:
The CRM
General setup and configuration of the platform with 2FA and domains.
Integration with Backoffice to migrate existing data.
Creating required custom objects and properties to pull relevant data from other platforms.
Setting up teams with different permission sets for the various roles.
Segmenting contacts, leads and data by Country/market to provide relevant information to the Swedish and UK branches.
Sales Hub
Defining a detailed sales process in collaboration with Humly's Sales Department.

Two separate sales pipelines were built, with stage-specific actions for sales people to perform in HubSpot. Including triggers that notify sales representatives when it's time to book a meeting, a follow-up call, or an email.

Onboarding and documentation for sales representatives to learn and get the most out of the Sales Hub functionality.
Marketing hub
Building a knowledge base.
Creating segmented subscription types for different categories of marketing emails.
Manual tracking capabilities of custom behavioral events to receive data from Humly's digital platform.
Setting up workflows for marketing automation and lead nurturing.
Service hub
Creating a ticketing system for Humly's support and talent success teams.
Building pipelines with relevant automation.
Creating a custom integration for a text messaging (SMS) tool, which creates tickets from incoming text messages.


Interested in implementing HubSpot as your CRM platform? Download our free CRM implementation checklist to get a better understanding of your needs.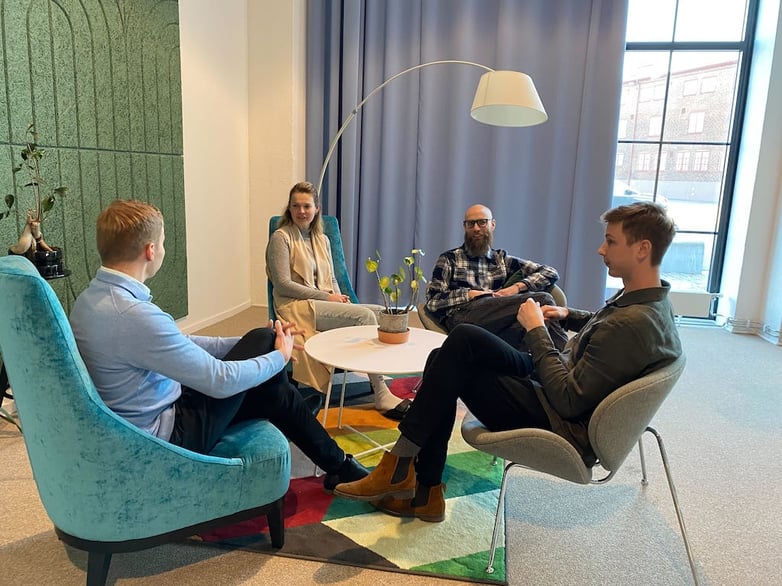 Shared reality across all teams
After the successful implementation, all teams now have access to relevant real-time data about their customers, providing them with the overview they need to engage in meaningful and value-adding activities. The increased transparency and timeliness of data-availability makes it significantly easier for Humly to understand the following:
✔️ How much MRR and ARR is being generated
✔️ The buying patterns of their customers
✔️ How their customers are churning
✔️ Their customer retention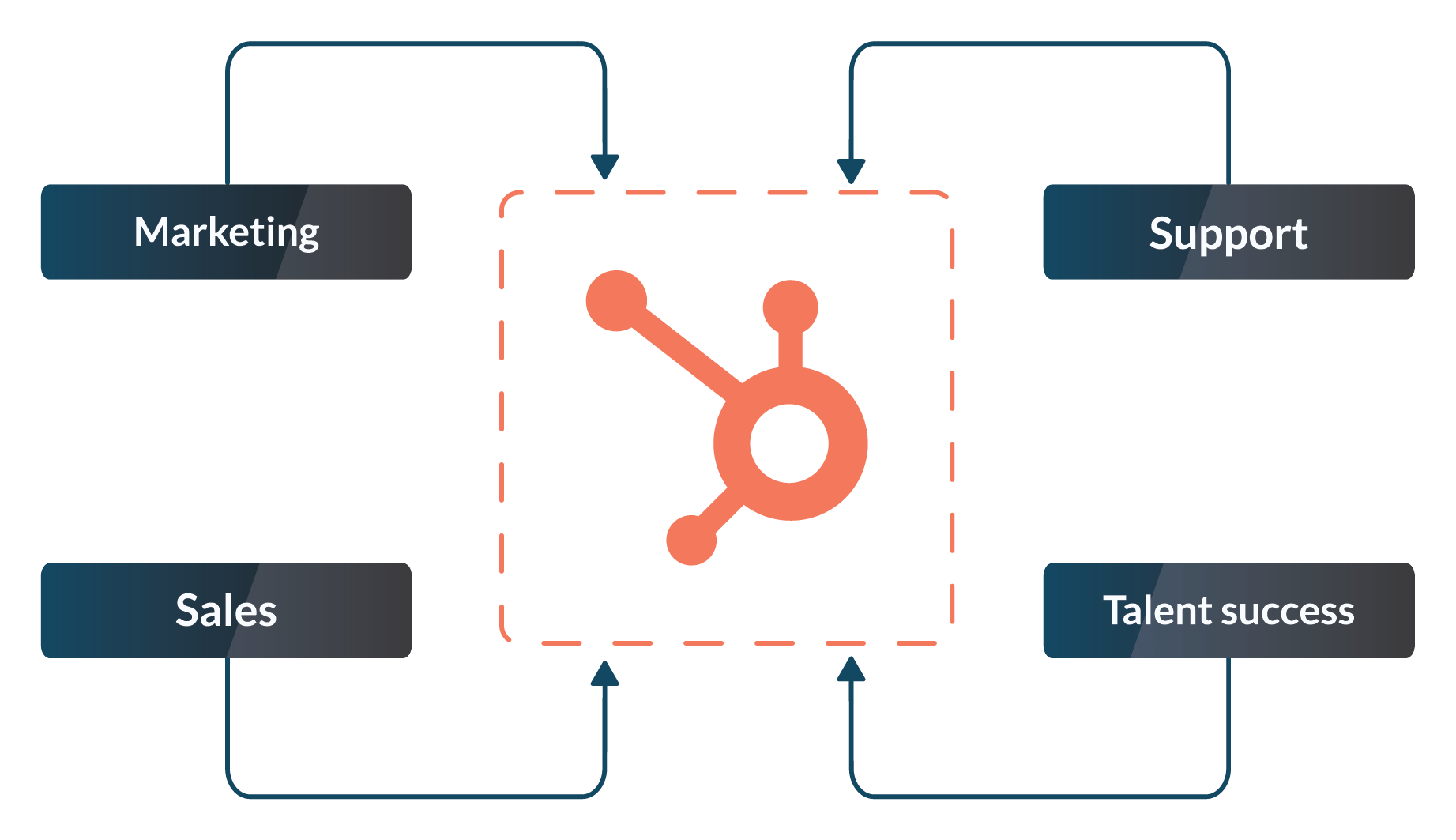 Two markets, one system
Now that Humly has implemented HubSpot as their global system, all their teams from both Sweden and the UK can work on the same platform. Since specific teams have been given relevant access in the portal, the teams only see the data relevant to them, avoiding confusion and improving focus. This also makes it possible for management to follow the performance across all their teams, making it easier to take action and make data-driven improvements as early as possible.
Clear processes
By tearing down the silos between their customer-facing teams, Humly now has a better overview of their customers and their customer data, as well as clear processes that accelerates the velocity of their work. This allows them to communicate better internally, minimises the risk of losing sales opportunities, and delighting their customers even more than before.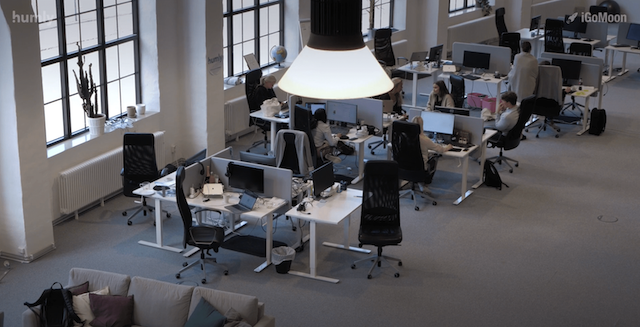 Easy to get employees engaged
Specific role and permission sets for the unique needs of the Humly teams has been built into their HubSpot portal. Which makes adding new team members with pertinent access a quick and friction-free task.
iGoMoon has provided Humly with documentation during the off-boarding process which has been handed over to their sales organization. This documentation contains instructions for how they should use the different sales tools in HubSpot, saving time when expanding the sales organization and onboarding new sales representatives. The sales process has been clearly defined, including step-by-step actions required to move deals through their pipelines.

Extra value
"I believe we gained extra value in this project from working with iGoMoon, we were finished with the implementations of all of the hubs before the project deadline."

Kristoffer Hedram, CCO at Humly
In addition to completing the project before the due date, iGoMoon applied best-practices, experience, and valuable insights to design and build automated workflows. These marketing automation tools were built to serve Humly's organizational requirements and delight their customers while saving time on unnecessary administration.

Are you interested in learning more about HubSpot and if the platform is a good fit for your business? Download our free "Complete guide to using HubSpot".