With so many website-relevant metrics available, it's easy to become overwhelmed, especially if you're just beginning. So, here are 5 important engagement metrics to inform your web strategy in 2023. For each one, we've included how to analyze and track it in HubSpot and even shared some of our tips for improving your results.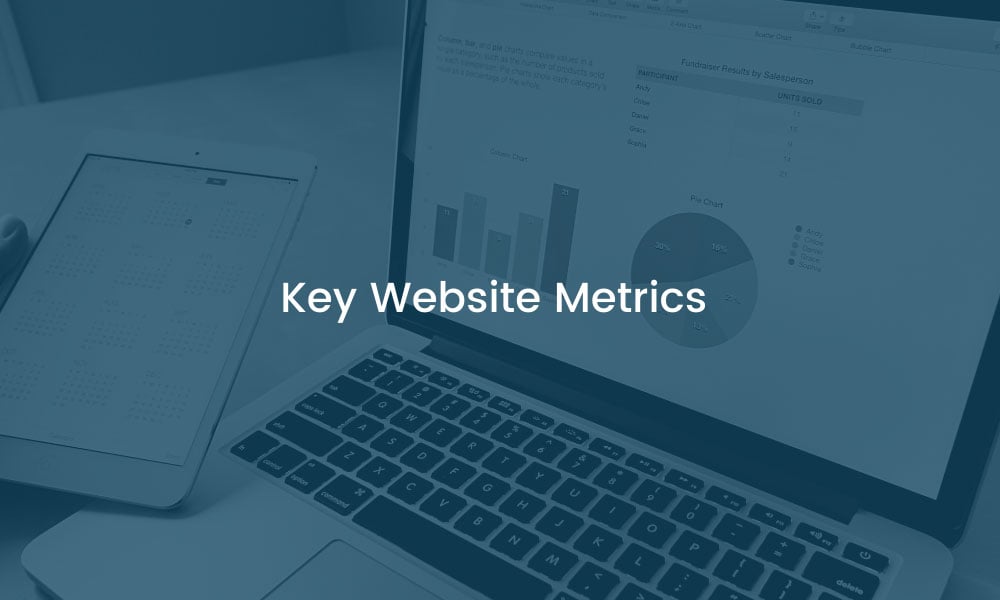 *This post was originally written by Tayla Fagan and published on 1 February 2022
The goal of your website is to turn visitors into leads and leads into customers, but the journey there can be difficult to understand without hard data. Fortunately, website engagement metrics are here to clear things up. With the help of an analytics tool like HubSpot or Google Analytics, you can leverage engagement metrics to see where your site is capturing attention, and where you can make some tweaks to increase engagement.

You might find that a page is formatted poorly, that some of your content doesn't match user intent, or that your CTA's ate underperforming. On the flip side, your engagement metrics may reveal that your marketing and content strategies are crushing it on every level. Either way, you won't know until you lift the hood and see the data — let's do that now.
1. Page Views
Page views measure the number of times a page on your website is seen by a visitor. Any time a page on your website is loaded in a browser, this counts as a one-page view. So, if a visitor loads a page, then reloads the same page, this would count as two page views.
How to analyze your page views
A steady upward trend of page views generally indicates successful SEO, marketing, and brand awareness efforts. Still, while page views can tell you generally how popular your site's pages are and how much traffic your site is receiving as a whole, they're not useful without other metrics to give more context.

High page views could result from a thriving ad campaign or SEO initiative, but it could indicate something negative. For example, users might be frequently reloading your pages — a sign of performance issues — or wandering around your site without a clear goal — a sign of potentially poor navigation and/or structure.

Conversely, a lower page view count isn't necessarily bad. If you want users to follow a specific path, fewer page views could mean they're converting efficiently without loading many pages.

Context is key when looking at raw page views. That's why, while a good place to start, page views shouldn't be the only metric you take into account.
2. Average time on page
Average time on page measures how long visitors tend to spend on a web page. Time on-page can be an excellent indicator of how engaging and effective your content is — the longer you hold visitors on a page, the better. A longer time on the page also suggests that you're attracting quality visitors who value your information, while shorter times generally indicate less interest.
How to analyze average time on page
In a survey by Databox, 45% of respondents said that the average duration spent on a page on their websites is 3-5 minutes. While that's a good benchmark, meeting it doesn't necessarily mean your average time on a page is optimal.

Like page views, the average time on a page is also contextual. For example, you ideally want visitors to spend more time on your product pages and blog posts. To increase time spent on these pages, you can add more relevant content to them, make your content easy to read and understand and work to capture your intended audience through organic search and other channels.

On landing pages, however, higher time on the page could hint that there are barriers to conversion. For instance, content and CTAs could be confusing.
Related article: Improve your website's user experience with CMS Hub
3. Average session duration
A session is a group of interactions with your site within a set time period, typically one to two hours. A session can be roughly equated to one person's visit to your website, whether that's viewing a single page or exploring more of your site.
How to analyze average session duration
Similar to average time on page, average session duration measures how long users typically spend time on your entire website. It's calculated by dividing the number of sessions over a set time period by the total amount of time all users have spent on your site in that period. Since those who spend more time on your website are more likely to convert, you want to focus on increasing this metric.

Session durations can provide a clearer picture of your audience engagement, since a session describes one's complete experience on your website, instead of a page-by-page analysis.
4. Bounce rate
Bounce rate is the percentage of visitors who load one page on your website, then leave without interacting with the page or visiting any other pages — they "bounce" off of your website and go elsewhere.
How to analyze the bounce rate
A high bounce rate means your website is performing poorly, and there could be several reasons for this: Your navigation may be confusing, your content doesn't match the visitors' intent, the CTAs are not obvious (or way too obvious), your site simply doesn't offer enough content-wise or design-wise to hold attention, or something may be broken on your site.

Surveys show that 42% of consumers said they will leave a website because of poor functionality.

If your site is experiencing a high bounce rate, hone in on the individual pages with the highest bounce rates, and compare them to those with lower bounce rates. This is a good way to see what's working with your visitors, and what can be improved or removed.
Learn everything you need to know about HubSpot reporting by downloading our free guide: Best Practices for Gaining Powerful Insights with HubSpot Reporting.
5. Traffic Sources
Where are your visitors coming from? It's a question that all website owners should have top of mind. While the amount and names of traffic sources vary by analytics tool, some common ones are:

Organic search: These visitors arrived at your website through non-paid results on the search engine results page (SERP). Most likely, they found your site through Google Search.
Paid search: These visitors arrived by clicking ads on the SERP.
Referrals: Referral traffic comes to your website via links on an external website. Many analytics tools exclude search engines from this source (as those would be considered organic search traffic), and some tools also segment referral sources further into categories like social media.
Email: This traffic comes from links included in your emails.
Direct: These users arrive at your website via a browser bookmark or by entering the URL directly into the browser bar.
How to Analyze Traffic Sources
There's no one perfect distribution of traffic sources, as every business has a different strategy to draw visitors. It's useful to see how your sources change over time, but pay most attention to organic search traffic — this is likely your largest traffic source, and improving it can also boost your other sources like email and referral.

Also, consider which traffic sources convert best. Organic and email traffic sources have the highest average conversion rates: organic has a 2.6% conversion rate and email has a 2.4% for B2B businesses. If this is true of your business as well, then focus on increasing these sources of traffic.
How to improve your traffic sources
Improving traffic sources depends on which sources you want to improve. If you want to improve direct traffic, check that any redirects are properly set up. If you want to improve email traffic, consider A/B testing.
6. Exit Rate and Top Exit Pages
You can try to prolong your visitors' sessions as much as possible, but everyone has to leave your site eventually. Exit pages are the last pages that visitors see before exiting your site.
How to analyze exit rate and top exit pages
While every page is an exit page to an extent, you'll want to pay attention to those with the highest exit rates. For a given page, the exit rate is the percentage of page views that were the last of the session.

The goal is to make your top exit pages the ones you expect, such as thank you pages and download pages. A high exit rate is a problem on pages where you're trying to hold interest or convert.

Compare your top exit pages to your low exit pages for discrepancies — perhaps you'll find a confusing, slow, or broken page, or maybe a page is a dead-end due to a lack of a CTA or link elsewhere. Whatever the reason, the goal is to keep sessions as long as possible, as this ups the chance of a conversion.
Are you keeping your visitors engaged?
Building a website is a challenge, and getting people to your website is an even bigger one.
Website engagement cannot be overlooked as customer experience is the deciding factor in terms of brand loyalty in today's digital ecosystem.
Download our free guide to learn more about how HubSpot can help you keep track of your website metrics and grow your business.