Help me welcome one of iGoMoon's latest stars, our Front-end Developer - Erik Utterström! We are so happy to have an additional, awesome force in the development team, but also that we have a new amazing colleague to hang out with on the moon base. Now we are curious to know more about Erik! Who is he really? And how did his trip to iGoMoon look like?
Welcome to the crew Erik!
So great to finally have you here! How does it feel to be on-board?
It feels incredibly fun! I am so excited to get started for real, and I'm really looking forward to getting to know our customers better.
But how did your trip to the moon actually look like?
Several months ago, I met Mattias for a first interview, and I also did a coding test here in the iGoMoon office. It went really well, but unfortunately there was no possibility to hire someone for the role at that moment. Then we kept in touch, and two months ago, Mattias called and he finally offered me the position, and we agreed that I would start as soon as possible.
And what did you do before you joined our crew?
Before I joined the iGoMoon crew, I worked as a freelance web developer, something that I started with already during my studies. After my education in Marketing Communications and IT at Stockholm University, it felt a bit like a matter of course to me to continue in the same direction. I really enjoyed talking to customers, and together with them, try to realise their ambitions and ideas. When I freelanced I worked with everything from people who wanted to develop a website for a private hobby, to associations and smaller companies. Everyone had their own creative plans and ideas, which felt refreshing, and it was fun to have the opportunity to come up with my own suggested solutions.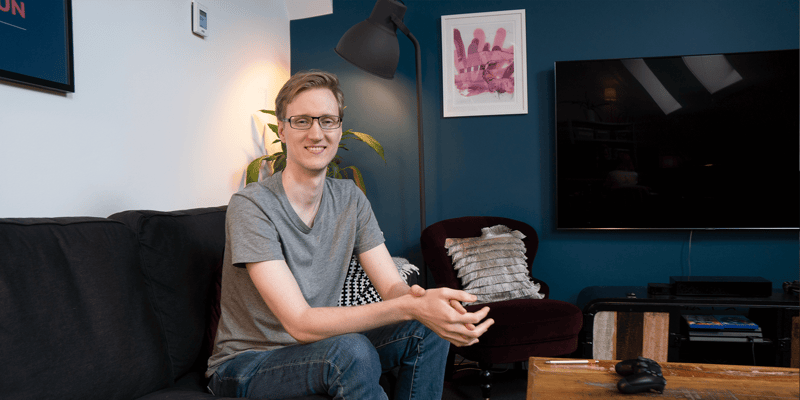 What was it about iGoMoon that caught your interest?
It must have been when I first stepped into the iGoMoon office. I was immediately very warmly welcomed and introduced to almost everyone in the crew. Simply, the best possible impression, and it made me feel a lot of trust in the company.
What do you look forward to most working as a Front-end Developer on iGoMoon?
I really look forward to getting to know all the nice colleagues better, and to be a part and contribute to our joint journey to the moon! Then, I see my role at iGoMoon as a great opportunity to be able to continue to develop in programming and design, but also to work closely with our customers. I have always liked to be hands-on, and iGoMoon gives me the possibility to both take my own initiatives and the freedom to organize and plan my work.
Time to dig a little deeper! Who is Erik "behind the scenes"?
We start with a lightweighter, which is your absolute best personal trait?
I have always loved to learn new things, especially when it comes to electronic stuff.
Let's take the million dollar question right away, which is your worst personal trait? ;)
I can get pretty frustrated when I fail to solve a programming problem! So if you have a hard time tearing me away from the computer, it's probably because I have stumbled into an coding obstacle..
Okay, while talking about money, let's say you win that million. How do you spend it?
That's a tricky one. Some of them I would probably invest in trying new, adventurous things. Learning to dive or paragliding are two things I would love to learn.
What do you prefer to do when you are not working?
Then I like to go hiking, play games or just relax with a good book or an audio book.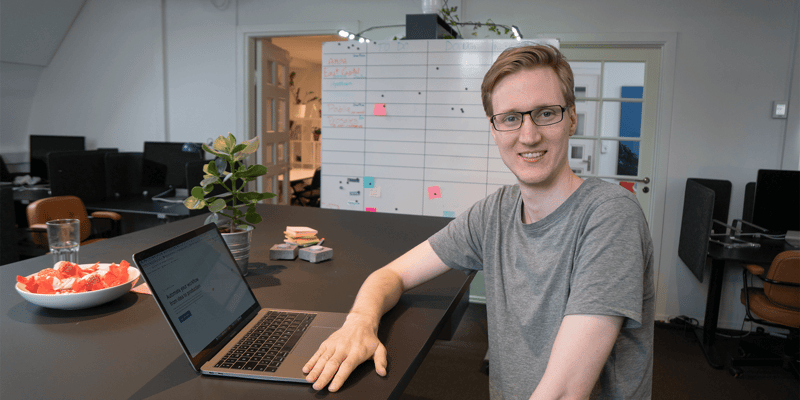 Tell us something we didn't know about you!
I have, as you may already have noticed, a great interest in technology, and I follow a lot of developments in AI, AR and VR. So if you want to talk about technology opportunities and its impact in our everyday lives, here I am!
Which is your absolute favorite place in the world?
I would say Italy or Crete then. What matters most is who I spend time with.
And if you were to mention a new dream destination, which would it be and why?
Japan! The reason is twofold. Firstly, I am fascinated by today's culture in the country - with its great focus on technology development and the constant desire to find technical solutions to even the smallest problems. A fun example is the robot hotel "Henn na Hotel" in Tokyo, where you are welcomed by a mechanical dinosaur behind the reception counter. I have also read some about the traditional feudal Japan which made me even more interested in visiting the country.
One last - a mandatory food question! You can only eat one dish for the rest of your life, which would it be?
Is it cheating to say Tapas?
Answer: Yes!