All the way from Dublin to Stockholm. Here she is, our latest star and Business Developer - Roberta Righetti! Roberta is originally from a town called Cuneo in Northern Italy. But beyond her Italian roots, she has already experienced life as a globetrotter. Just about a month ago, Roberta packed her moving boxes and shipped them all the way from Dublin to Stockholm. And guess if we are happy about that!
Tell us about your time in Dublin, what did you do over there?
I spent five years in Dublin working in IT as a Sales Consultant. The first business I was working for was a startup, where I was in charge of launching their software in the Middle East, Africa and Italy. After that, I started at a new company as a Global Inbound Account Executive. There I was responsible for the full sales cycle - to generate, manage and close leads - for different projects which involved companies such Trend Micro and Dropbox Business. When I got hired by HubSpot - who is a partner to iGoMoon - I worked for three years in their Partnership department where I was coaching digital agencies to grow their revenue with the Inbound Methodology and reviewing their business strategy.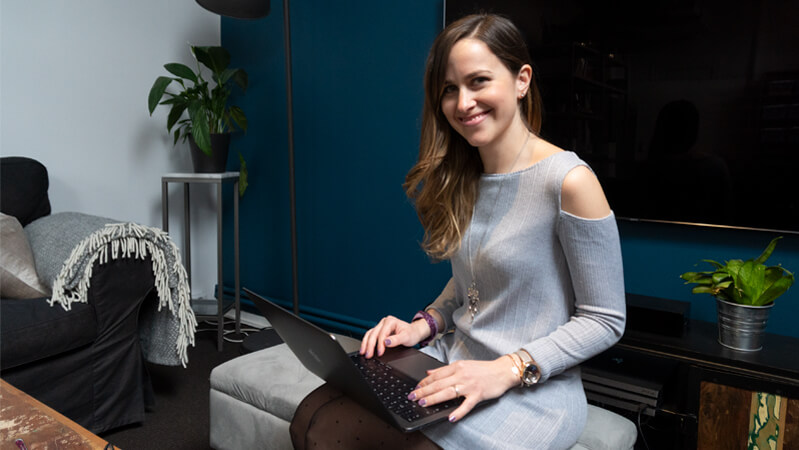 So, any more countries you can check off on your 'resident list'?
I lived in France for two years after getting my High School Diploma. I mainly traveled around and studied French over there. Then I went back to Italy to study at the National College of Turin, where I read Arabic, literature and history of the Middle East countries. Then I finished my degree in Sidi Bou Said, Tunisia, to study Arabic at the Bourguiba School meanwhile developing my thesis.


And now you landed in Stockholm! What brought you here?
There is always a love story behind the choice of moving country and mine has it too :)
How did you find out about iGoMoon?
I met Mattias and Camilla from iGoMoon at an HubSpot event during my first trip to Sweden last year, since then we kept in touch. And here I am now!
What is your impression of iGoMoon so far?
It's been really good since I first set my foot here. Everyone is nice and always ready to help! And it's also very exciting to see the development of a project, from scratch and all the steps to reach the final goal.
What will be your most important function as a Business Developer?
Since iGoMoon is still quite small, but a growing company, it is pretty tricky to give a concrete description of how my role looks like today. And given the development journey we are on, my days at work can vary. But in short, a great focus in my role will be on building the process of how we should work with digital transformation, and with our customers. I'll also be responsible for leading both external and internal workshops, seminars and trainings. As well as to keep track of trends and new findings in the industry, and quality assure our work in customer projects.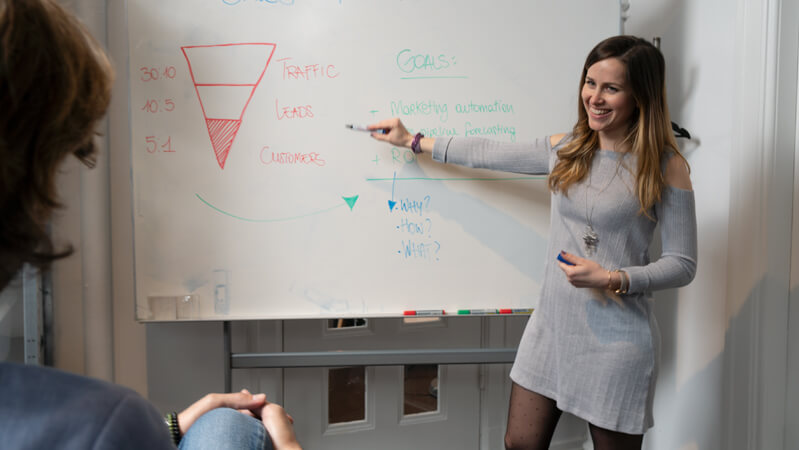 Who is Roberta?
Wow, this is a million dollar question! I'm ambitious and determined when it comes to my professional life. In my private life I love to challenge myself!


You grew up in Italy, what Italian sides of you can we expect to see eventually?
I'm always ready to share funny memes and laugh together during "aperitivo time"!


How many languages do you speak and which ones?
Five, but it won't take long until I have six on the list! I speak Italian, English, Arabic, French, Spanish - and very soon Swedish. I just love languages!


How do you prefer to spend a sunny summer day?
I would probably borrow a dog and drive to the beach to walk and have ice cream. Do you have a dog?
Five quick ones!
What do you watch? I like watching YouTube videos. I'm a big fan of PewDiePie!


Dublin or Sweden? ITALY :)


Best trip ever? I spent 10 days in the Sahara desert staying with a Bedouin tribe for a University research. An amazing trip!


Guilty pleasure food? I can't say no to handmade pasta cooked by my Italian mamma. It's impossible.


What makes you happy? Dogs. Food and a good Comedy Show.