Here she is - our awesome new colleague and Inbound Marketing Consultant Saskia Sundell! Saskia has several years of experience in marketing and communication, mainly from the aviation industry, and we are so happy and grateful that she has now landed on iGoMoon. Finally it is time for you as well to get to know our new star a little closer!
Welcome on-board Saskia!
Now you have been working with us for about a month, how has it been so far?
It has been busy and intense! But very fun, rewarding and exciting weeks. My first days started with onboarding with Mattias, which was incredibly good. He really took the time to go through iGoMoon's organization, vision and culture thoroughly with us new employees. This is actually one of the best onboardings I have ever got on a new job, so cred to Mattias and iGoMoon! Furthermore, I have started to get acquainted with HubSpot as a tool and familiarize myself with some of the customer accounts I will work with. So far I have met a couple of our customers during startup meetings, and I already have a bunch of tasks and projects going on, so I'm really looking forward to the fall.
And what made you fall for iGoMoon?
I first got in touch with iGoMoon through a job ad on Facebook. Then I did some research, thought it seemed like a great bunch of people with a strong vision working there, and applied for the job. I also like our three core values - Be brave, Stay Crisp and Have fun. I can really relate to these, because that's also how I look at both my life, career and development. After I submitted my application, everything went quite fast. I got to know more about iGoMoon during my first interview with Mattias, and the positive impression I had of the company just grew. We also talked about how we could match the best - in terms of needs, ambitions, expectations and opportunities, from both sides. Finally, I was grilled on a second interview, and here I am now!
So, how is the crew and the atmosphere in the office?
It is an incredibly happy, nice and ambitious group of people working here and they have made me feel welcome from day one.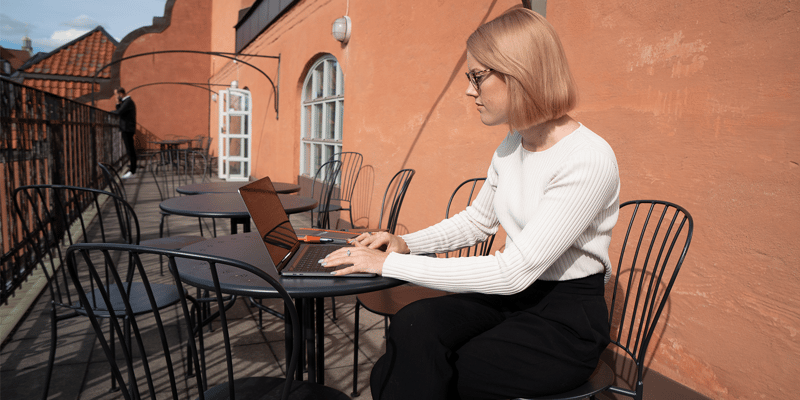 You have a great experience of marketing and communication, especially from the aviation industry. Tell us more!
For the past 4,5 years I have worked within the Swedavia Group. During the first year, I was at the communications department at Bromma Airport. After that I continued working as a Project Manager at Airport Advertising, which is a department within the commercial unit of the concern that works with Out of Home advertising in the surroundings on, and around the airports. I mainly had two key responsibilities. First of all, I was involved in the campaign processes, from sales to follow-up, but I was also responsible for the project management and coordination from Swedavia's side. My other main responsibility was to manage the department's communication and marketing, which included everything from working with the web and social media, creation of content and sales material to concept development and to run different development- and digitization projects.
Sounds exciting! Which of your previous experiences do you think you can take extra advantage of in your role as Inbound Marketing Consultant?
I have a lot of experience working with strategy, content and copy - which I am sure I will get great use of in my new role. But I think I will probably benefit most from my project management skills, and the experience I have of running customer deliveries. I think it is incredibly fun to develop and run actions, and I make things happen - which makes both me and the customers grow. I have also gained a good knowledge of managing multiple projects and activities simultaneously, and at the same time I always make sure to maintain a high quality on the work I deliver. At my previous job, I was the only Project Manager, which meant that I often worked under high pressure and against short deadlines, with both ad hoc tasks and those that were more planned. This has made me very solution-oriented, and it has helped me find useful work procedures when it comes to controlling my work and my deliveries.
What do you think will be your most important role as an Inbound Marketing Consultant?
I would probably say that is to be a reliable adviser to our customers, by taking a holistic approach and by building good long-term relationships with them. My role is to support and develop the customers, and to exceed their expectations. And in order to do my job in the very best way, I really have to understand the customers and their businesses.
Now we want to hear more about you!
Let us start easily (or tricky), who is Saskia?
A creative, energetic and social person! I am obsessed with furnishings and interior design, so I spend much of my free time planning interior- and renovation projects in my apartment. I love to dance (even though I'm not the best at it), and I don't mind arranging a night out at a nice restaurant, or a game night at home with all my friends. The more the merrier! Next summer, me and some friends plan to run the obstacle race Tough Viking, which means that I will hopefully spend a lot of time in the gym before then.
Okay, hit us! Tell us something we did not know about you!
I grew up on a small island in the archipelago outside Stockholm. There we had a small farm and lots of animals - for example horses, cows, cats and dogs - and I had to take a boat or ferry to get anywhere. So I've lived real country life once!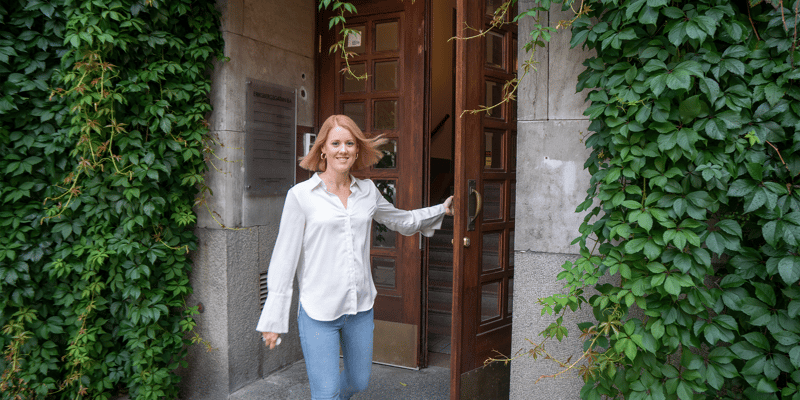 If you could change lives with someone for a day, who would it be and why?
I wouldn't mind trying life as a real power woman and female role model for a day. It would be awesome to experience how they live their lives, and a great source of inspiration and motivation for me to apply in my own life.
Describe what a perfect day looks like for you!
To wake up rested and alert, eat a long breakfast in beautiful, sunny weather - and just do things that gives me energy for the rest of the day, such as hanging out with friends, explore a new city in the world or breathe in the fresh air in the nature.
Important question, and I think almost the entire office agrees, are you a fan of any sports club?
The Swedish soccer club Hammarby ("Bajen").
Let's wrap it up with a few quick ones!
Favorite food?
I like most cuisines in the world - Lebanese, Spanish and Vietnamese for example. But something a little more unique, or at least not as well-known, and which I think is really good is Ethiopian food. It is spicy and flavourful, and they season the food with a spice called Berbere - which I also use a lot when cooking at home.
Night in or dance on the tables?
Then I would say evening at home, most preferably with a bunch of friends, wine and a fun game.
The best place in the world?
Stockholm archipelago.
What are you listening to?
Mostly house and pop. But I am always on the hunt for new music, and I can't imagine a life without Spotify. I am a frequent user of their homepage, and I use large amounts of my surf for it every month.
Cats or dogs?
Cats. Miaaoo!
Interested in working as an Inbound Marketing Consultant?
Then you might be our next superstar! At the moment we are on the hunt for a Sr. Inbound Marketing Consultant! Click the link below to find out more about the role!