The best possible welcome after the summer holidays, and what a wonderful way to kick-start the fall! Namely, the luxury of welcoming three new amazing colleagues to the iGoMoon crew. And of course, it is now time for you to get to know our smashing super trio as well! First out is the bundle of energy Simon Nolin - our new Junior UX/UI designer.
Hi there Simon - great to have you on board!
Now you have been with us for three weeks, how has it been so far?
Amazing! The first three days started with onboarding, and after that my biggest focus has been getting started with the design of iGoMoon's new website. It really feels like a privilege to start with designing our own website, which will eventually generate more leads and hopefully also more customers. It has been a high speed in the office since day one, but that is just a plus! Rather a little too busy than just sitting around waiting for work to do.
And what is your impression of iGoMoon so far?
My impression of iGoMoon is beyond all expectations! Both colleagues and the atmosphere are magical. I was super happy when we did the onboarding and thoroughly went through the company culture and goals. I've heard that part is usually forgotten, and that you are instead expected to deliver from start without a proper introduction. I believe that it is easier to work hard for a company if you are aware of its values, goals and vision. Our CEO Mattias has been very transparent with iGoMoon's goals, values and vision, which has been inspiring!
But what did you actually do before you landed on the moon?
Before I landed on iGoMoon, I studied to become a Digital Creator with focus on UX design at Berghs School of Communication. After my full time studies at Berghs, I moved to Australia to study Business, Leadership and Management. The studies in Australia have become useful for me when designing, as it is now easier for me to see the goal of the design. In other words, an app or website that not only looks good, but also creates business advantage.
What will be your most important function as a Junior UX/UI designer at iGoMoon?
At the moment it will be to stick to the guidelines and implement business advantage in the design. Now in the beginning, it is very useful to get feedback from colleagues regarding my design. But it feels like I have a decent grasp of what should be included in the design, in order to increase the value for the customer.
And what do you look forward to the most working with us?
The opportunity to produce materials and designs that can actually help the customer for real. My ambition is to see results in terms of conversions, leads and interactions. Which will be a receipt of that you have done a good job. Then the best receipt is of course always that the customers are happy, that feeling is unbeatable!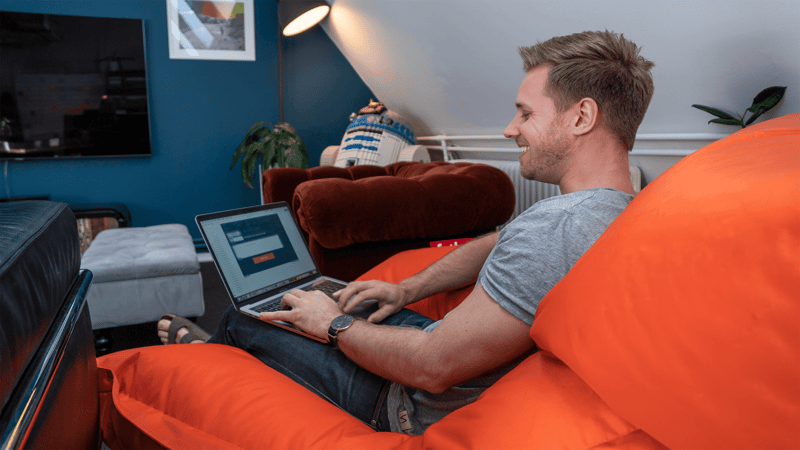 Okay, now we are curious, who is Simon, really?
Tell us more about your time in Australia. Was there any surfing? Did you hang out with kangaroos?
It was amazing! Of course, my time there included a lot of studies, but I also worked for the Swedish brand Nudie Jeans and as a bartender. Unfortunately, there wasn't much surfing, but I actually learned to skateboard, haha. Then there were many days on the beach and some partying too. To sum up, I had a wonderful time there, and I think everyone who lives in another country so far away for over a year will grow a lot. Moving to Australia may be the best decision I have ever made!
You seem to be an incredibly positive and happy person! But (if you can), when do you get really angry?
When someone is unable to listen to others opinions, and interrupting someone in the middle of a sentence. That is probably the biggest lack of respect! I also don't appreciate when someone is late for a meeting.
And what makes you really happy?
When someone gives a personalized and thoughtful gift, made by hand. For example, I got a congratulations card from a girl in Australia. We only met once, but the following week when it was my birthday, she came by with a handwritten birthday card - I almost started crying. Such a nice gesture!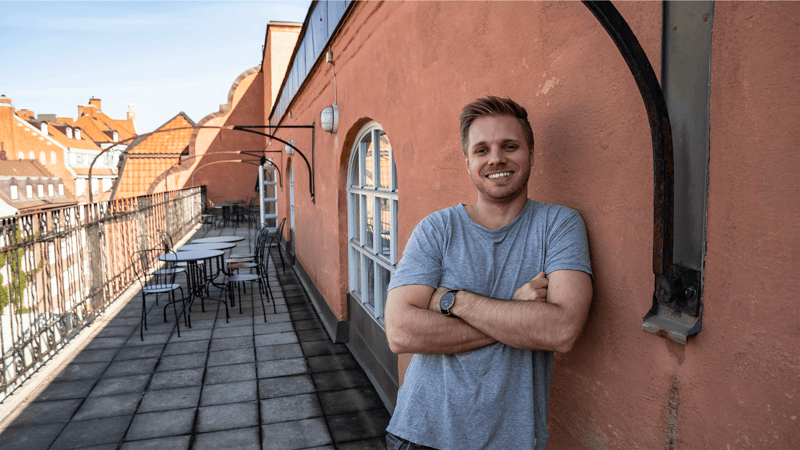 What do you prefer to do when you are not working?
Then I like to watch the Swedish ice hockey club Västerås IK playing, cook or hang out with my friends! A trip to France over the weekend is not too bad either, as long as it includes wine and good food.
Do you have any hidden talents?
I can do some carpentry, I might not be a super talent, but it has been good to know the basics when renovating apartments, haha.
Give us your best advice!
Your job might be the safest cornerstone in life. If you don't know what you want to work with, start by taking shorter courses and dare to try out new activities, like dance classes, guitar classes or a school subject. It will help you meet new people and inspire you to find out what you really want to do in life. With a good job that you enjoy, you can guarantee yourself at least 40 hours a week that you love!
You are one of the participants in the amateur cooking show "Half past seven at my place", what do you cook for your guests?
As a starter I will serve a dark rye bread with some charcuteries and as a main course the traditional Swedish dish "shoemaker's box" (skomakarlåda) with cauliflower puree and crispy bacon. Lastly, the grand finale is a sticky chocolate cake with blackberries and saffron cream. Ideally, this is all served in the fall!
Let's wrap it up with some classic quick ones!
I can't live without… appreciation
I prefer listening to… Sam Smith
If I would live somewhere for the rest of my life it would be… Midsommarkransen in Stockholm!
At the top of my bucket list is… to get an apartment
If I could only keep one downloaded app in my phone it would be… LinkedIn