HubSpot offers three different CMS Hub licenses: Enterprise, Professional and Starter. Unlike other content management systems that become more difficult to use over time, HubSpot's CMS Hub can grow alongside your business.
This means you can focus on creating remarkable website experiences for your customers and less time worrying about managing your website. Let's find out more about each CMS Hub tier and which one is right for your growing business.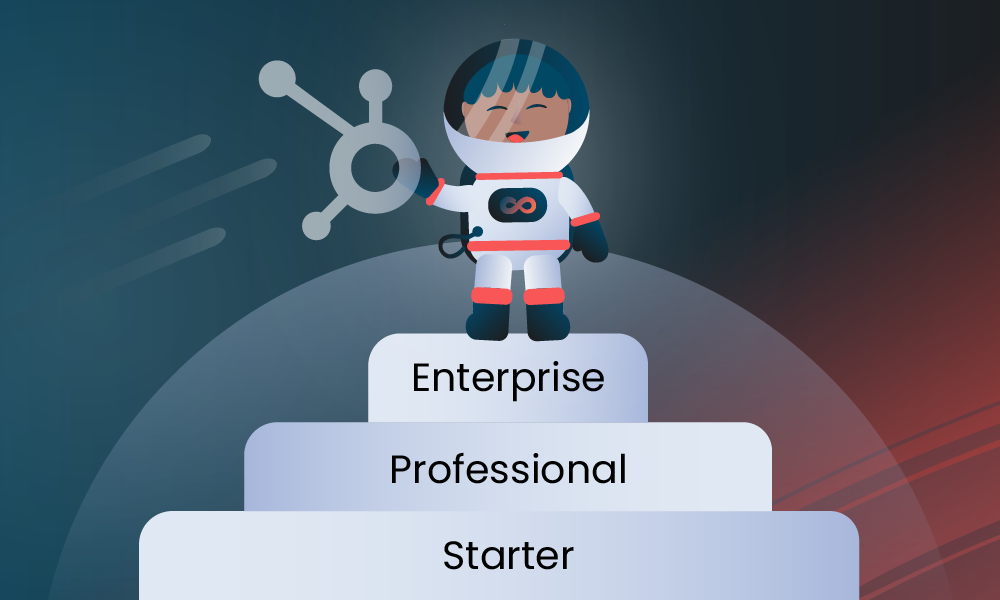 *This post was originally written by Tayla Fagan and published on 30 August 2021
What a growing business should look for in a CMS
In today's world, your customers expect personalized interactions with your brand. They expect instant replies and they want a consistent experience throughout their journey. As the marketing manager of a growing business, juggling it all can be overwhelming.
You need a CMS that was built with business growth in mind. One that can scale as your business grows, and without needing to switch platforms or export lengthy amounts of data when you need to scale your tech stack.

With a responsive, integrated content management system like HubSpot's CMS Hub, your business can use real-time customer data to drive decisions, and your team of marketers can deliver a better experience to your customers again and again.
If you have any questions about the power of HubSpot's CMS Hub set up a call with us today.
Why HubSpot's CMS Hub is perfect for growing businesses
Website content management and ongoing website updates become easier when you have the right CMS. With Hubspot's CMS Hub's user-friendly environment, you can reduce your frustrations and the time you spend designing and updating your site.
Another important element to consider is whether it is a secure hosting environment. HubSpot's sites are hosted on the most secure CMS available today which gives you peace of mind. Grow your business and manage your website with no restrictions from a slow or unreliable CMS. CMS Hub is a cloud-based, globally-hosted content delivery network with 24/7 threat monitoring and web application firewall built-in. The HubSpot team is readily available to provide answers to any questions or concerns IT departments present - adding to the confidence in their system.
CMS Hub Starter
HubSpot's CMS Hub Starter is lowering the barrier to entry into HubSpot's CMS Suite especially for companies with smaller teams. CMS Hub Starter is the ideal license for businesses looking to rebuild their website with HubSpot, businesses already using a HubSpot starter suit or businesses that want a platform that will grow alongside them as they scale.
Originally, the CMS Suite started at a cost of $400 per month (and higher) with professional and enterprise tiers, the new CMS Hub Starter tier provides a lower barrier to entry for companies to some of the best perks of HubSpot's CMS Hub, and it's only $25 per month!
CMS Hub Starter is also available as part of HubSpot's Starter CRM Suite bundle, which gives you access to all five of HubSpot's Starter-tier products for a discounted rate of $50 per month, or $45 per month if you pay upfront.
Related post: HubSpot's new CMS Starter tier for growing businesses
CMS Hub Professional
CMS Hub Professional is a content management system for medium-sized businesses that want to leverage their CRM platform to generate business and provide great customer experiences.

HubSpot's CMS Hub Professional comes with everything found in CMS Hub Starter and includes additional features that make it easier for both marketers and developers on your team to update and work on your business website.

This is for fast-growing companies who want to move away from content systems that require heavy maintenance, which makes it difficult for marketers to take ownership of real-time website changes and day-to-day updates.
For $400 per month, HubSpot's CMS Professional has all the features of HubSpot's CMS Hub Starter but adds on even more tools that allow for personalization and powerful customer experiences.
Related post: Why choose HubSpot's CMS Hub Professional?
CMS Hub Enterprise
Some companies need more than just a user-friendly CMS. You may need one with the power to handle enterprise-level functionality. Traditional CMSs make it difficult to scale the system, which creates unnecessary complexity and builds detached systems.
Scaling companies often need to extend their brand across multiple websites, regions, teams or microsites. CMS Hub Enterprise allows you to enjoy all the benefits of CMS Hub Professional, with a wide range of additional features.
CMS Hub Enterprise empowers your team to gain governance and control at scale. Maintain governance and control as their business scales with activity logging, content partitioning, and permissioning functionality to control who has access to specific website pages, sections, and reports.
Build personalized web app experiences through membership websites fueled by customer data in the HubSpot CRM.
Manage different domains from one place, create microsites for specific campaigns, and manage and report on multiple websites within the same CMS portal.
For $1200 per month, HubSpot's CMS Hub Enterprise tier is designed for an advanced team looking for more control and the power to build web applications.

Website content management and ongoing website updates become easier when you have the right CMS system. Reduce your frustrations and the time your team spends designing and updating your site with HubSpot's CMS Hub Enterprise tier.
Related post: Everything you need to know about HubSpot's CMS Hub Enterprise
Get started with a certified HubSpot partner agency
If you're ready to get started with HubSpot's CMS Hub today, we recommend working with a certified HubSpot Partner agency like iGoMoon.

We love solving for the customer and as an Advanced CMS Implementation Certified Partner we work with Starter, Professional and Enterprise CMS licenses. If you're looking for a consultant to help guide your business, set up a call with our sales team and discuss your individual website needs.
*Prices might change over time, for latest updates on the pricing visit HubSpot's pricing page.


Interested in learning more about the other Hubs as well? Download our free guide to learn more about HubSpot and how it's built for you to grow your business.