Our solutions
Triangle of Growth
Customers expectations have changed drastically over the past few decades, and the rate of change is accelerating with each innovative leap. To meet these expectations, your organisation should have real-time data about customers to attract, engage, and delight them along every stage of the customer journey. That's where we come in - We take our customers to the moon!

People | Process | Technology
The Winning Formula - Triangle of Growth
It is becoming increasingly difficult to cut through the noise and make your brand stand out in the crowd. To make matters worse, many marketing, sales and customer success departments are trapped in old "Frankensystems" - a sticky web of outdated software solutions that are not integrated with each other and doesn't fully serve the needs of your business.
The formula for sustainable growth, and the profitability that comes as a result of it, lies in delivering ongoing value for your customers. We have come to expect more from the brands we love, and thus, we also expect more from everyone else. For your organisation to be successful in the modern era, you need to ensure that you have the tools to succeed. Are you the hero that will bring your company into the future?
Get in touch to explore your potential
Triangle of Growth explained
Any competent leader in the modern age will understand the importance of a shared reality across marketing, sales, and customer service departments. Tearing down silos and providing relevant information to those who need it, when they need it, will enable your team to stay ahead of the curve. If that wasn't enough, easier and more accurate reporting is the icing on the cake that typically spurs action from the C-suite or executive committee.
If you claim to put your clients and customers in the center, strive to get the most "bang for your buck" with every marketing dollar, and make sure that the churn between marketing and sales is minimal - you need to provide your frontline teams with the tools to succeed. Our launchpad is well tested, optimised to deliver results, and flexible enough to be tailored to the specific needs of your organisation. Let's review how we prepare for a successful moonshot...
1. People
Using a data-driven approach to identify high-impact actions is the reason why our clients love us. Partnering up with iGoMoon should be a "no-brainer" investment, and you can expect to feel the same way if our relationship has developed to this depth. We achieve this through:
Understanding how to give you the highest ROI for your marketing, sales and customer service activities.
Cultivating our curiosity to encapsulate the primary initiatives that will benefit your business model and buyer personas.
Focusing on driving sustainable and profitable growth for your company through challenging the status quo and staying ahead of trends.
Teaming up with iGoMoon will give you almost instant access to a highly competent, experienced, and motivated team. It doesn't matter if you need extra bandwidth to implement changes and managing the change, or you are looking for a long-term partner to support you with your organisations long-term strategic goals and execution. We are here to add momentum to the flywheel that drives your business.
Find out your expected ROI for HubSpot Sales and Marketing Hub with our ROI calculator.
Get the right people onboard your rocket
2. Process
Regardless if you are making a massive shift from an outdated or insufficient CRM and several associated systems, or you are about to scale up and find the perfect CRM solution, we are here to provide you with the perfect flight plan. During our Discovery and CRM workshops we:
Perform an audit - Our team will review your currently available datasets prior to our first workshop. For example the data from your Google Analytics portal (you'll need to give us access first of course). We will also review the Discovery Questionnaire that you are required to submit at least one week prior to the workshop.
Workshop - Preferably on-site and together with your team. If you are unable to join us at our offices in central Stockholm, we will either do the workshop remotely or come to your location. This is where the magic happens, and we do a deeper dive into your organisation, goals, and strategic ambitions.
Prepare and present - The results of our analysis and close collaboration with your team will result in a flight plan for an optimal route to your desired destination. From this point onward, it is up to you how you want to proceed, there is no commitment to continue working with iGoMoon - but for some reason, most of our clients tend to want us onboard for the journey to the moon and beyond.
Proper planning prevents poor performance
3. Technology
CRM implementation, ERP integrations, or HubSpot onboarding for any combination of their available hubs - These are just a few examples of what we can help you build in the HubSpot ecosystem.
We will make sure you get it right from the start. During any of these processes we will also build upon our relationship, and we are confident that you will want to keep us onboard your rocket until your course has been perfected and your team is in orbit. In any case, our team knows how to launch your organisation towards:
Generating more traffic, leads, and an increased product demand.
Aligning your marketing, sales and customer services teams and enabling them to perform at their peak.
Implementing a future-proof, sustainable, and scalable tech stack that will put you in pole position.
Building and implementing the necessary integrations your business needs to give your departments a 360 degree overview of the customer journey.
A single source of truth that breaks down your silos
T-minus 12, 11, 10, 9, ignition sequence start... Liftoff!
Our vision for the relationship is to become the HubSpot partner you always find in your corner as an inspiring, trusted advisor. We want your confidence that your best interests are being addressed. The first step on that journey is to learn more about each other - we named that first step a "Discovery Workshop".
Build & grow your business with us
We see a pattern of challenges that stops companies from transitioning from the old traditional way to the new modern era of providing products and services. The Discovery workshop's output is to address these challenges and scope solutions that we can build together to create quick wins for you and your team.
1. Discover
The Discovery workshop is designed to give you an understanding of your company's untapped potential and for us to understand more about your challenges, goals, resources, and technology. This is also an opportunity for you to assess if iGoMoon is the right partner for you.
Read more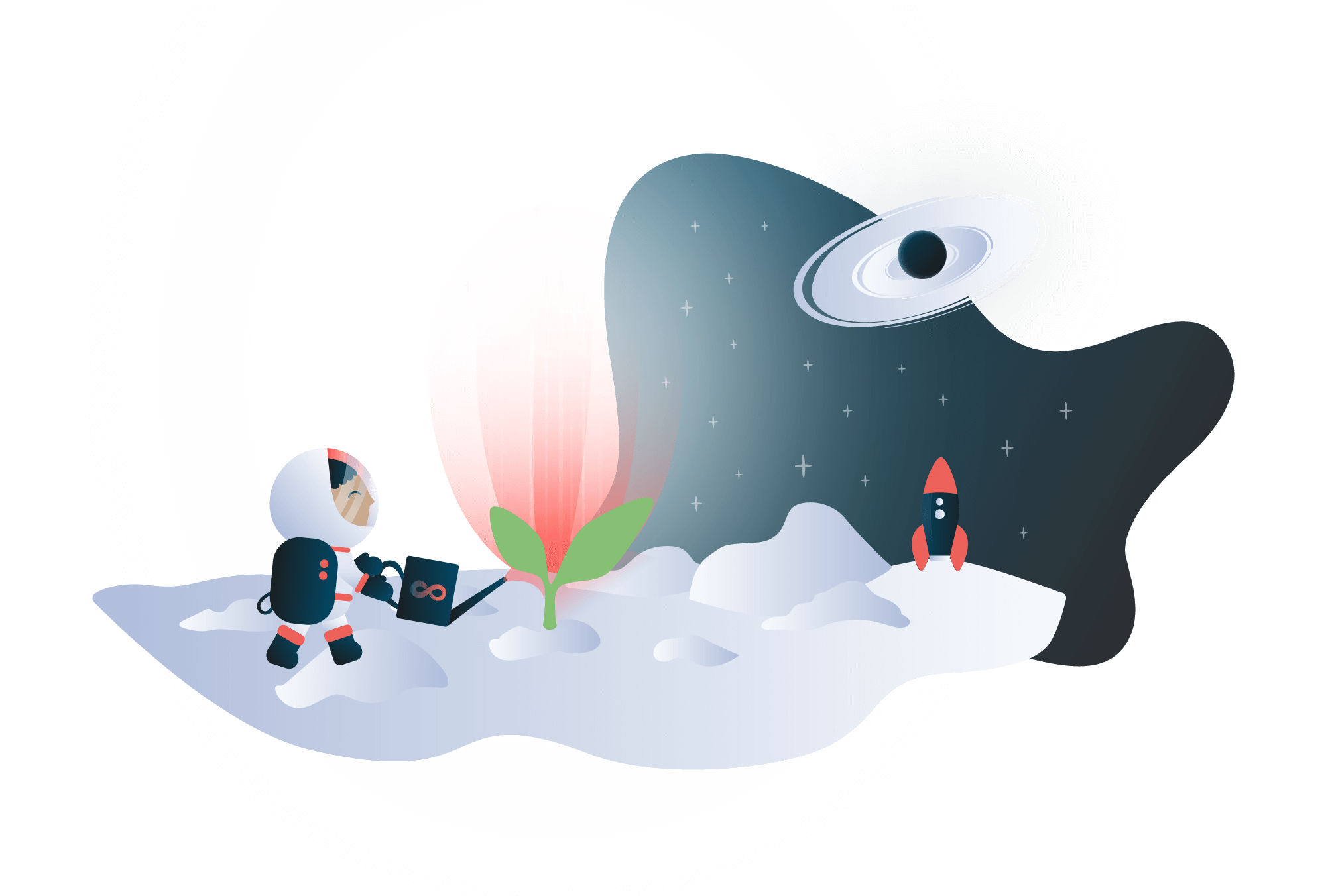 3. Grow
The extent to which we will continue to collaborate will be determined by the first two stages. No growth journey is alike, and if we are a good match we would love to keep boosting your rocket as you proceed towards orbit. Your ambitions become our ambitions, and we proceed to take your customers to the moon alongside your in-house team.
Get in touch
Ready to discover your untapped sales potential?
We would love to explore and help you get the "overview effect" of how you can win with HubSpot CRM (which is a cognitive shift in awareness reported by some astronauts during spaceflight, often while viewing the Earth from outer space).
Talk to a HubSpot expert