We've created a Q&A series to introduce the incredible people and SaaS businesses we get to work with. We want to showcase some website designs and inspire you with creative solutions so that your business can also grow better.

In this interview, I sat down with Katarina Nilsson, Chief Marketing Officer at Occtoo who joined the team just 6 months ago and has already undergone a major website relaunch project. Learn more about Occtoo and the strategies, Katarina and her team use to build brand love and accelerate their growth success.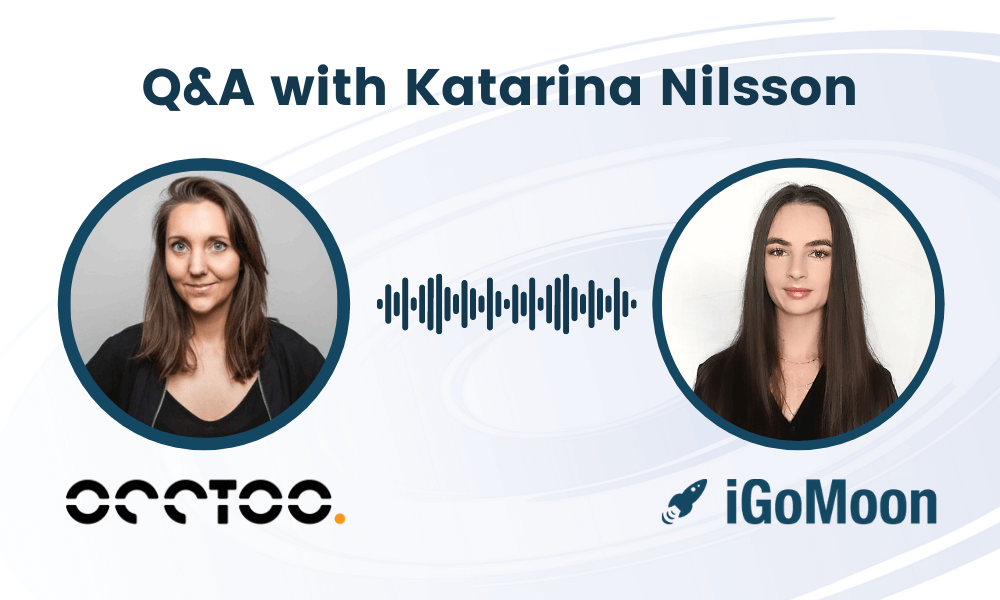 Let's get to know Experience Data Platform, Occtoo
Tayla Fagan: Hi Katarina, thanks for joining me today - are you ready to help take us to the Moon?
Katarina Nilsson: Absolutely - thank you for inviting me.
TF: Could you please tell us a bit about yourself and your role at Occtoo?
KN: I'm the CMO of Occtoo. I've been here for 6 months and prior to that, I've been working for 8 years within the e-commerce and startup space. My focus has always been on building brand and driving demand in close collaboration with sales and this is also the case at Occtoo.
TF: Could you give us a bit of background about Occtoo as a business? What do you sell and who do you sell to?
KN: Absolutely - so we're a young company that was founded in 2019. We offer an Experience Data Platform and help retailers and brands to fast forward their creation of relevant customer experiences everywhere. Our platform makes it easy to unify all experience data and make unique combinations of customer, product and contextual data to serve a relevant experience in any channel. Our customers say they can launch digital experiences 4x faster and at a significantly lower cost with Occtoo. This has been crucial for many during the pandemic when customer behavior has rapidly shifted to digital platforms.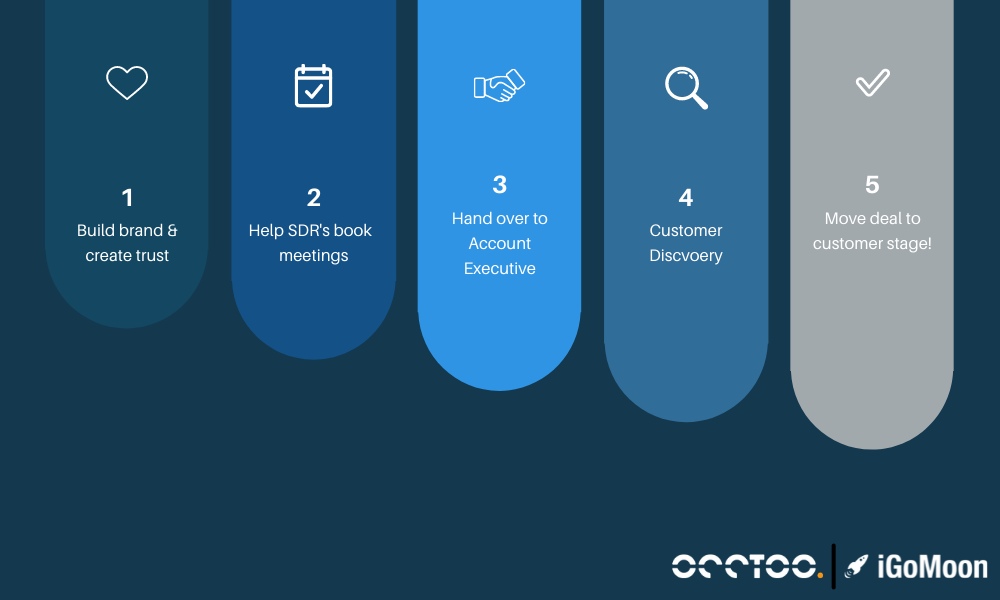 TF: What is your company's sales process (from prospecting, initial connection, demoing, closing, on-boarding)?
KN: We sell to bigger companies so do Enterprise sales and deploy a sales-led go to market model today.
Me and our COO, Oscar Tryvall, works as a tight team to build an integrated revenue organization with a specialized role. We believe this is key to rapidly scale a SaaS company. In the marketing team, we are focusing on building brand and creating trust out on the market to support our SDR team to more easily book meetings. After a meeting is booked a Sales Manager takes over and work with the customer and our CX Technologists to understand the need of the customer and if Occtoo is a good fit for them. If that is the case and they become a customer, they get support from our customer success team that works very closely with the customer to continuously help them take the next steps with their customer experience initiatives.
Read more about Occtoo's website redesign project on our customers page.
Inbound marketing strategies Katarina uses to skyrocket Occtoo's growth
TF: I know you've said you're focused on building brand awareness, as a SaaS company, how do you work with inbound marketing to acquire and retain your customers?
KN: We work a lot with thought leadership and content marketing. That's the core in our marketing strategy. I really believe that the best marketing you could ever do as a B2B player is to share valuable insights to help your target group to be successful.
They need to come to you as a trusted source. We are fortunate to have a very experienced team at Occtoo and visionary customer that we collaborate very closely with to pick their brains for insights that we package and share to the market at scale. In addition to that, we work with paid marketing to make sure we actually distribute our content and get those insights in front of the right people.
TF: Customer success is important for any SaaS company and considering the SaaS industry, you're existing in a constantly changing environment - How do you ensure that you're keeping up with your customer's wants and needs?
KN: We work very, very closely with our customers from the day they decide to work with us. That is really important to continuously capture the requests that they have to build a product that is super relevant to them and solves their problems. In marketing we also have a tight dialogue with many customers, it's the best hack to do market research and understand your target group.
TF: What are your key performance indicators for measuring your marketing success?
KN: Actually, we look at a lot of top of the funnel metrics at the moment. I spent the first months doing the groundwork regarding positioning, messaging and a website relaunch with your team at iGoMoon. We launched this in January. So we started to launch campaigns at the end of January, which means we are still in the first quarter of executing demand generation activities. In this phase, we want to capture the earliest signals we can get on how the market responds to our initiatives. So right now we are very focused on: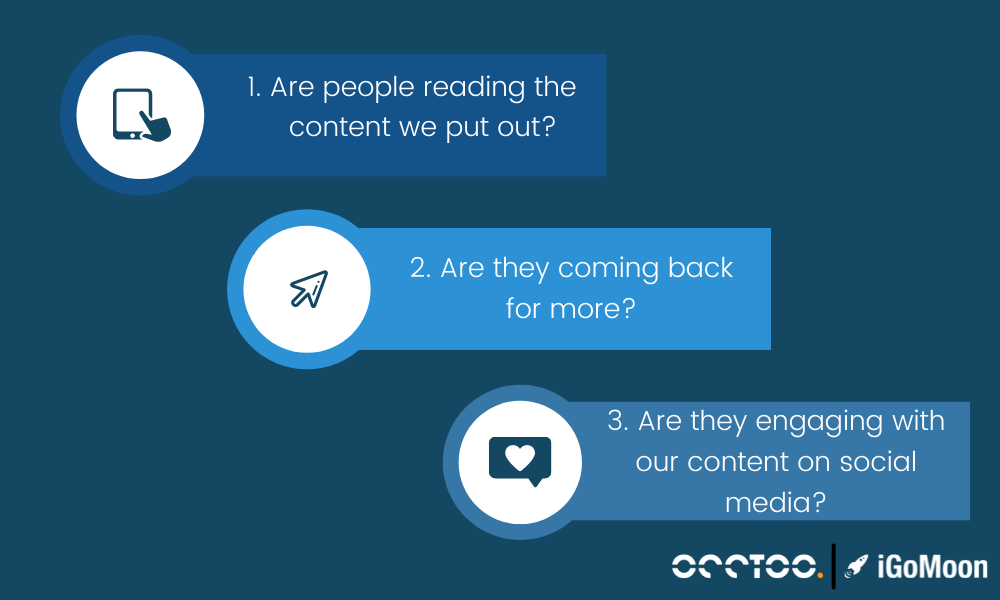 So those are the metrics we're looking into right now. But as we have been active for a full sales cycle we will be shifting primary metrics to pipeline creation and influenced revenue. I definitely believe those are the most important metrics for a modern marketing team to be following.
What Katarina can't live without: HubSpot CMS Hub
TF: What are some of your favorite applications and tools that you can't live without in running daily operations at Occtoo?
KN: I would say HubSpot. We use HubSpot as much as we can because it is such a broad suite that supports our whole revenue team. This helps a lot with alignment across our different specialized roles and it's easier for us to understand how marketing impacts revenue. For the marketing team I also like that we have everything in one place. This means we can spend more time focusing on the customer, creating great content, and great creative ideas that will actually add value to customers.
That is something I really appreciate with HubSpot that they're enabling us to spend more time being creative and less time thinking about technology and administration.
TF: Was Occtoo.com on HubSpot's CMS before?
KN: No it was on WordPress previously so we migrated to HubSpot.
TF: And what's the consensus with the team since migrating from WordPress to the HubSpot CMS?
KN: We really like it. And it's primarily the marketing team of course that works in HubSpot CMS. We really love the ease of use. That's a really big benefit for us.
TF: Have you had previous experience working in HubSpot CMS before?
KN: Yeah, I actually used HubSpot at two previous companies.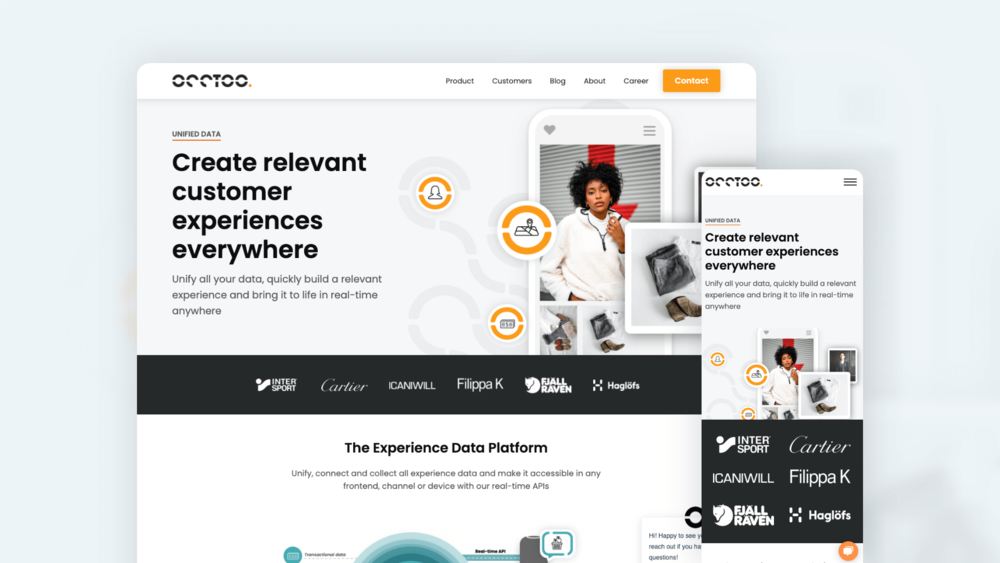 (Above image: Occtoo's redesigned website home page)
Occtoo's journey to partnering with iGoMoon
TF: What prompted you to reach out to iGoMoon for help with your website? What was the problem or challenge you were facing?
KN: We are building our marketing department from scratch now, and one important piece to be successful with our demand generation is our digital tools and our website. It's very important that we have a good website that both drives demand and captures demand. I also wanted to invest in a digital toolbox early on because we have very ambitious growth goals. For me it was really important that we have the right setup that enables us to run really fast and does not hold us back.

TF: Where did you first hear about iGoMoon?
KN: Me and Mattias, the founder of iGoMoon, have known each other for years. But we haven't had the chance to work together, so when this project started I thought it was a good time to reach out.
I did speak to several other agencies, but I found them to be quite traditional and not so flexible in their approach. I didn't have a traditional approach of buying a website, which most of them had a hard time understanding. We are early stage. Our needs will change as our business priorities change. And when they change, they will change quickly. So I did not want a traditional delivery of a complete website with templates and a pre-defined content structure, I wanted building blocks (in the form of modules) so we easily could build a website ourselves and quickly launch new pages when we have new needs. The team at iGoMoon really understood that, and I never felt that you wanted to oversell me hours or force a big project on me. You really understood the fast and agile approach that we believe in at Occtoo.
I also felt the team were really flexible during the whole project, and very dedicated to creating excellent results for us. I really appreciated that.

The most valuable thing for me has however has been how fast we launched the new site. From the first meeting to launch, it took 6 weeks (which included two weeks of Christmas holiday) That was impressive work!
TF: Have you seen any results yet? Do you have any numbers to share?
KN: Yeah - in the first month we doubled our traffic to the site!

TF: That's brilliant news I'm so glad!
Thank you so much for your time sitting down with me and for giving us so much insight into Occtoo and your plans for the future.

We're all watching to see how your toolbox assists Occtoo's ambitious growth goals. To conclude - where can we learn more about you and Occtoo?
KN: Thank you of course, you can go visit our new website Occtoo.com and if you want to connect with me, you can visit my LinkedIn.
If you're thinking of starting your next website project, get in touch with our crew to set up an exploratory meeting.