I had the delight of speaking with Rhiannon Sanders, Senior Marketing Manager at innovative biotech company Bio-Works. We spoke about how she uses inbound marketing to attract, engage and delight scientists in the biotech industry, the struggles of content creation in the life sciences and how she found working with the iGoMoon team.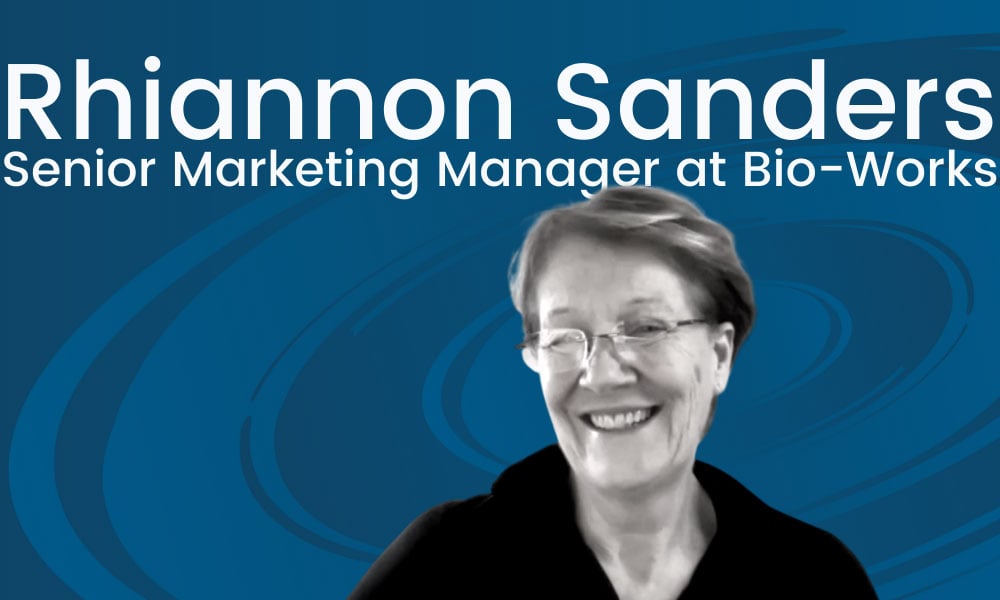 Getting to know Rhiannon Sanders, the senior marketing manager who is going to help get us to the Moon
I recently had the pleasure of sitting down with marketing manager at Bio-Works, Rhiannon Sanders. Rhiannon not only has an impressive background in Life Science and Biotechnology research but also has 10 years inbound marketing experience. Rhiannon is an expert at simplifying complex subjects and even runs workshops on advanced presentation technique, in English and Swedish.
I'm so grateful that she shared her time with us to answer some marketing-related questions about Bio-works and the life science community. Here's a bit more about Rhiannon and her journey into marketing.
You can read the full case study and how we helped transform Bio-works website on our customers page.
Understanding Bio-works
Bio-works is a fast growing supplier of one of the crucial ingredients that's needed in labs for pharmaceutical companies to purify or clean up the substances used for vaccine production. But I'll let Rhiannon tell us more about Bio-Works and the work they do.


Marketing to scientists and your most important acquisition channels
Marketing to scientists has some noteworthy differences compared to other B2B businesses and not just because scientists are a special kind of people. Below we explore what works well when trying to market Bio-Works products to the scientific community as well as the challenges Rhiannon faces.


From offline to online during the pandemic
When most of your connections are made by attending in-person conferences and face-to-face interactions, losing the ability to attend live conferences can have a major impact on your lead generation. Let's hear how Bio-Works pivoted to 100% digital conferences.
A five-year sales process and keeping up with customers needs
When it comes to Bio-Works the sales process is very technical and involves knowing what those particular specifications are that would make a difference to particular customers. This means there's often a long sales process of about a year, year and a half. It can even be up to five years. Rhiannon walks us through their sales process and why you "need a lot of patience as a salesperson" below.
The problem with content creation for the life sciences
One challenge of marketing biotech products and services is that they tend to be complex. They have specialized uses. They're packed with specifications. They lug around a long list of features and functions. But just because your products are complex doesn't mean your message should be. In fact, your message can't be complex if you want to engage customers and prospects.
Rhiannon Sanders says,
"The key to be better at making it accessible, is by simplifying the communication, not the subject of the communication."
You need to simplify your communication, especially early in the buyer cycle when your goal is to create engagement opportunities with customers and prospects. Later in the buyer cycle, when customer and prospects are comparing and evaluating products, is the more appropriate time to dive deeper in specifications and technical functions of your products.
Translating traditional content marketing into digital
As Rhiannon explains,
"There is a very established culture within science, you could say most people have a good, solid background in science when they come into these companies. And that culture is very much giving presentations, seminars and workshops. So it's a little strange that it doesn't translate into digital...Well it hasn't yet, so much".
We had an interesting discussion that part of the reason for this lack of content may be that scientists and academic researchers are dedicated to their job, not to writing about it. This isn't to say that there are no fantastic blogs and all kinds of content being produced by the scientific community, but there's not many of them. We continue this discussion below.
Rhiannon's most valuable lesson as a Senior Marketing Officer
My whole career I have had this this thing about trying to simplify science in every way, shape and form. So there's a key there, as well as to be better at making it accessible, simplifying the communication, not the subject of the communication. And that's what I've worked with for 12 years as a consultant is teaching people how to do that. So I feel like I'm still trying to do it. There's a key in there, if you can do that well.
How Bio-Works joined forces with the iGoMoon Team
Bio-Works were looking for someone who could help them move forward with HubSpot. They had started working in HubSpot and had recently migrated their website from Wordpress into HubSpot's CMS - but it wasn't working. So, Bio-Works were in need of a technical fix. They'd also refreshed their branding which they'd need reflected in their new business website. iGoMoon was tasked to implement Bio-Works' new fonts, brand colors and look and feel across their new modules.
Thank you Rhiannon Sanders
If you'd like to connect with Rhiannon you can find her her on LinkedIn or here.

I'd like to extend a big thank you to Rhiannon Sanders for taking time out of your busy schedule to speak with me and share the key insights you've learned during your time marketing to scientists.
If you're ready to start your next website project, get in touch with our crew to set up an exploratory meeting.